click here to Pin this recipe
Meet Kristin.
She's my little sister.  She's a nurse, a runner, a kind and gentle soul, a former beanie baby collector, and the object of my envy when it comes to decorating baked goods.
Guess who made this beautiful, meticulous fruit pizza?  It wasn't my frosting-covered fingers.
She's cute, huh?
And by she's cute, I did not mean she's single.  That super-happy-yet-tough-looking guy wearing the gym shorts and holding the burned DVD is her husband.  And it's a burned DVD of their wedding ceremony. Very not single.
So let me tell you about Kristin's fruit pizza.
It starts with a slightly doughy jumbo sugar cookie, which already seems like it can't get any better, but buckle up.  It's about to get WAY wild in here.
HOW TO MAKE OUR FRUIT PIZZA (45 SEC):
The jumbo sugar cookie is intentionally underbaked so it stays nice and soft and doughy.  Then it's topped with a cream cheese glaze – repeat: cream cheese glaze – and then it's decorated with juicy colorful fruit in a meticulously perfect pattern.
Meticulous and perfect.  That's why she's the baked goods decorator.
I'm just the eater who goes into a sugar coma for 3 days and comes out asking for more fruit pizza.
Like, whoa.  This stuff is guuud.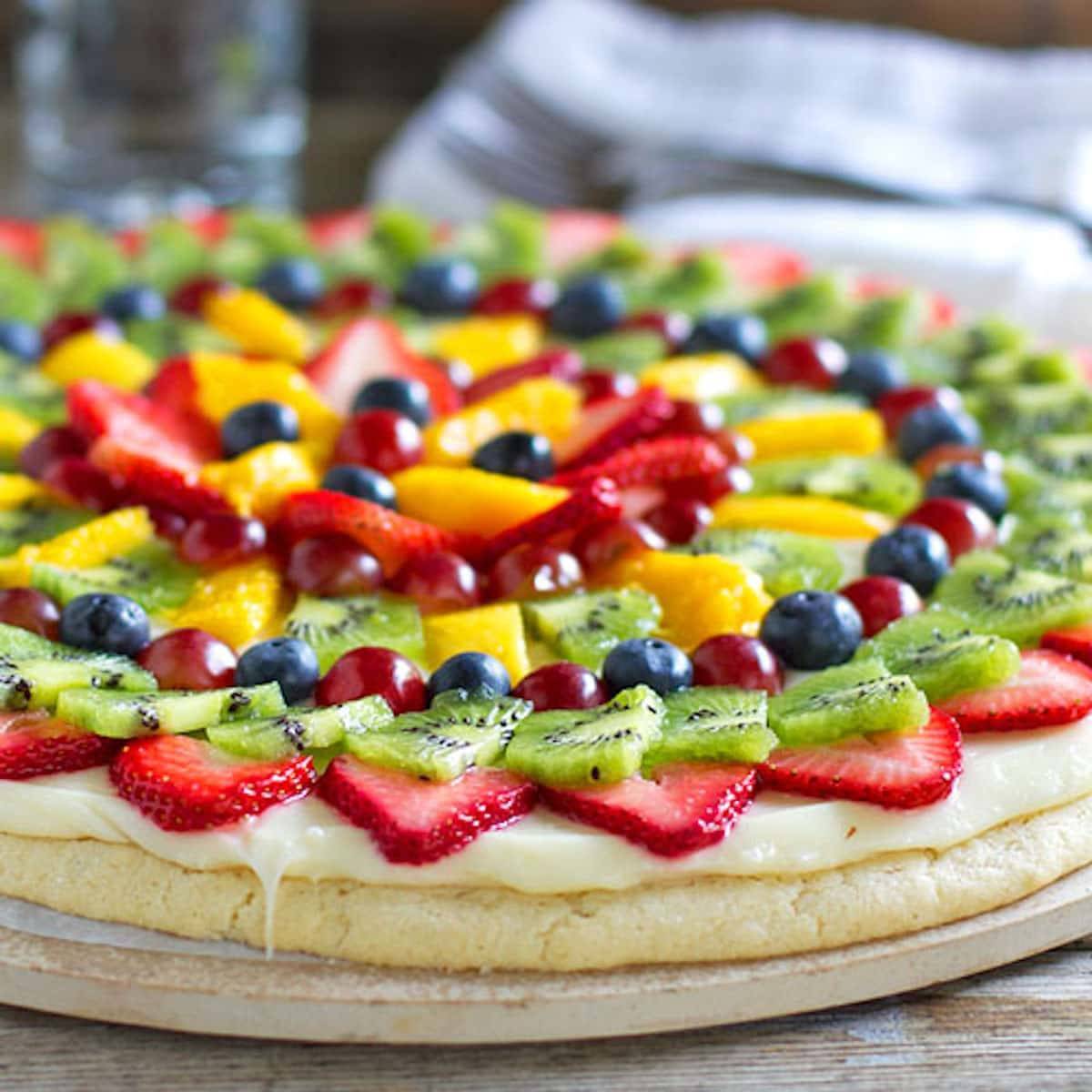 Fruit Pizza
---
Prep Time:

1 hour

Cook Time:

20 mins

Total Time:

1 hour 20 minutes

Yield:

16

1

x
Description
This simple fruit pizza is beautiful and delicious! A soft sugar cookie crust with a cream cheese frosting and topped with sliced fruit.
---
Scale
Ingredients
1 1/2 cup

s sugar

2 1/2 cup

s flour

1/2 teaspoon

baking powder

1/2 teaspoon

salt

14 tablespoon

s (

1 3/4

sticks) unsalted butter, softened

2 teaspoon

s vanilla extract

2

large eggs
FOR THE FROSTING:

12 ounce

s cream cheese, softened

7 1/2 tablespoon

s unsalted butter, softened

1 teaspoon

vanilla

1 3/4 cup

powdered sugar
assorted fresh fruit cut into slices
---
Instructions
Beat the butter and 1 1/2 cups sugar together in a large bowl until fluffy, 3-5 minutes. Add vanilla and eggs and mix until combined. Add the dry ingredients (flour, baking powder, salt) and mix until just combined, about 30 seconds. Chill the dough.
Preheat oven to 350. Roll chilled dough into one big cookie and place on a round baking stone. Sprinkle with 2-3 tablespoons sugar. Bake for 17-20 minutes. Let cool; chill in fridge.
Mix frosting ingredients together and spread on chilled cookie. Chill again to set and thicken the frosting.
Top with fresh fruit. Cut into slices and serve!
Notes
We LOVED that the dough was slightly underbaked, but if that's not your thing, bake the dough for an additional 5-10 minutes.
Recipe Card powered by
We're packing up our house this weekend.
So far, packing up our house has meant that Bjork puts things in boxes, I look at him with puppy dog eyes and he looks at me with a firm stare, and then later when he's on the phone with AT&T trying to figure out a way for us to keep our iPhones in the Philippines, which, by the way, is INSANELY difficult but well worth the battle, I take stuff out of the boxes and put it back where it belongs.
Marriage is a beautiful thing, really.