Creole Chicken and Sausage? I don't really know how to explain it, but it's a like whoa yummy combo we have going on upinhere.
Featured comment
Thank you for this DELICIOUS and super simple recipe! Even my toddler ate it…hooray for only making one dinner 🙂
This idea originated as a simple shredded Creole chicken kind of thing made in the slow cooker so my cooking life could be awesomely easy and full of mouth rocking flavor, and then bam: it morphed into something a little more healthy. The addition of sausage (just kidding – not healthy and I still really ❤ sausage, in particular smoked Andouille sausage yum yum yum), beans, and bell peppers, all simmered up in that spicy tomato sauce?
I'm doing the Creole Chicken dance right now. Don't even imagine it.
How To Make Our Creole Chicken & Sausage (40 Sec):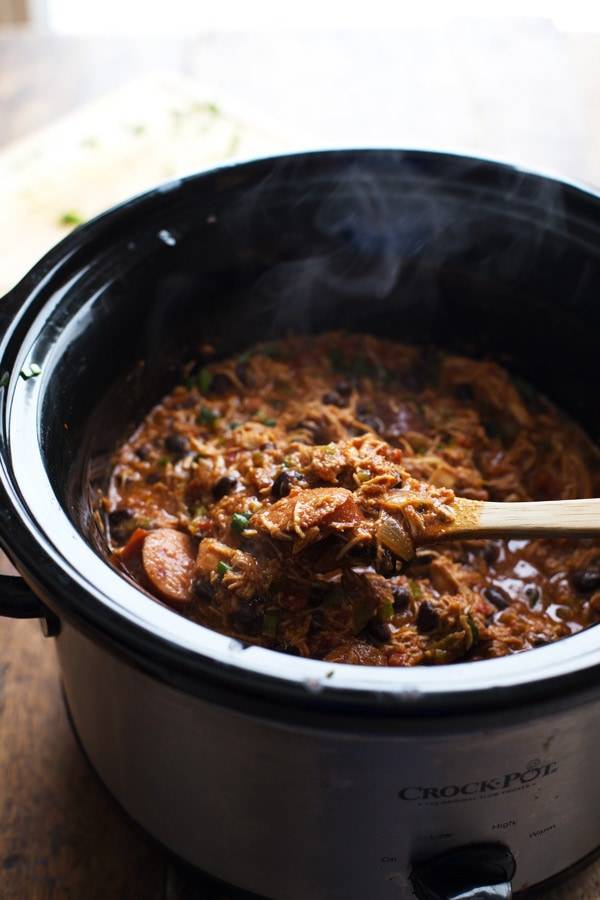 And then I became food weird and random things were added. Like almond butter – no explanation there – and brown sugar, and green onions. But food friends, please resist the temptation to think that this doesn't taste good. I'm telling you: it was really good. And oh, how I looked forward to eating the leftovers for lunch all week. Like, seriously. 10 AM, in the middle of a lesson on single digit division, this was on my brain. But what else is new?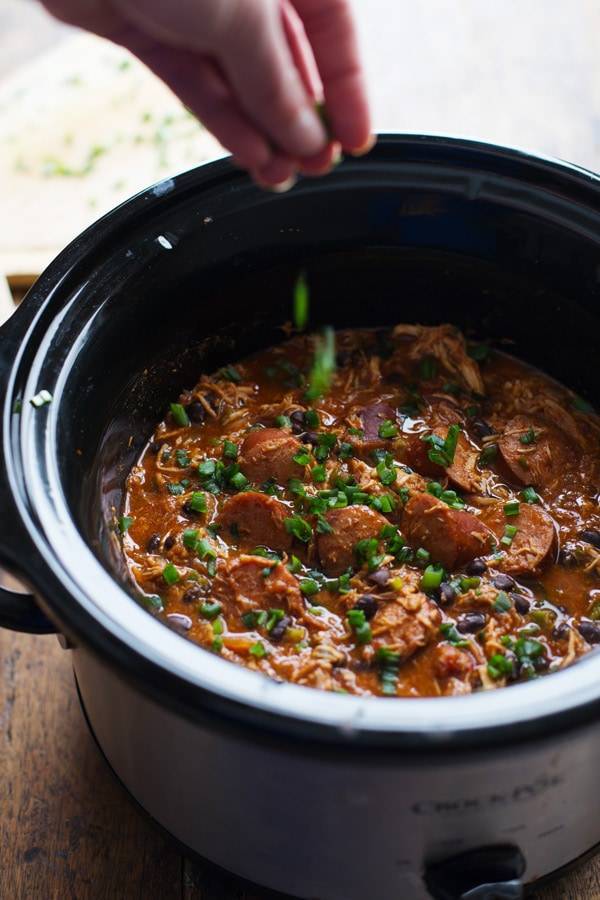 Yesterday we returned home from our vacation to Arizona, and I'm not going to lie: I'm currently wallowing in the depths of Minnesota despair. I traded cucumber water and sandals for hot teas and slippers. It's going to snow tomorrow, and for some reason my Facebook newsfeed is blowing up with people talking about yay spring. Like, what?! Breaking 40 degrees for a few hours in the afternoon is NOT yay spring. We probably can't even be friends anymore if you're going to act like that.
Six days ago you may or may not have seen my cruising through the hood with my windows rolled down, sunglasses on, wind blowing in the nice 41 degree Minnesota air. But now I have a major crush on Arizona, and it's really hard to like my home state right now.
Grr. + Brrr.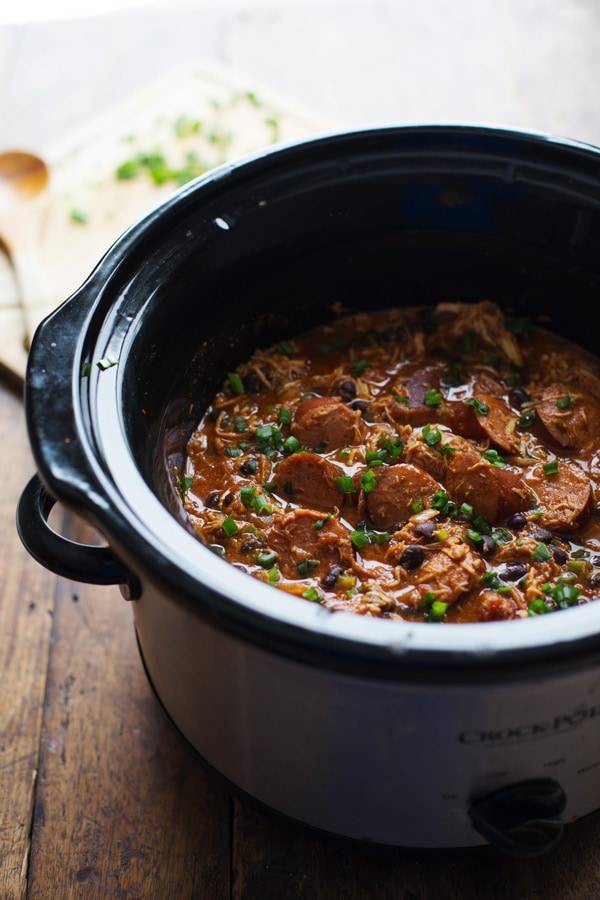 I can't wait to show you some vacation pictures next week! One of my favorite things about how the blog has developed in the last year is how much interest you guys have in regular-life posts that I do every now and then. I am all about the food, and so are you, but I'm glad we can be friends.
Like when I show you pictures of my house and you don't judge me for leaving stuff laying around on the floor in the same exact spot for three months.
Or when you forgive me for talking your ear off about cliche things like the current weather in Minnesota.
That's basically the definition of friendship.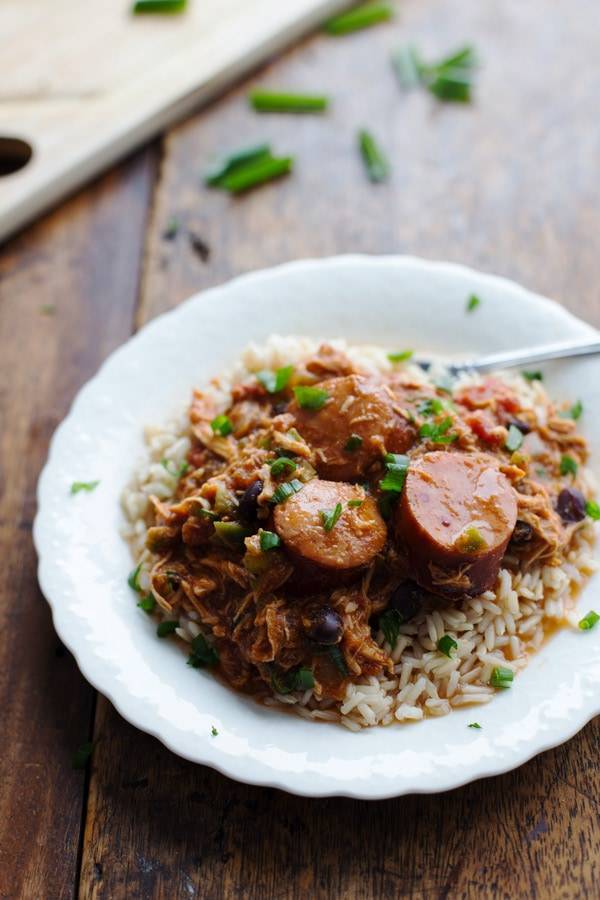 It's the weeeeeeekend. I am so haaaaaaappy.
---
Source notes: Creole cooking originated in Louisiana and blends West African, French, Spanish, Amerindian influences. This is a simple, paired down version of Creole cooking that includes classic Creole ingredients such as Andouille sausage, chicken, bell peppers, Creole seasoning, and rice. While it is not a traditional recipe, it is delicious a flavorful!
Print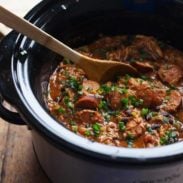 Slow Cooker Creole Chicken and Sausage
---
Author:

Pinch of Yum

Total Time:

7 hours 40 minutes

Yield:

6

1

x
Description
This Slow Cooker Creole Chicken and Sausage just takes 10 minutes to prep and has beans and bell peppers for bonus healthy points.
---
The essentials:
1

pound boneless skinless chicken breasts

12 ounces

smoked Andouille sausage, cut into small rounds

1 cup

chopped onions

2

cloves minced garlic

1 1/4 cup

low sodium chicken broth

1

can (14.5 ounces) diced tomatoes

3 tablespoons

tomato paste

1/2 cup

tomato sauce

2 teaspoons

Creole seasoning

1/4 teaspoon

cayenne
Optional extras:
1 tablespoon

brown sugar

1

14 ounce can black beans, rinsed and drained

2

green bell peppers, chopped

1/2 cup

sliced green onions for topping

2 tablespoons

almond butter (randomly delicious)
salt to taste
brown rice for serving
---
Instructions
Place the essential ingredients in the crockpot. Cover and cook on low for 6-8 hours or high for 3 hours.
Shred the chicken directly in the crockpot to your desired texture. Add the extras, if you want, and cover and cook for another 20-30 minutes. This is also a great time to make your rice, if you're serving it with rice. When everything is ready, taste the chicken mixture and season with salt. Serve the creole chicken over rice and topped with green onions.
Notes
Freezer Meal Version
Freeze Together:
1 lb. boneless skinless chicken breasts
12 ounces Andouille sausage, sliced
1 14-ounce can fire roasted crushed tomatoes
2–3 tablespoons tomato paste
2 green or red bell peppers, chopped
half an onion, diced
3 cloves garlic, minced
1 tablespoon Creole seasoning
1–2 teaspoons salt (if your Creole seasoning doesn't have any)
Instant Pot Instructions: High pressure 15 mins + 10 mins natural release
Slow Cooker Instructions: High setting 4 hours (thaw first)
Final Step: Shred chicken. Serve with rice and top with cheese, hot sauce, and/or green onions.
Check out our full freezer meal posts with all recipes and instructions here!
Prep Time:

10

Cook Time:

7 hours 30 mins

Category:

Dinner

Cuisine:

Creole-Inspired
Keywords: creole chicken and sausage, slow cooker creole recipe, chicken and sausage
Recipe Card powered by
---
One More Thing!
This recipe is part of our all-star slow cooker recipes page. Check it out!