Spicy shrimp tacos loaded with avocado, spicy shrimp, and a homemade creamy lime slaw? HELLO YUMMY!
It's almost hard to talk about it these shrimp tacos, that's how much I love them.
What we have going on here is delicious spice-loaded shrimp layered on smashed avocado topped with a cabbage slaw that is heavy with a homemade creamy lime sauce and topped with crumbly, salty Cotija cheese. Wrapped in a corn tortilla with a wedge of lime squeezed over the top? Don't mind if I do.
Just, you know what? Just go ahead scroll to the end. You don't even need my talking at all right now – you need these tacos.
And for those who still want to talk, you know imma be right here with you.
So when we were road tripping our way through California last week, I ate A LOT of tacos because that's what any good food loving person should do when they go to California, right?
There was one night in particular when I had these light and crispy beer battered shrimp tacos that were completely slathered with a creamy, limey, crunchy slaw topping and they absolutely blew my mind. It's almost too predictable, too easy, but I fell hard and fast for pieces of fried shrimp covered with a creamy lime slaw and wrapped in corn tortillas.
I mean, it was one of those nights when you're super hungry and there's a 30 minute wait at the restaurant and your name is finally called for a table and then you find yourself eating (inhaling?) exceptionally good beer battered shrimp tacos to satisfy your exceptionally hungry self, and all of the stars have aligned.
The world just seems so right.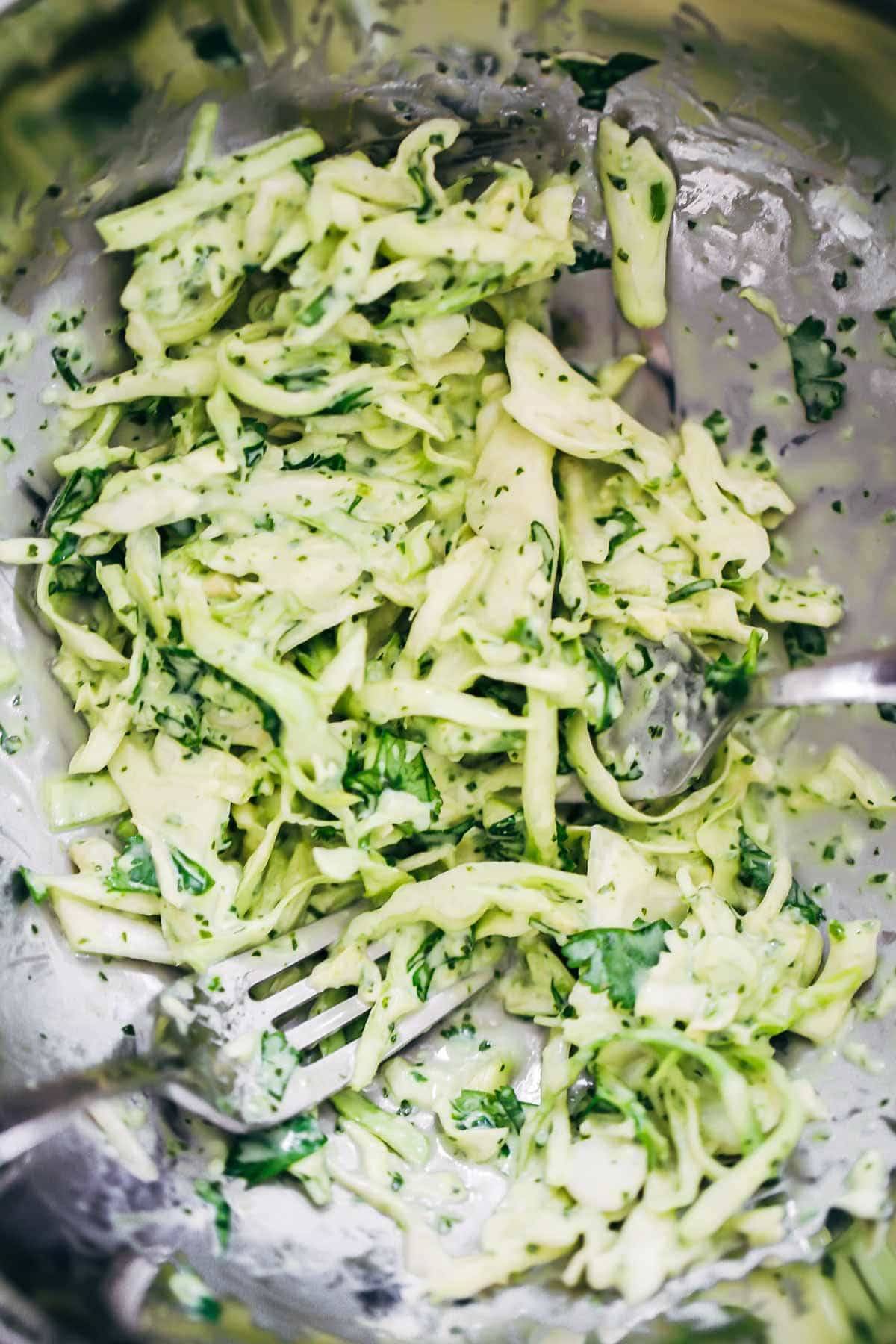 The whole way home on the plane from California, the only thing I could think about was how soon I could make those tacos happen in my real life back at home. Spoiler alert: I made them happen within one day. Repeat x4 over the course of a week.
I changed a few things from the beloved restaurant version, like I do.
First: unlike the restaurant version, this shrimp tacos recipe does not include any deep frying. I made these as spicy shrimp tacos, just sautéed and full of flavor. I mostly did this because it's a lot faster and easier to sprinkle shrimp with spices and pan-fry them for a few minutes than it is to make the batter, dip the shrimp, and fry the night away. Added bonus: it's healthier. Added bonus part two: it's still extremely yummy.
Second: a quick tip. If you have your heart set on making the beer battered kind of shrimp tacos and/or you have some extra time on your hands, you can use the beer batter in this recipe to fry the shrimp for this recipe instead. The taste and texture results of the fried shrimp with the creamy avocado and lime sauced slaw is phenomenal – my brother in law claimed they were the best tacos he's had in his whole life.
Third: the original I had at the restaurant was loaded with multiple sauces, which I didn't feel like making (other than the one must-make lime sauce for the slaw), so I swapped the sauce for a smashed avocado. Which is never a bad idea. Healthy fats, excellent creamy-sticky texture, fresh taste. Avocados! And life was good.
You guys, I love these spicy shrimp tacos. They are fast, easy, and give me something to look forward to at lunchtime all week.
Cheers to many future spring and summer nights with tons and tons of shrimp tacos!
PS. One last taco thing I have to share is these cute little taco holders for serving! I just got them last week and I have only used them twice now (including here, in the pictures) and I am already totally obsessed.
Check out our video for how to make Spicy Shrimp Tacos:
Spicy Shrimp Tacos with Garlic Cilantro Lime Slaw
---
Author:

Pinch of Yum

Prep Time:

20 mins

Cook Time:

10 mins

Total Time:

30 minutes

Yield:

4

(2 small tacos each)

1

x
Description
Spicy Shrimp Tacos with Garlic Cilantro Lime Slaw – ready in about 30 minutes and loaded with flavor and texture. SO YUM!
---
Scale
Ingredients
For the Garlic Cilantro Lime Sauce
1/4 cup

oil

1/4 cup

water

1/2 cup

chopped green onions

1/2 cup

cilantro leaves

2

–

3

cloves garlic (less if you're sensitive to garlicky things)

1/2 teaspoon

salt
juice of

2

limes

1/2 cup

sour cream
For the Shrimp Tacos
1

lb. shrimp, peeled and deveined, tails removed

1 teaspoon

each chili powder, cumin, and southwestern seasoning (see notes)

1/4 teaspoon

cayenne pepper (more or less to taste)

2

–

3

cups shredded green cabbage

8

small corn tortillas

1

–

2

avocados
Cotija cheese and additional cilantro for topping
lime wedges for serving
---
Instructions
Pulse all the sauce ingredients except the sour cream in a food processor. When mostly smooth, add the sour cream and pulse until combined. Taste and adjust as needed. Set aside.
Heat a drizzle of oil a large skillet over medium high heat. Pat the shrimp dry with paper towels and sprinkle with the spices. Add the shrimp to the hot pan and saute for 5-8 minutes, flipping occasionally, until the shrimp are cooked through.
Toss some of the sauce (not all) with the cabbage until it the cabbage is coated to your liking. It should resemble a coleslaw – you want it to be enough sauce so the cabbage is weighed down a little bit. Use leftover sauce on top of the tacos or in other recipes.
To serve tacos, smash a spoonful of avocado on the tortillas, top with a few pieces of shrimp, top with coleslaw, and finish with Cotjia cheese, cilantro, and lime wedges.
---
Notes
For the three spices, I used chili powder, cumin, and a store bought southwestern seasoning mix. I would say the chili powder and the cumin are must-haves for the color and flavor, but then just add whatever else you like or have in your spice cabinet from there. If you don't have a seasoning mix that's salted, be sure to add salt and pepper.
For a variation, try frying the shrimp using the beer batter instructions in this recipe. Takes more time, but SO good!
Recipe Card powered by
FYI this post contains an affiliate link for the taco holder thingies, because I ♡ them.