Tasty Food Photography eBook
Be proud of your food photos!
Over 13,000 people have taken their food photography to the next level using Tasty Food Photography.
Packed with tips, tricks, and video tutorials to learn how to take better food photos for your blog or business.
Hi, my name is
Lindsay!
A few years ago I started writing a food blog called Pinch of Yum as a hobby for my evenings and weekends.
As an amateur cook and photographer, I had a lot to learn.
I was using a DSLR camera, but I had no idea how to use it.
My blog readers consisted of my mom and a handful of co-workers. I still remember how thrilled I was the first time I had 50 visitors on my site in one day.
As time went on, I started to get more comfortable with the using the manual settings on our DSLR. I also learned some simple editing tricks in Photoshop and Lightroom.
My photos were starting to improve which fueled my desire to keep learning.
Before & After
Light Chicken Tamale Pie
I eventually had my first photo accepted to Tastespotting.com, and I was beside myself with excitement about being published and about the number of visitors that it brought to my blog.
As my photos continued to get better, I saw an immense increase in my blog readership. My page views went from 50 a day to 5,000 a day, and now, three years later, 70,000 a day.
This has lead to lots of opportunities for monetizing and growing my blog.
Over the last few years as my photography has improved, I've also had the chance to work as a freelance food photographer and I've been contacted by web magazines, e-newsletters, and book publishers.
There's no doubt in my mind that these opportunities were presented to me because of my dramatically improved food photography.
Photography is an incredible tool that can have a profound impact on the life of your blog or website.
I've learned a lot of things – both big and small – in the last few years, and this book is my way of sharing all that with you.
My hope is that these tips and tricks will be practical, easy to read, and ultimately help you take food photos that make people say, "I am dying to eat that right now!"
You can read it on any device
Table of
Contents
Technical Tips
Aperture, Shutter Speed, and ISO
p. 5
Lighting Tips
The Six Big Ideas
p. 14
Composition Tips
Creating Emotions, Orientation, & Movement
p. 30
Props & Setup Tips
Types of Props, Organization, Set-up Process
p. 39
Editing Tips
Examples & Video Tutorials for Photoshop, Lightroom, & iPhoto
p. 48
General Workflow
Schedule Adjustments, Slowing Down, 5 Things I Wish I Knew
p. 59
Example pages
Video Tutorials
Over 30 practical video tutorials for those times when you just need to see it and not read it! Here's an example:
It's time to level up
your photo skills &
grow your blog
Every month over 200 people are downloading Tasty Food Photography and learning to take better food photos.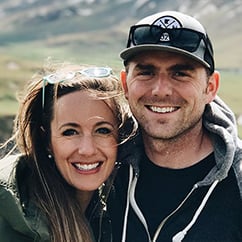 Thank You
Thanks for taking the time to check out Tasty Food Photography!
Whether you're someone who just reads the posts, someone who comments and emails, or someone who buys the book, I am so appreciative of your involvement in Pinch of Yum! Thank you for making the process of food blogging an engaging and rewarding adventure.