Today I'm answering your Top Five Burning Questions about Garlic Tostones aka Puerto Rican Fried Plantains. Cause you wake up wondering about things like fried plantains, right? Yeah, that's why we go together.
1. What are they? And why are you making Puerto Rican food?
So garlic tostones are basically fried plantains that have been pre-soaked in a garlic water to give them extra flavor. Imagine TJs potato oles but 100 times better. And yes, I'm referring to the TJs that is Taco John's. I grew up in small town Minnesota, okay?
Bjork and I recently had dinner with our incredibly sweet friends Bjorn (Bjork and Bjorn, BFF, not a joke) and Maureen, and since Maureen is Puerto Rican, she made us the most amazing Puerto Rican dinner: tostones, chicken, rice, and beans. I watched her make the tostones and we talked about life while she dipped them in the garlic water and transferred them to the frying pan where they became their golden brown little selves. I could not get the image/taste/texture and just like that, an addiction was born.
2. This is weirding me out because WHAT ARE PLANTAINS?
No worries. I wouldn't really know if I hadn't a) had a Puerto Rican friend, or b) been to Puerto Rico where I stuffed my face with plantains of all kinds for five days straight. A plantain is kind of like a big greenish colored banana, but it has more starch and less sugar. It's not the kind of thing you'd want to eat raw; it's only meant to be eaten after cooking it. Or in this case, frying it into beautiful golden perfection and topping it with sea salt and don't look at me because I am drooling.
You can buy plantains that are green, yellow, or black. For this one, I'd go with a more greenish (less sweet) plantain because we're soaking them in garlic. Oh yes we are.
3. Is this authentically Puerto Rican?
Well, I did watch her make them and then basically copied her every move for this recipe. And I did eat them when I was IN Puerto Rico. But I always sorta do my own thing in the kitchen, too. So yes/maybe/mostly.
4. How do you make them?
EASY, you guys. Seriously. Follow the steps: chop, fry once, smash, soak, and fry one more time. I'm not even going to comment on the double fried part. Just let your mouth imagine the beauty.
5. When would I make this and what would I eat it with?
Well, if you're like me, you'll make it when your husband is gone for the evening and you have the whole Christmasy house to yourself, and you'll put on your slippers and some comfy music, and you'll soak up the amazingness that is hot rice, spicy beans, and golden crispy salted plantains to kind of round it all out. And you'll feel like a queen.
The texture, the simple flavors, I JUST LOVE THIS SO MUCH. And one more thing: I JUST LOVE THIS SO MUCH.
These would also be great for a fun dinner party, or for your family, or on Friday night for your dinner and movie date night at home. Which reminds me, today is Friday, which reminds me: this. For dinner.
Once you make them, you'll crave them all the time. The salty crunch with the softness of the rice and beans? Yeah, it becomes a very real need.
Print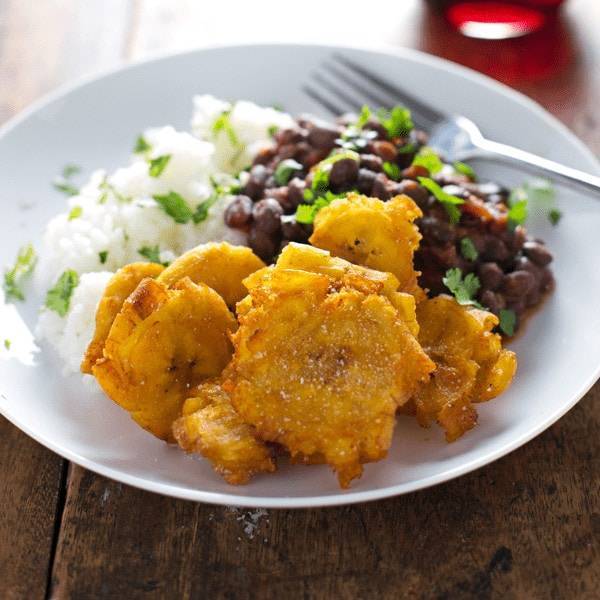 Garlic Tostones: Puerto Rican Fried Plantains with Rice and Beans
---
Description
These simple garlic tostones are Puerto Rican fried plantains with a little sea salt are the perfect golden crispy addition to a plate of rice and beans.
---
2

plantains

1

–

2

cups oil for frying

1 tablespoon

minced garlic

1 cup

water
sea salt
---
Instructions
Peel the plantains and cut them into 1-inch thick disks. Place the garlic in a bowl with the water and set aside.
Heat enough oil in a large skillet so that the disks will be half way submerged in the oil. When the oil is shiny and a drop of water sizzles across the top, add the plantains. Fry for 3-5 minutes on each side until the plantains are lightly softened and browned. Remove and place on a paper towel lined plate.
Place the plantains on a cutting board, smash with the back of a wooden spoon to make them half as thick, and let them soak in the garlic water for about a minute.
Remove, dab them dry and wipe off garlic pieces so they don't burn, and return to the frying pan. Fry for another 2-3 minutes on each side or until they take on a deep golden color and a crispy texture. Drain again on paper towels, sprinkle with ground sea salt, and serve with rice and beans.
Notes
Just so you know, THEY ARE SO GOOD. Also, choose plantains that are firm and mostly green. The yellow and black ones are sweeter, which is also good and is usually called "Fried Ripe Plantains", but we don't want the sweet with all that garlic. This recipe is really for the less ripe plantains. Here's a nice visual showing the colors of plantains and different stages of ripeness.
Prep Time:

15 mins

Cook Time:

10 mins

Category:

Appetizer

Cuisine:

Puerto Rican
Keywords: tostones, garlic tostones, rice and beans, fried plantains
Recipe Card powered by
One last thing: I am working on my rice and beans recipe but today I just wanted to focus on the fried plantains. For your rice and beans if you want some more direction, check out this recipe!
It's almost Chrissssstmas! Have a great weekend eating all the delicious things.