Hooooly pie. This sweet corn and zucchini pie has me wrapped around its cheesy, melty, vegetarian-ness. Like, eighty times wrapped around. We are basically one.
Featured comment
Delicious! Cheesy and rich, but also quite light because of the veggies and no crust. On regular rotation in my house 🙂
It all starts with the obvious: big fat green summer zucchini. NO EXPLANATION NEEDED says the whole zucchini-growing world. I think I'm almost almost allllmost ready to break up with these big summer greenies, but it's that kind of pre-break-up fling where you can't not go back for just one more cheesy slice or puffy muffin or lasagna square or dare I even mention coff-ee-cake even though you know it's probably in everyone's best interest for you to call it quits on the relationship. It's complicated, okay?
HOW TO MAKE OUR CORN & ZUCCHINI PIE (45 SEC):
My mom made a zucchini pie at the cabin this year and it blew my mind. It was a little different than my version because hers was baked in a crust. Wait for it: a flaky buttery omigosh croissant crust. It was utterly heaven-sent after a long day playing out in the sun and I won't even tell you how many slices I had. //three//
My sister and I raved, kissed our mother's feet, ate one more slice, and proceeded to have a 5 hour food conversation about how you could make variations by adding different kinds of crusts, including more types of vegetables, and baking into different shapes. Like, uhh, rectangles, cause creativity runs wild in my family. We became obsessed wi– okay okay fine I became obsessed with making all the meals of summer somehow circle back to a big, cheesy zucchini pie.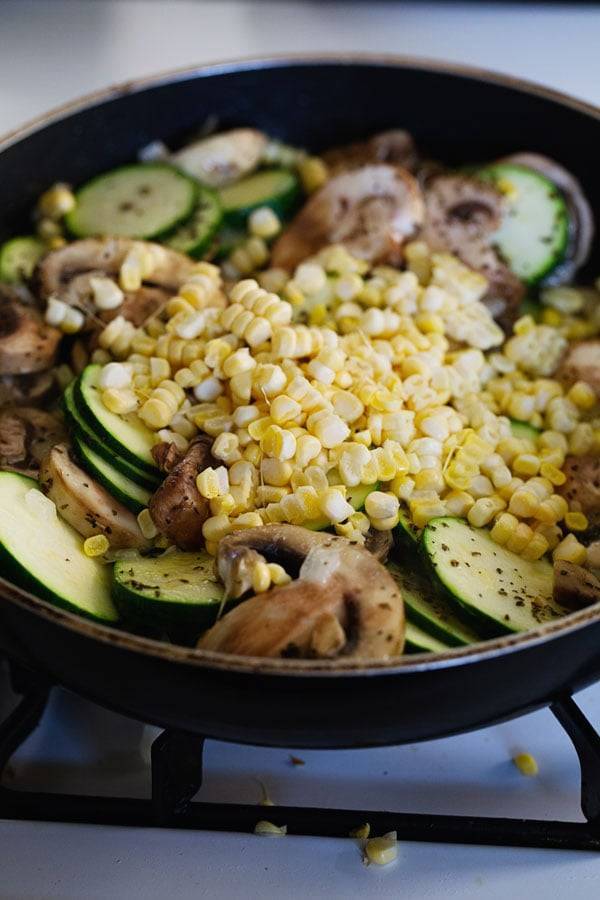 Just one second. Are you as distracted by those stray corn kernels as I am? ajkdfs;lk
This zucchini pie you're seeing here does not include a crust. Before you kick me off the blog, I do have five main reasons.
I am a mean food grinch.
Just kidding.
Easier.
A wee bit healthier.
It's all about the filling anyways. I promise.
and whoever made the rule that anyways is not a real word, I'd like to see you in my office.
If you're more of a crusty person HA-HA-HA there are lots of recipes for zucchini pie online with a layer of refrigerated croissant dough as the crust.
But if you're okay without crust, join me for a slice of this here yummy yum.
I took the liberty of adding a handful of buttery sauteed mushrooms – we like mushrooms in this foodspace, right? – and slicing up a little fresh sweet corn right off the cob (and I mean SWEET – this stuff tastes like candy to my mouth thanks to the sugar free dittylidoo) to take the whole zucchini pie shtick right over the top. Then I added a little or a lot Swiss or Mozzarella or Gouda like the cheese champ that I am, and voila.
Sweet Corn and Zucchini Pie happens right up in your face, just like that.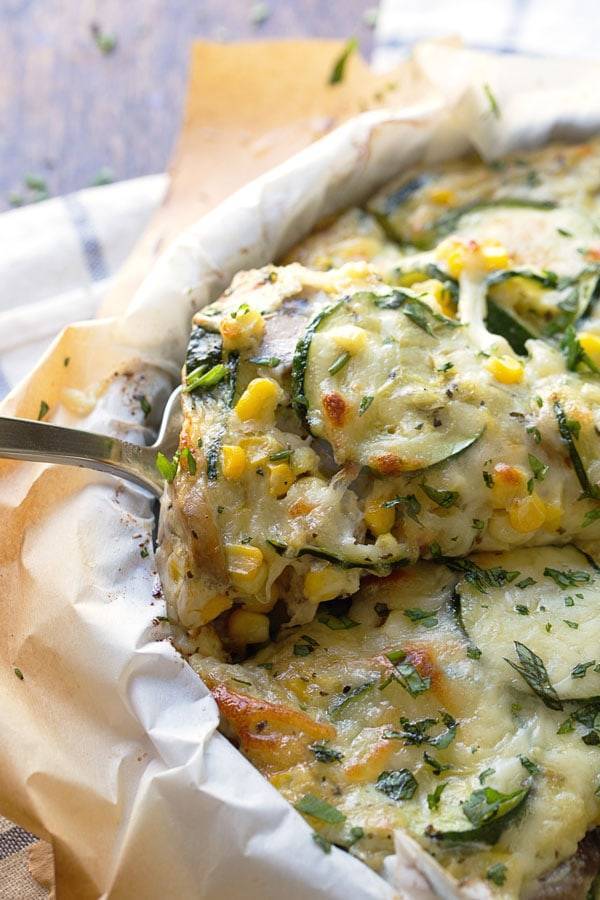 Meatless Monday? I'm all over it when it involves mushrooms, sweet corn, and zucchini baked into a cheesy crustless pie.
gobblegobblegobblegobblegobble
Print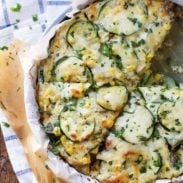 Sweet Corn and Zucchini Pie
---
Author:

Pinch of Yum

Total Time:

1 hour

Yield:

6

–

8

(nutrition is for

8

)

1

x
Description
This crustless Sweet Corn and Zucchini Pie is so incredibly simple to make and it's the perfect way to enjoy summer produce!
---
4 tablespoons

butter

half of a

yellow onion, diced

2

ears sweet corn

2

large zucchini, sliced very thinly (about

4 cups

)

8 ounces

sliced mushrooms

1 tablespoon

dried basil

1 teaspoon

dried oregano

1/2 teaspoon

salt

12 ounces

shredded cheese (I used both Mozzarella and Swiss)

4

eggs, beaten
---
Instructions
Preheat the oven to 375 degrees. Heat the butter in a large, deep skillet over medium high heat. Add the onions, zucchini, and mushrooms. While the veggies saute, cut the corn kernels off the cob. Add them to the pan and continue to saute until the veggies are soft, 5-10 minutes. Remove from heat.
Once the mixture has cooled for a few minutes, stir in the basil, oregano, salt, cheese, and the beaten eggs. Line a pie pan (9-inch or larger) with parchment paper or just grease a pan with nonstick spray. Transfer the mixture to the pan. Arrange the top so the zucchini slices lay flat and look nice. Top with a little extra cheese for looks, cover with greased foil, and bake for 20 minutes. Remove foil and bake for an additional 5 minutes to brown the top. Let stand for 10-15 minutes before cutting into slices.
Equipment
The equipment section may contain affiliate links to products we know and love.
Notes
It will bubble up a little bit as it bakes, so put a pan under to catch drips if it's really full. Also, there was a little extra watery-ness (about 2 tablespoons) in the bottom of my pan when I sliced it, but the pieces held together perfectly so NBD. I think the moisture could be prevented by just being a little more patient before cutting. I sprinkled mine with fresh herbs (parsley and cilantro) like I always do on everything. Basil would also be yummy.
Prep Time:

15 mins

Cook Time:

45 mins

Category:

Dinner

Method:

Bake

Cuisine:

American
Keywords: corn and zucchini pie, zucchini pie, summer zucchini corn pie
Recipe Card powered by
---
One More Thing!
This recipe is part of our collection of easy zucchini recipes. Check it out!