Featured comment
Thank you so much for this recipe! After trying this smoothie, I've branched out quite a bit to all kinds of kale smoothies. I have never enjoyed kale very much before this, but now I drink it every day. Thanks! 🙂
You won't even believe this right now: IT'S SNOWING.
I'm sitting on the couch and looking out at the world of white as the sun starts to come up in our little Yum Sweet Home neighborhood, watching the cutest kiddos run out to their bus stops with ridiculous hats and boots and mittens and disproportionately huge backpacks, whiiich has nothing to do with winter but is important for the supercuteness factor nonetheless. And I can see Honey, our neighborly golden retriever, walking down the unplowed street while trying to lick at the snow landing on her face and making the whole world an infinitely better place with a bouncy-waggy tail and her biggest ever dog smile.
If you couldn't tell, I'm sort of loving this whole scene.
When we lived in the Philippines – I think that's when I realized that I have this deep sense of Home buried in the fabric of my soul. Dramatic much? I'm just bringing it. Some people can come and go and be awesomely adaptable and feel comfy and settled wherever they land. You who are like that – I envy you. I especially envied you when I lived in another climate halfway across the world and had a really hard time making it feel anything like home. Then on the flip side, some people are less adaptable have really clearly defined things that make a place feel like Home. That's me, and I think that might just be Minnesotans in general.
*cue comment flood from Minnesotans who hate winter* okay okay fine! I take it back.
Maybe it's because the Minnesota weather is so extreme, and by riding the roller coasted of the emotional ups and downs of the Minnesota seasons (negative forty! I HATE THIS PLACE) a person comes out of the dark times being more bonded with their home and better able to appreciate its wildness. Maybe? That's sort of how it feels for me.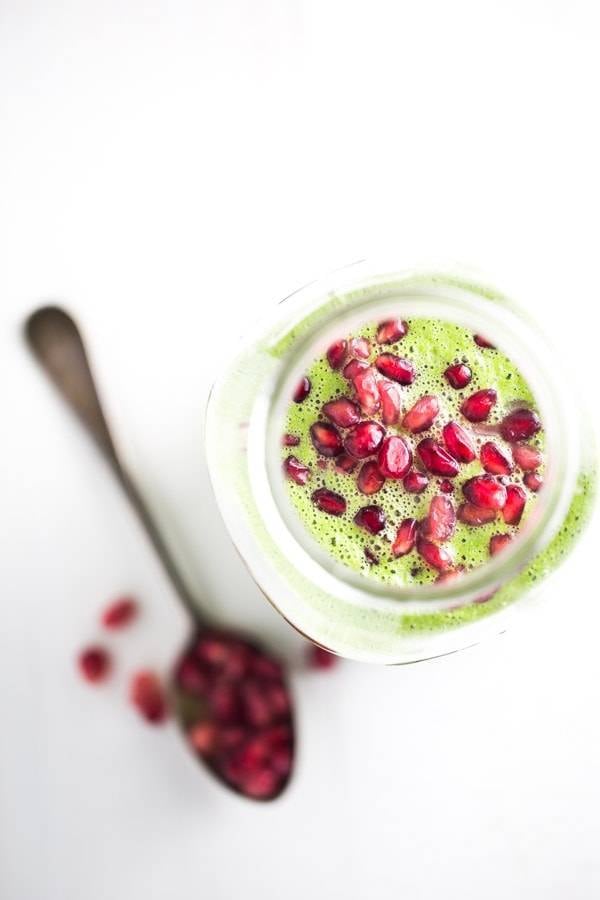 Either way, Minnesota has always been my home, and snow around the holidays – especially that magical first snow that's happening right now! squeee! – just quenches some sort of inner thirst I have for the feeling of homey-ness. Really, that's how I feel – like something warming and wonderful is pouring out onto a sponge in my heart or soul or something in me, and we (myself and my soul and the sponge) are just soaking it up like there is no tomorrow.
Full disclosure –> somewhere in there, I think there's this tiny bit of another sort of feeling that I'm sensing. Dread? Panic? Doom? Like, already, winter? ALREADY?
But ignoring.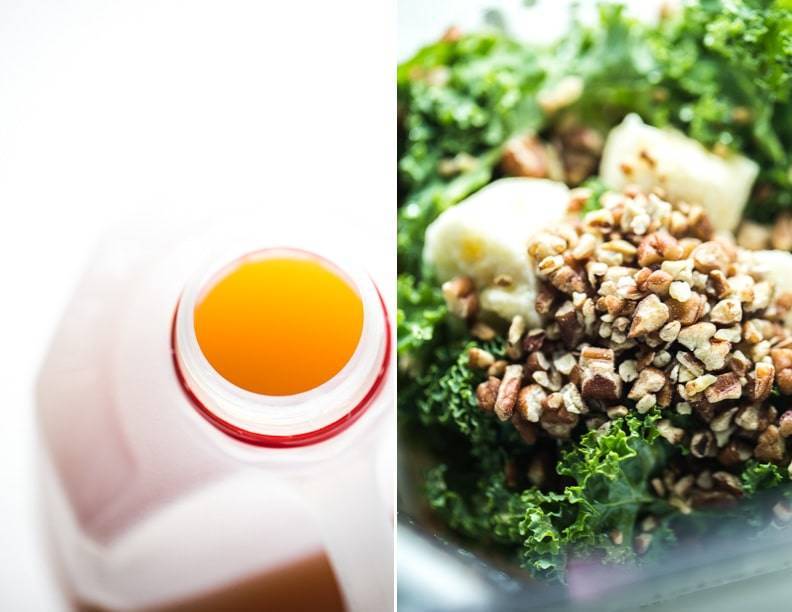 So this smoothie! I didn't even talk about the smoothie yet.
This smoothie is what I've been making over the last few days in between the few holiday-ish recipes that I've been trying out, which are coming to you soon and they are really delicious LIKE WHOA. But I just need one or two more days to get them ready.
As I've been trying these recipes out, my eating schedule has been something like this:
Pumpkin pancakes
Green Apple Smoothie
Mashed Potatoes and Gravy
Green Apple Smoothie
More Potatoes in a Creamy Sauce with lots and lots of CHEESE
Green Apple Smoothie
Easiest Turkey with more Gravy
Green Apple Smoothie
Sage Stuffing with the most delicious Spicy Sausage
Green Apple Smoothie
Yeah.
I have this dilemma where it's the holidays and I want to eat all the really good food all the time but I can't because I'm too full from the last awesomely huge meal. It's a little embarrassing to type that out. Any relaters? Please?
So my idea with this smoothie was to make something that would give me the healthy stuff I wanted (I SEE YOU KALE) while still tasting ultra-festive and leaving me room for the next holiday feast.
Pay close attention now, kids: the secret ingredient here is apple cider. Ohhhhhh man, that is yummy stuff. We bought a bunch of it this year from a local orchard, and after doing the sugar free thing for 60 days, it's honestly just a little too sweetly potent for me, so after blending it with a handful of big, power-packed kale leaves and a half or full banana for good texture, I water the whole thing down a bit with either just, uhmmm, water, or else a handful of ice to make more of a chilled smoothie-esque thing.
It seriously tastes like a delightfully juicy green apple, sipped through a straw. I love it so much.
In previous versions I've added nuts, flaxmeal, nut butter, cinnamon, pumpkin, pomegranate seeds… all the festive things are welcome at this party.
So. I think it might be time for me to make one of these, seeing as to the fact that the snow is falling, and the fact that I'm in need of healthy breakfast after last night's comforting chicken wild rice soup, and the fact my holiday hormones are currently on overdrive with this snow making magic right outside my window.
To healthier, glowier holidays! Or something.
Print
Holiday Detox Green Apple Smoothie
---
Author:

Pinch of Yum

Total Time:

7 minutes

Yield:

1

big smoothie

1

x
Description
This Holiday Detox Green Apple Smoothie is festive, nutritious, and perfect for snacking on between those decadent holiday meals.
---
1

banana (or half is plenty if you're watching sugar)

1

–

2

cups kale, stems removed

1 cup

apple cider (no sugar added – just the real stuff)

1 cup

water or ice
optional extras: flaxmeal, nuts (I used pecans), nut butter
dash of cinnamon
pomegranate seeds for topping
---
Instructions
Blend all ingredients together until smooth. Use water for a juice-like texture and ice for a smoothie-like texture. Add in any extras you want for extra protein, fiber, or healthy fats.
Stir in a dash of cinnamon, top with pomegranate seeds, and enjoy!
Notes
The smoothie naturally separates a bit after it rests, so you may find that there is a layer of foam and kale-textured-stuff on the top. You can either stir to reincorporate it, eat it, or skim off the top to remove. I would also suggest eating the pom seeds before sipping up the drink since because they will get stuck in the straw which can drive some people *points to self* completely crazy.
Prep Time:

5 mins

Cook Time:

2 mins

Category:

Breakfast

Cuisine:

American
Keywords: detox smoothie, apple smoothie, green smoothie
Recipe Card powered by