Featured comment
Pinned this recipe this morning and just had to try it. It turned out fantastic. My parents, 1year old son and niece agree as half the loaf has gone
Okay, well, I guess I can eat cinnamon swirl bread all day if I must. Because when that smell speaks to me, game over.
Bjork and I have kind of a dysfunctional relationship with bread. I said WITH BREAD. Sheesh.
No, seriously though. There's this thing about just having two people in this house, one of which does not like sandwiches. Sand-wich-es. Don't even get me started on that. When we do buy bread, it goes straight into hibernation in its cozy home in the bread basket. And then I get my once-a-year peanut butter and honey toast craving and I go back to find it dying a slow, fuzzy death. Wahh.
Loaves of bread are just never in our house, ever, and it's a little sad.
But it's not like we don't eat bread. Duh. We both love bread-y stuff (I think they're called, like, carbs???) For example: donuts. muffins. cake. bagels. waffles. French toast – a Bjork all-time fave. and every other carb ever created.
As of lately, homemade cinnamon swirl bread with a gooey cinnamon sugar center has been added to that list. I just said gooey cinnamon sugar center.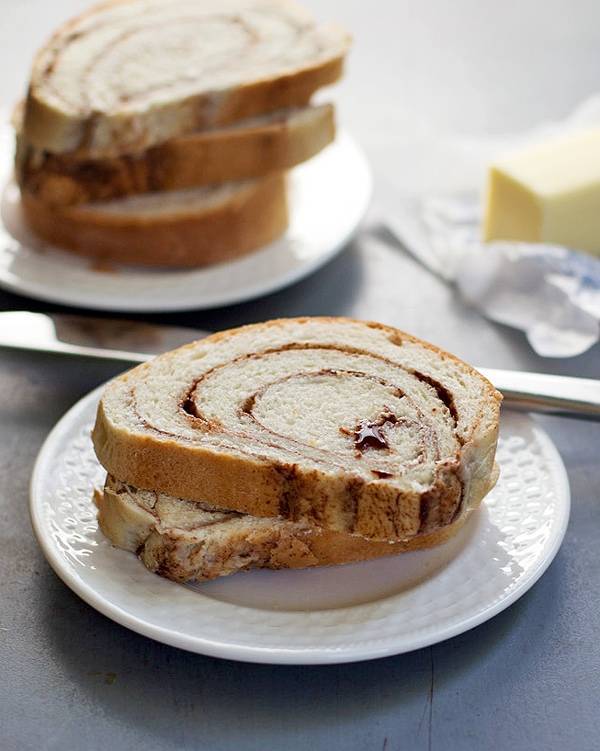 If you're thinking Cinnabon, you are my best friend. This is totally Cinnabon-esque in that it has that really soft white breadiness wrapped in gooey, sticky, cinnamon sugar love. Except it's like a loaf of bread and it's way more versatile than a Cinnabon.
It's highly toastable.
It's also highly French toastable.
It freezes like a dream. Today I took a few pieces out of the freezer and in 15 minutes they were soft and oozing with cinnamon sugar filling. How does that even happen?!
I generally feel intimidated by making bread so this homemade cinnamon swirl bread was kind of a big deal for me. I've made it four times now and every single time I've had success. Is there anything worse than waiting for your dough to rise, punching it down, and baking it into flat, dense little rocks? No. I hate it and it's a major reason why I don't bake yeast bread often. But this was a winner! I'm never letting this recipe out of my sight.
If you are not a bread maker, you're going to become one right now because this is a great foolproof starter recipe. Even if you are a little bit weird and have no interest in eating bread, or toasting it and smothering it with butter and honey, or frying it up into some kind of insanely delicious French toast soaked with maple syrup, just do it for the smell.
Now imagine I'm blasting that sweet cinnamon smell out of the computer screen and into your face. Just do it.
Print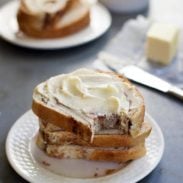 Homemade Cinnamon Swirl Bread
---
Description
This homemade cinnamon swirl bread is so simple and has a gooey middle cinnamon layer that stays soft long after the bread has cooled. Perfect for toast!
---
2 tablespoons

sugar

1 cup

warm water

2 1/2 teaspoons

yeast

2 1/2 cups

high gluten bread flour (add extra as needed)

1 teaspoon

salt

2 tablespoons

olive oil

2 tablespoons

cinnamon

1/2 cup

white sugar
---
Instructions
Mix the 2 tablespoons sugar with the warm water in a very large bowl. Add the yeast and do not stir. Let it sit until creamy, about 5 minutes. Add the oil, salt, and flour. Mix by hand, adding more flour as necessary until the dough forms a large, soft ball. Flour a table or work surface and knead the bread for 5-10 minutes.
Place the dough in a lightly oiled bowl and brush the top with a little extra oil (I typically just use olive oil for this). Cover the bowl with a damp towel and let the dough rise in a warm place for 1 hour. It should be very puffy. Divide the dough in half and punch it down.
Preheat the oven to 350 degrees. Roll each half into a large rectangle. For more tight rolls in the bread, roll the dough thinner. For thicker softer rolls in the bread, roll thicker. It's up to you and it tastes great either way. Mix the cinnamon and sugar in a small bowl and sprinkle over each loaf. Be generous. Roll up the loaves tightly and let rest for a few minutes before putting in the oven.
Bake on a cookie sheet or baking stone for 30 minutes, or until it sounds hollow. When in doubt, overbake this one. It might look brown on the outside, but that's okay because the inside really needs to bake all the way to get the layers filled out. And it's really really helpful to let the bread cool before cutting into it, otherwise it has a tendency to sink down where you cut it. Slice diagonally and eat plain, toasted, or as French Toast.
Notes
Regular all-purpose flour will work for this recipe, but I preferred high gluten bread flour (it was a specific kind I found at a specialty food store) because it seemed to fill out the loaf a little bit more. With the regular flour, I found that there were more gaps in between the cinnamon swirl layers. Still delicious, though. 🙂
Prep Time:

1 hour 30 mins

Cook Time:

30 mins

Category:

Breakfast

Cuisine:

American
Keywords: homemade cinnamon swirl bread, cinnamon bread, cinnamon swirl bread recipe
Recipe Card powered by
A quick thing! High gluten bread flour worked far better than any other kind of flour I tried. All purpose worked fine, but I like the rolls/layers to kind of stick together so there aren't big gaps in each piece, and high gluten bread flour made it happen for me.