Stop right there. Sweet potato noodles? CASHEW SAUCE? First of all, y-u-m.
Featured comment
I made this recipe for dinner tonight. It was amazing! So much flavor. I loved the cashew sauce. This recipe will be a staple in our home from now on.
Secondly, it's true. I'm going fake-vegan-rogue on you today.
In terms of actual real life serious commitments, I'm not a vegan or a vegetarian. But I am a person who likes to try new things and sometimes I get lazy about cooking meat, so a few months ago I bought three different spiralizers – those crazy machines that make vegetables into noodles. I wanted to try them and see which ones were best, and why they were awesome, and become a super healthy person with a few swirls of a spiralizer handle, and eventually talk about it in a post. In these last few weeks, I've just been a leeeetle too "busy" to get my act together and actually write about the spiralizers, but ironically, the thing that is keeping me busy is feeding my face bowls and bowls and bowls of spiralized sweet potato noodles covered in cashew sauce. It's just so weird how that works.
So let's break this down into a less weird and scary // more awesome and healthy and delicious sort of situation.
To start: sweet potato noodles.
How To Make Our Creamy Spinach Sweet Potato Noodles:
I made my sweet potato noodles with the Paderno spiralizer. Annnnnd I just basically gave away my whole spiralizer post to you right there in one sentence. Just… buy the Paderno. It's $30 and it has a 4.5 ⭐️ rating from more than 6,000 reviews on Amazon.
(But seriously, more to come on the topic of spiralizers in a week or two if you're the kind of person who needs major convincing. I see you, and I get you, and I'll be back for you.)
You COULD make your sweet potato noodles by hand or with a peeler or something, but, I mean, why, really? If that's your story right now, I'd say just skip the vegetables-as-noodles thing (too much work, friend) and go for either regular noodles or sweet potatoes chopped into easy, quick little pieces and roasted to perfection. File under advice from your Lazy Girl Friend.
That being said, if you do have a spiralizer, those big, sturdy, fat sweet potatoes make the perfect little swoodles <– oh my gosh, TREND ALERT 🚨 look mom I just started a trend —> and they are pretty much the cutest thing ever, not to mention tasty and nutritious.
Did I mention the cutest thing ever? I played with them like little vegetable slinkies for at least ten minutes.
But let's not get too far on the sweet potato noodles because I need to tell you that there is such a thing in this world called CASHEW CREAM.
And it is divine.
Just try not to turn into a vegan when you look at this picture.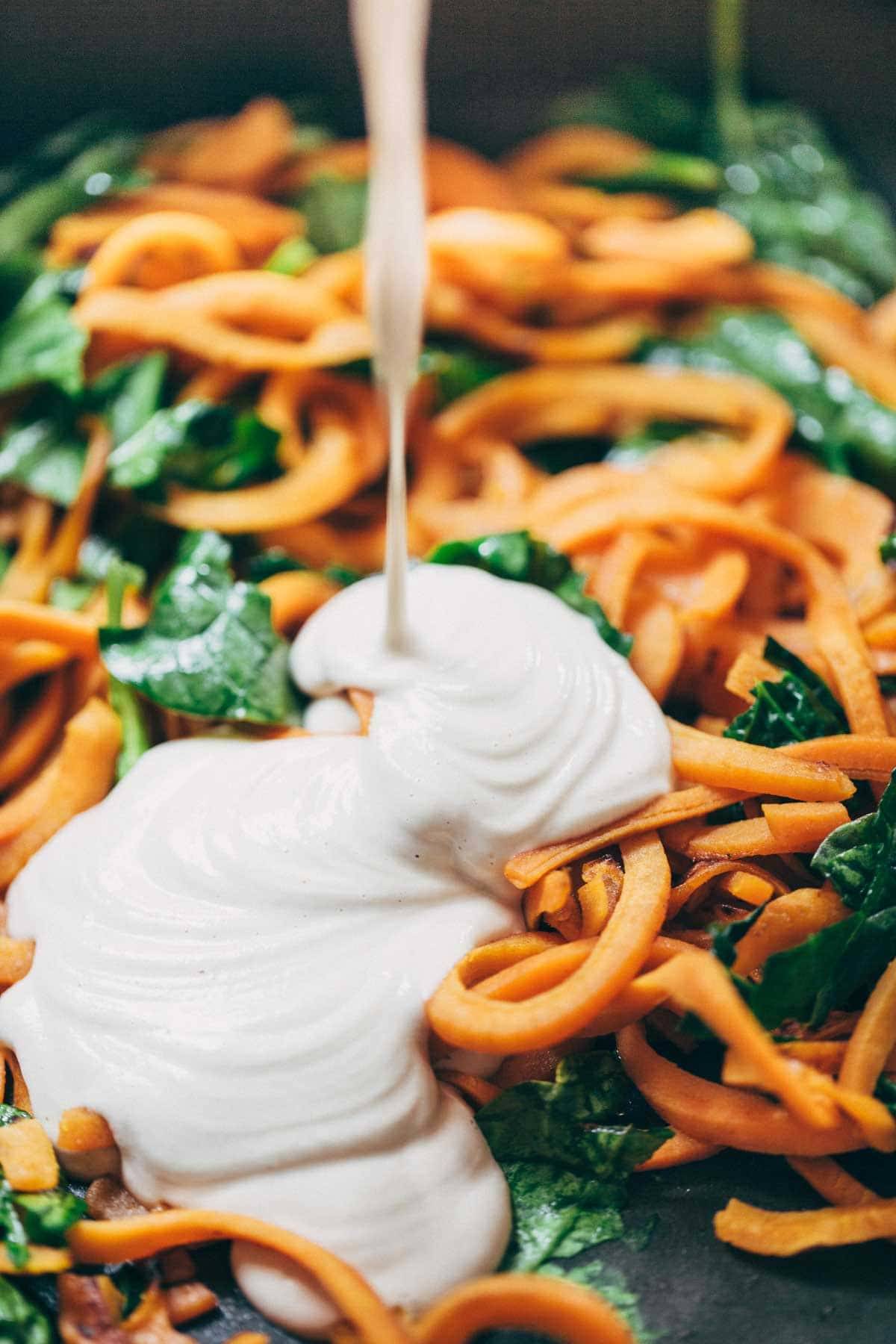 Right? That velvety beauty is CASHEWS and water and salt and a little garlic. And that's all.
So essentially we have sweet potato noodles that are hopefully almost caramelizingly browned with some gently sautéed spinach and a good dose of creamy cashew sauce, tossed all together for a really comforting weeknight vegetarian/vegan type meal. It's thick and creamy, it's super satisfying, it's totally adaptable to anything and everything.
Bacon? I mean, that idea just came into my mind – it had to be for a reason, and maybe you are that reason. Try it. Add bacon. I dare you.
Or roasted chickpeas. Or caramelized onions. Or more vegetables. Broccoli? I could see it.
This plate of creamy spinach and sweet potato noodles with cashew sauce sitting has your fake-vegan-rogue name on it. Unless you're a real vegan, and then, well, you win at life.
Sweet potato noodle it up! And then put cashew cream on everything you ever eat from this day forward. ✔️
The End.
Print
Creamy Spinach Sweet Potato Noodles with Cashew Sauce
---
Description
Creamy Spinach and Sweet Potato Noodles with Cashew Sauce – easy to make, adaptable, gluten free, vegan. Divine and delicious!
---
1 cup

cashews

3/4 cup

water (more for soaking)

1/2 teaspoon

salt

1

clove garlic

1 tablespoon

oil

4

large sweet potatoes, spiralized

2 cups

baby spinach
a handful of fresh basil leaves, chives, or other herbs
salt and pepper to taste
olive oil for drizzling
---
Instructions
Cover the cashews with water in a bowl and soak for 2 hours or so.
Drain and rinse thoroughly. Place in a food processor or blender (I got better texture with the blender) and add the 3/4 cup water, salt, and garlic. Puree until very smooth.
Heat the oil in a large skillet over high heat. Add the sweet potatoes; toss in the pan for 6-7 minutes with tongs until tender-crisp. Remove from heat and toss in the spinach – it should wilt pretty quickly.
Add half of the herbs and half of the sauce to the pan and toss to combine. Add water if the mixture is too sticky. Season generously with salt and pepper, drizzle with olive oil, and top with the remaining fresh herbs.
Notes
This recipe makes MORE than enough sauce – enough for at least 6 or 8 servings, if not more. I left the amounts that way because it seemed silly to make the sauce with only about 1/2 cup of cashews – it wouldn't even really be enough to get going around in the blender, and I promise you'll be able to find ways to use the remaining sauce. It's extremely versatile.
The biggest thing that affects how many servings you'll get in this recipe is the size of the sweet potatoes. Keep in mind that they will cook down a bit and one large sweet potato can be sometimes twice as big as a small sweet potato. Just use common sense in terms of serving size and sauce-to-noodles ratios! 🙂
Also, this recipe is sort of a comforting, neutral starting point for those of us who need tons of flavor in everything – so add whatever herbs or flavors you want to the sauce if you want to give it more of a punch. I love the idea of adding chipotles or sriracha, bacon, roasted garlic, caramelized onion… the list could go on…
Prep Time:

15 mins

Cook Time:

10 mins

Category:

Dinner

Cuisine:

American
Keywords: sweet potato noodles, healthy recipe, spinach and sweet potatoes, vegan noodle recipe, vegan recipe
Recipe Card powered by
Disclaimer: this post contains an affiliate link for the Paderno spiralizer which is the one I recommend after trying several different brands.
---
MORE:
---
One More Thing!
This recipe is part of our yummy spinach recipes page. Check it out!