Healthy chicken parmesan? It's cheesy, saucy, crispy, and sits on top of delicious zucchini noodles.
Greetings from Minnesota in May on a Monday Morning!
Eew, I'm annoying.
Let's try that again.
Hi, friends! It's Monday after a beautiful, brunch-filled weekend celebrating All The Mothers and we're going to start talking about this cheesy, saucy, super-delicious family-loves-it chicken in T-3 seconds. Because seriously, there can NOT be much waiting. I NEED THE CHICKEN PARM.
But first, I just need you to know that yesterday I went ahead and celebrated myself for being Sage's mom.
Two extra pieces of cake, a long nap with Sage, and a good long binge on Instagram. I am just that honorable of a person that I couldn't let the day go by without some deep self-recognition. I mean, who else forgets to feed her, makes her participate in my SnapChat recipe videos, stuffs her with treats after doing one tiny trick ("Sage, SIT. No, SIT. Over here. Come on, SIT."), and gets her all riled up for no reason other than to laugh and take pictures and then give more treats? Badge of motherly honor right there.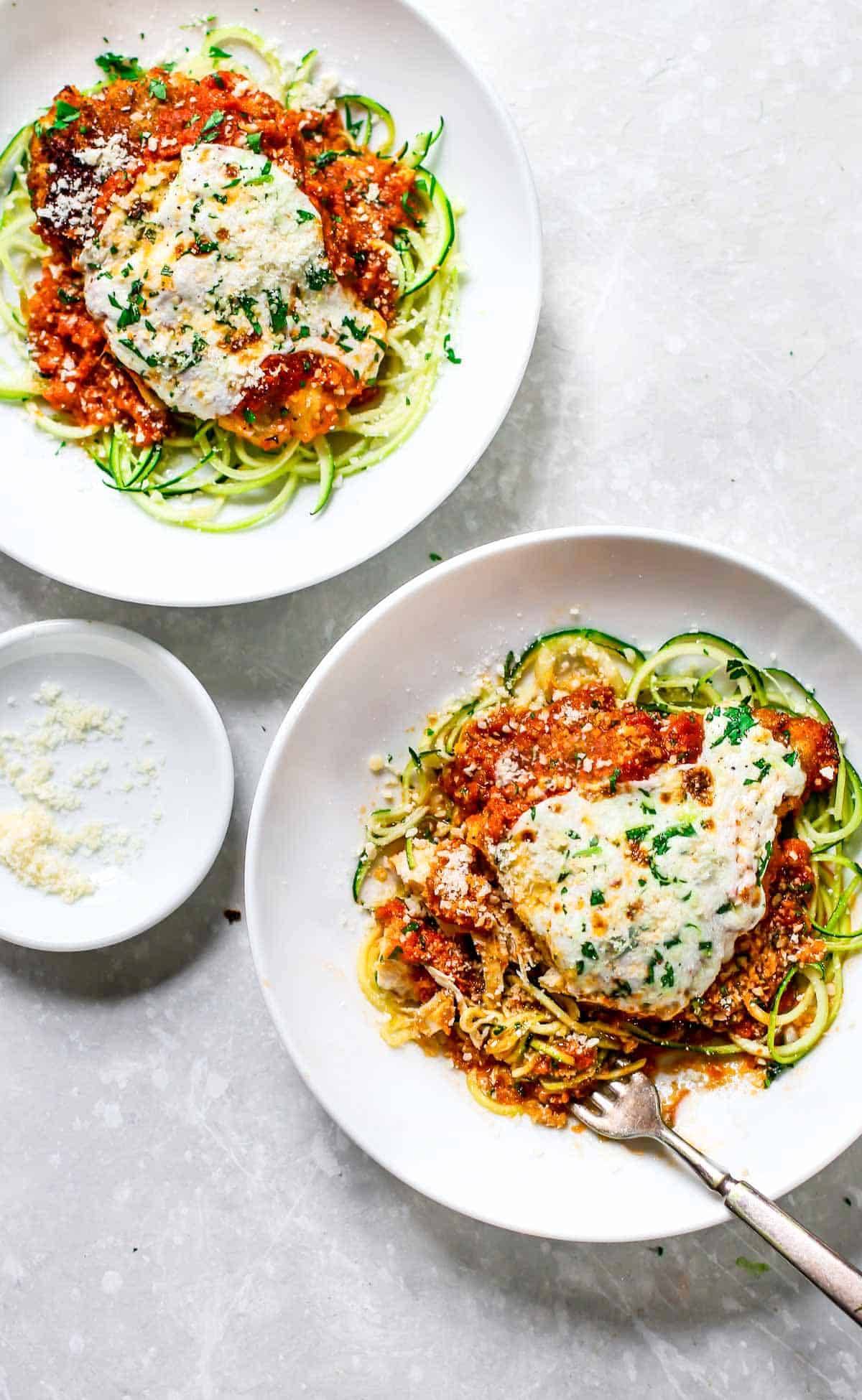 But enough about adventures in dog parenthood.
The thing I'm somehow trying to say is actually just this right here —> I want you to have this great recipe for cheesy, saucy, crispy, healthy chicken parmesan!
It can be ready in about 20 minutes with very minimal prep, it only requires 7 simple ingredients, and it's healthy. Meaning: let's just acknowledge that for many of us, this is real-food focused and veg-friendly enough (that's zucchini on that plate!) to feel like a good, solid, wholesome Monday dinner with protein and veggies annnnd also still cheesy and saucy and golden brown crispy enough to still be delicious.
I mean, dats just how we rollll.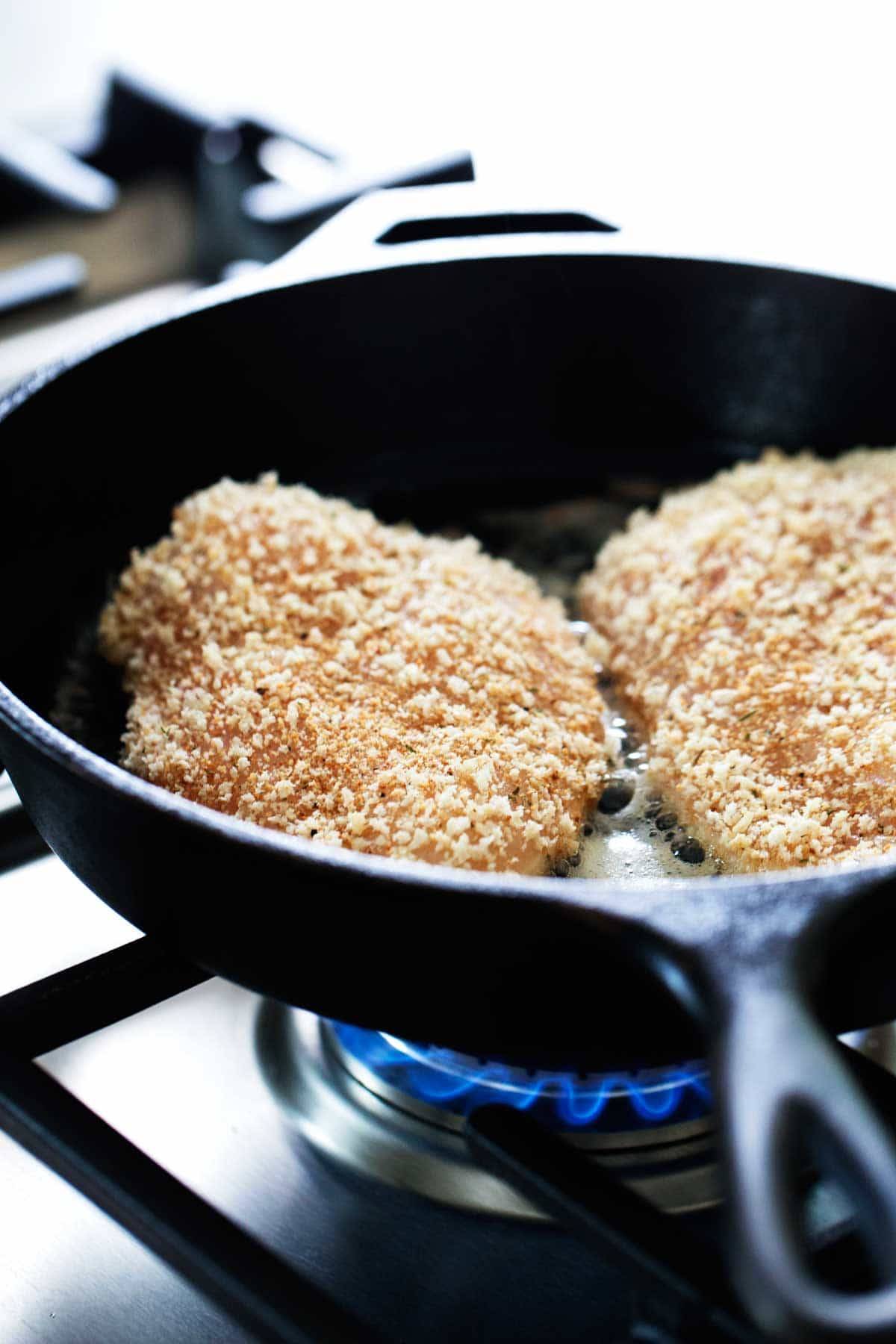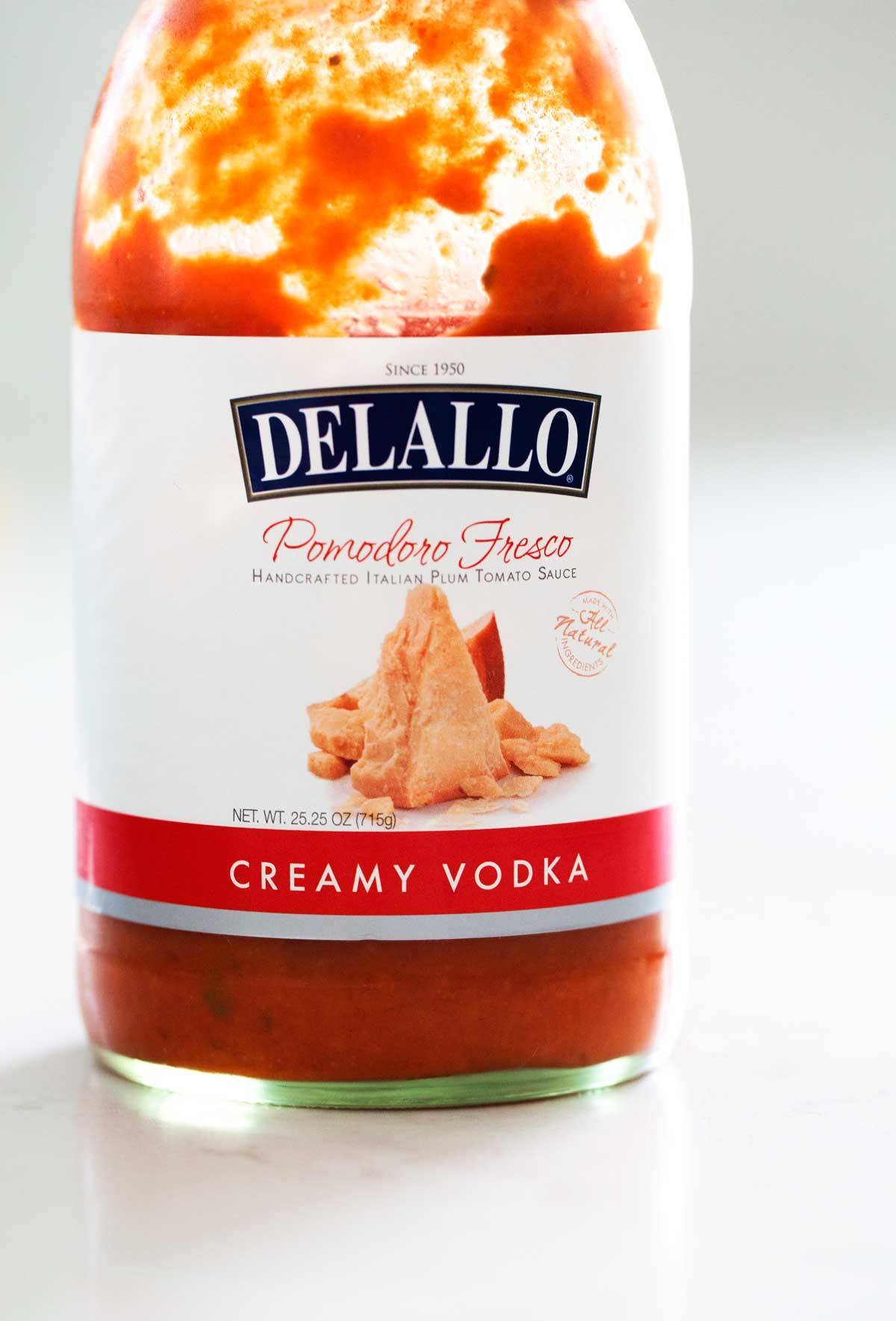 Okay, big announcement here, guys.
I NOW USE A SPIRALIZER.
That's right. I'm jumping on the bandwagon of the internet and making those fake-out noodles out of zucchini that people call Zoodles. Only I feel really obnoxious actually calling them Zoodles, so I just call them… well, I don't call them anything. I just eat them because they are really surprisingly delicious.
Wait tho I am a REAL noodle lover and I just confessed to you that I would eat zucchini cut into noodle shapes instead. WHAT. Things are getting out of control. Someone bring me back into the light.
Truthfully, even though my loyalties ultimately stand with real noodle-noodles, I've been playing around with a few different types of spiralizers (aka machines that make vegetables into noodle shapes) as I try to determine which, if any, I would actually be willing to add to my intentionally slim kitchen appliance list AND recommend to readers.
And while there will be more on that topic to come in the next few weeks, I wanted to let you know that so far, in the trial phase, this one has been the winner:
—> the Paderno Spiral Vegetable Slicer! <—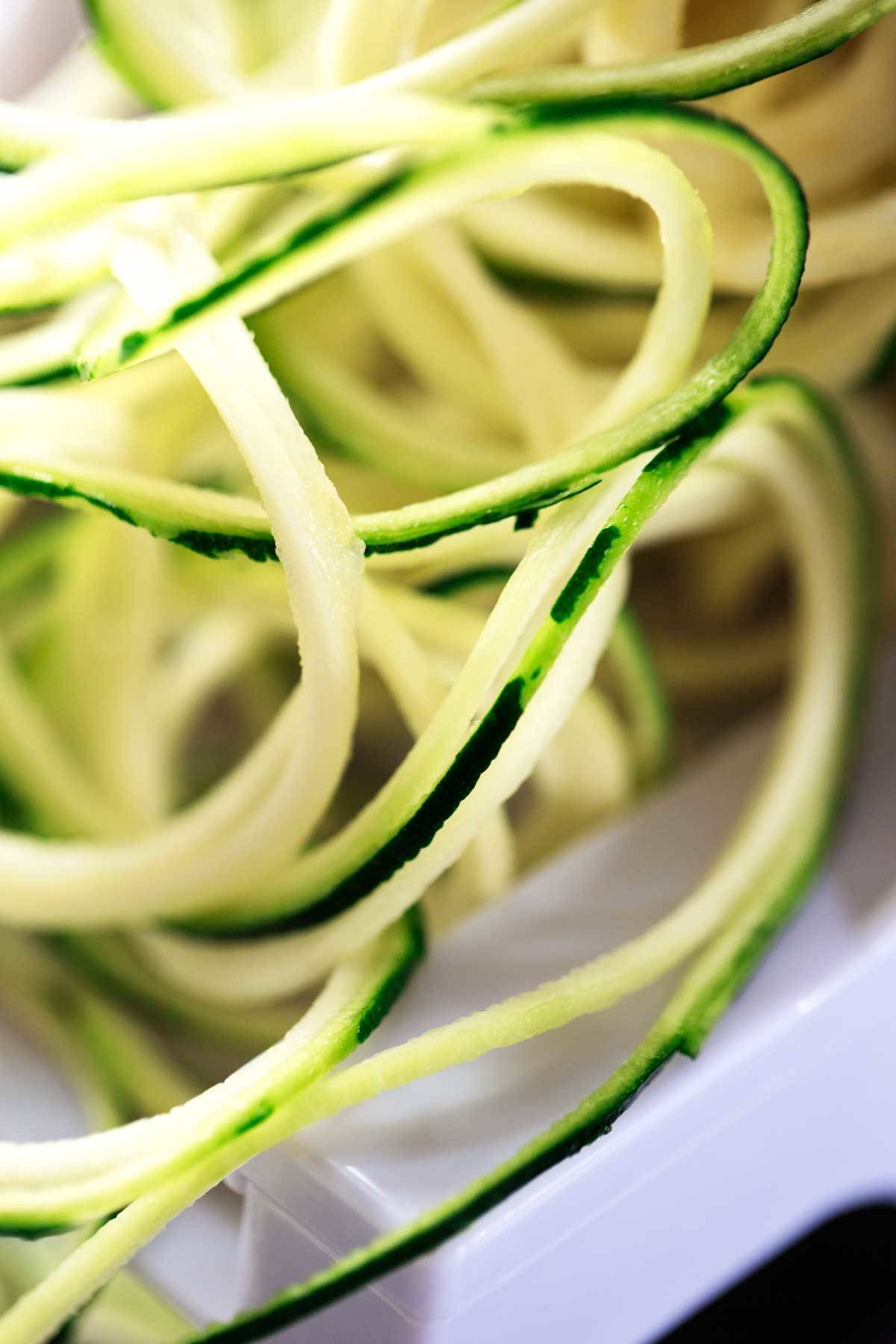 Which is kind of what I expected. Everyone told me that they love it and it's the best of all the spiralizers and it has, like, 5,000 something 5-star reviews.
If you have absolutely no interest in a spiralizer but still want to try this recipe, fear not. You have a few options.
Cut your zucchini into thin, thin strips with a knife, or a mandoline, or a food processor attachment, and that should work just fine.
Use real noodles.
Also, if you have any types of spiralizers that you think I MUST try, then you MUST COMMENT. ♡ I will make you this chicken and ship it to you, er, no, like, just eat it in your honor.
Parting words: I promise this doesn't take more than 20-30 minutes, start to finish. You don't need a bajillion bowls or pans or ingredients. It's the kind of meal you crave on a Monday night. It's crispy, saucy, cheese-topped chicken served over a bed of yummy vegetables aka zoo…. ugh. Can't say it.
Just, it's vegetables, okay?
And it's delicious.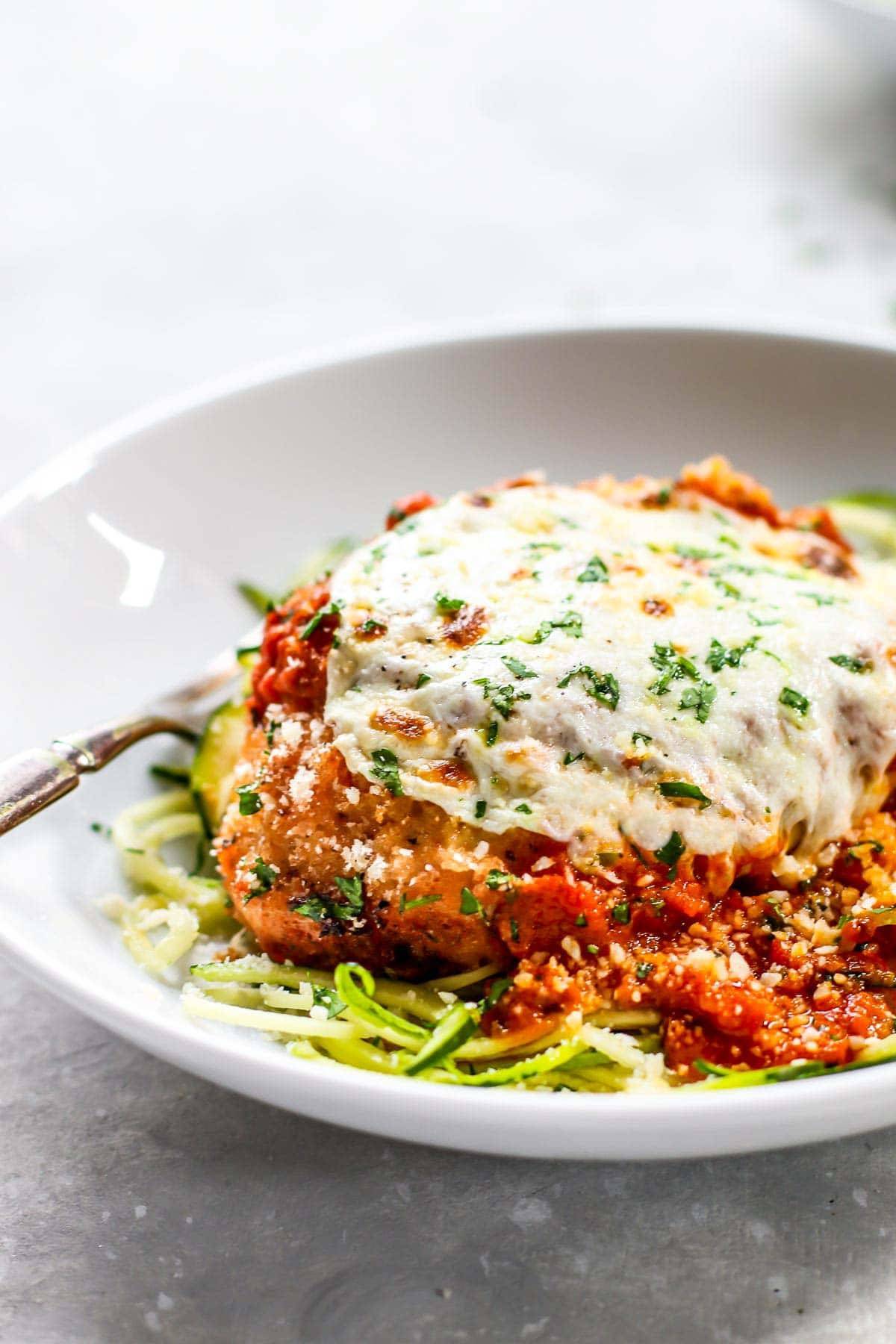 PS. Big love to my bestie Ang for sending me a snap of recent chicken parm creation and inspiring this easy, healthy Chicken Parmesan into a blog post! Friends who love food are the best kind of friends.
Print
20 Minute Healthy Chicken Parmesan
---
Author:

Pinch of Yum

Prep Time:

15 mins

Cook Time:

25 mins

Total Time:

40 minutes

Yield:

4

1

x
Description
Healthy Chicken Parmesan that is crispy, cheesy, saucy, and served over zucchini noodles. So easy and extremely delicious!
---
1/4 cup

whole wheat breadcrumbs

1/4 cup

panko bread crumbs

1/4 cup

Parmesan cheese

1 teaspoon

dried Italian herbs
salt and pepper

2 tablespoons

oil

4

chicken breasts (about

1

pound)

1 1/2 cups

DeLallo Creamy Vodka tomato sauce (or any tomato sauce – but that vodka sauce is YUMMY)

4

slices fresh mozzarella cheese

2

zucchinis
---
Instructions
Prep: Preheat the oven to 425 degrees. Toss the breadcrumbs, panko, and Parmesan in a shallow dish with the Italian herbs, salt, and pepper. Heat the oil in a medium ovenproof skillet over medium heat.
Fry: Cut the chicken breasts into a total of four pieces (for example, if there are two breasts, cut each in half – pound them a little thinner and wider if you want) and dredge the chicken in the breadcrumbs so that they stick all over the surface of the chicken. Add the chicken to the hot skillet and fry for 3-4 minutes on each side. You want the outside to be golden brown – the inside can finish cooking in the oven.
Bake: Transfer the skillet to the oven and bake for 5-10 minutes or until the chicken is fully cooked. Add the sauce and place a slice of mozzarella cheese on top of each piece of chicken. Return to the oven for a few more minutes or until the cheese is bubbling and lightly browned.
Finish: While the chicken finishes, cut the zucchini into thin shreds or use a spiralizer to create zucchini noodles. Serve the chicken and sauce over the raw zucchini noodles and sprinkle with Parmesan and parsley.
Notes
Before baking, if you have a lot of stray crumbs in the pan, I would suggest removing the chicken, draining out the excess oil and breadcrumbs, and then returning the chicken to the clean pan to avoid a burnt breadcrumb situation in the oven.
Also, if you really want the chicken to stay crispy, heat the sauce separately and add it over everything at the end. The chicken loses a little crispy exterior as it bakes in the sauce – I didn't mind it, but just something to think about if you want the crispy chicken.
Finally, I leave the zucchini noodles raw because otherwise I felt like they got too soggy and watery. When you add the warm chicken and sauce, the noodles will soften but keep just enough crunch to still be appetizing.
Category:

Dinner

Cuisine:

Italian-Inspired
Keywords: chicken parmesan, healthy chicken parmesan
Recipe Card powered by
For more spiralizer ideas, check out this post:
---
One More Thing!
This recipe is part of our collection of easy zucchini recipes. Check it out!