The Best Chicken Tinga Tacos
These Chicken Tinga Tacos are THE BEST! Saucy, spicy, real food perfection.
Featured comment
I have fallen in love with this recipe. Whenever I am lost for what to have I always seem to end up eating these tacos! Simple, delicious and healthy!! Amazing!
Literally though, these chicken tinga tacos are the best.
A) Look how pretty!!
B) Imagine how good they taste because juicy chicken, smoky chipotle, creamy avocado, zippy lime, and a charred tortilla just SING together, right? I promise you, they sing.
C) Do you have 20 minutes? Cool. You can make these because this is not fancy. This is just really, really delicious chicken tinga tacos.
This is one of those rare recipes that comes together so quickly and somehow still rivals a restaurant-quality meal. It is a recipe that, once you make it, you say: I will probably make these chicken tinga tacos every time I have friends over because it makes me look fancy with minimal effort. You also say: I need to memorize this recipe. You also say: How soon is too soon to make these again.
It is a miracle and a delight. A perfect taco unicorn.
Prefer To Watch Instead Of Read?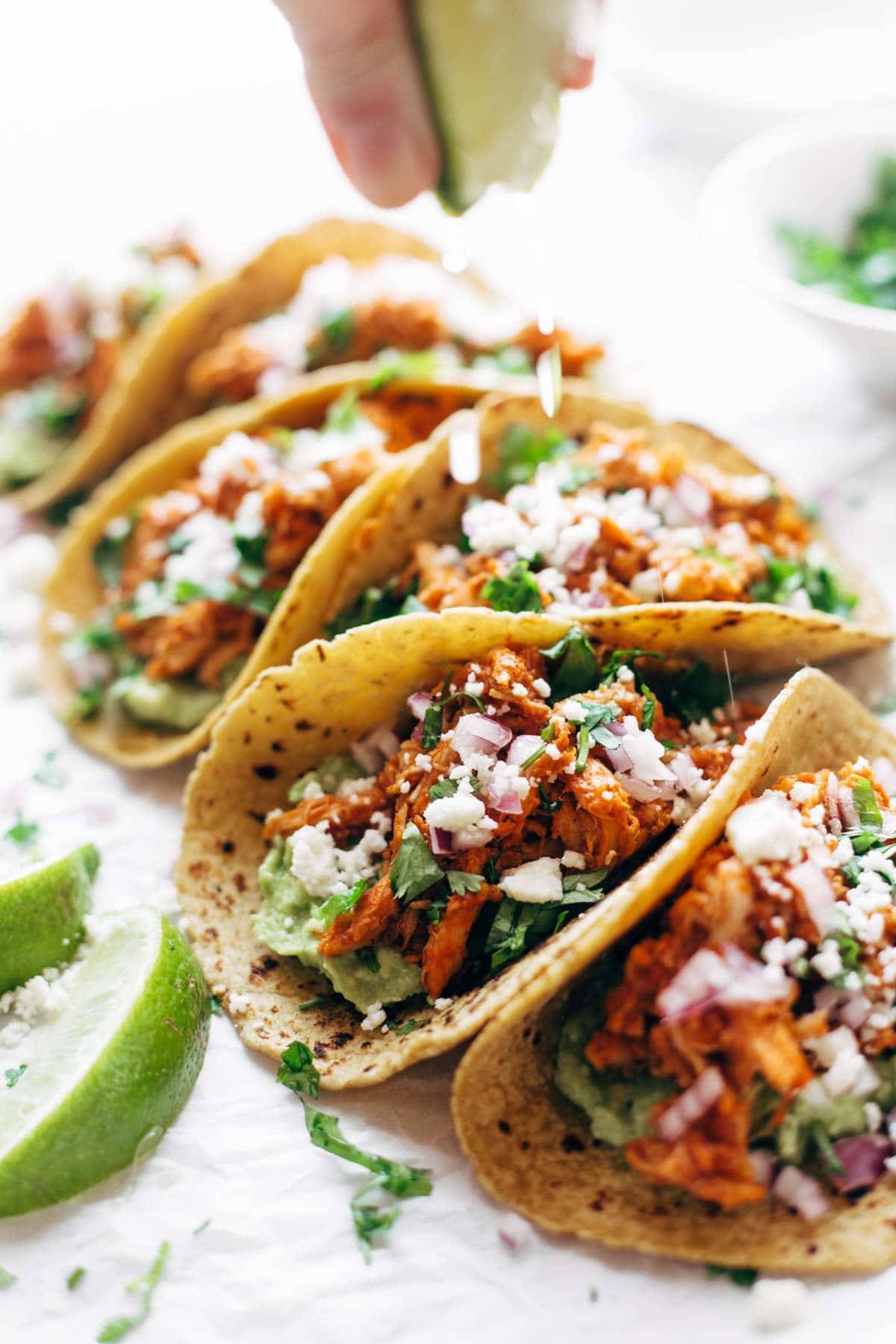 Speaking of minimal, two things.
One: This recipe is from my friend Melissa's cookbook coming out TOMORROW YO called The Minimalist Kitchen (affiliate link). It is a beautiful, inspiring, and (here's my favorite part) practical cookbook. Oh, hey, and one other thing! It's also more than a cookbook. Melissa's expertise isn't just real life recipes – it's getting your kitchen life structured in a way that removes the clutter and stress while bringing the art and the craft and the joy (!!) back to cooking.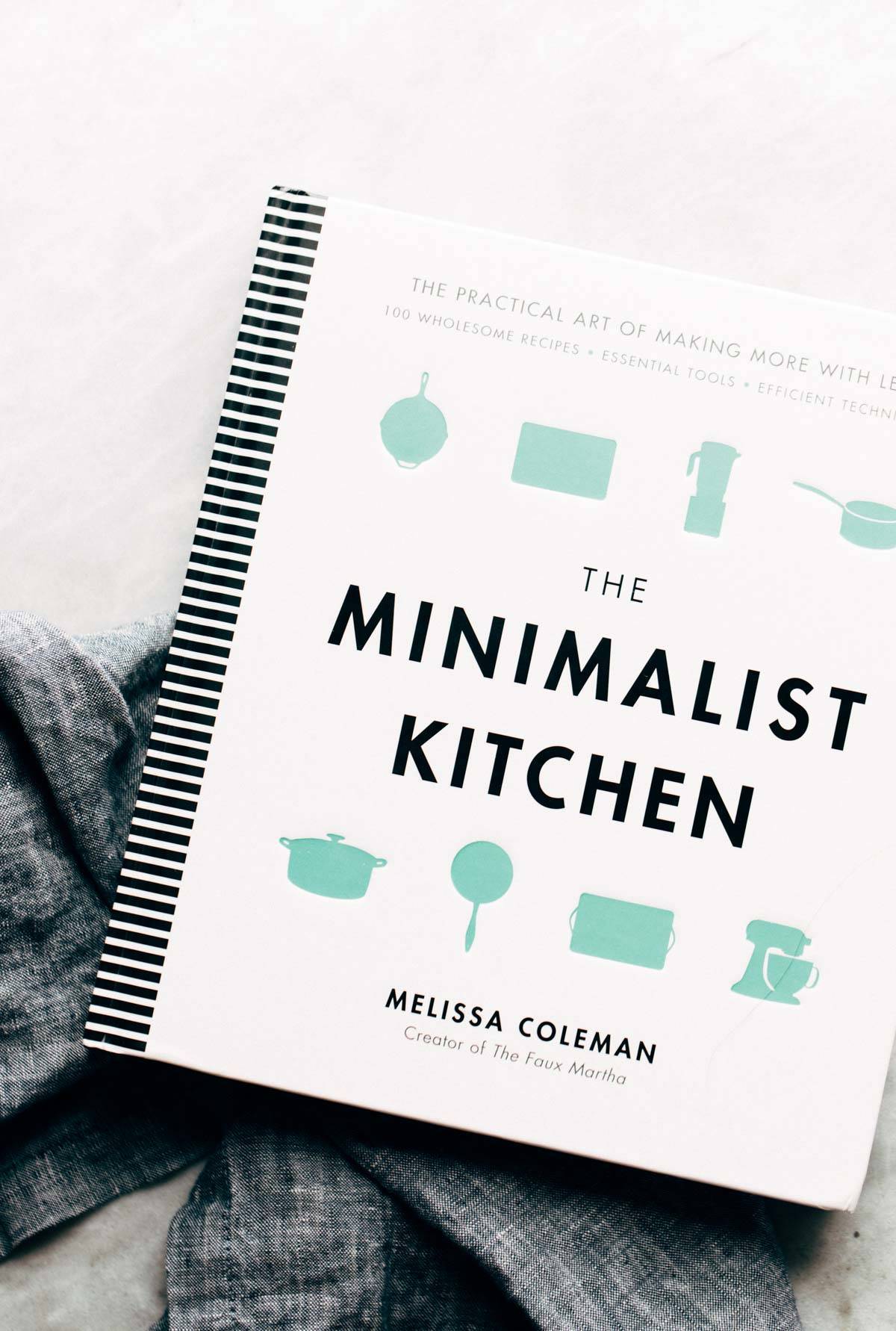 You should definitely, absolutely get this book. I do not recommend cookbooks often, because, well, mostly we all just buy cookbooks and then get all our recipes online. I only recommend the ones I really think will be worth your while.
This is one that will be well-loved with splattered and dog-eared pages. This is one for real life. This will be worth your while.
You can click here (affiliate link) to find the book in Amazon-land.
Two: Naturally, being that this chicken tinga tacos recipe is from The Minimalist Kitchen cookbook, it is minimal.
Here's what you do. You take the usual suspects (garlic, onion, spices, chipotles, and some unpictured crushed tomatoes) and you make a sauce out of them.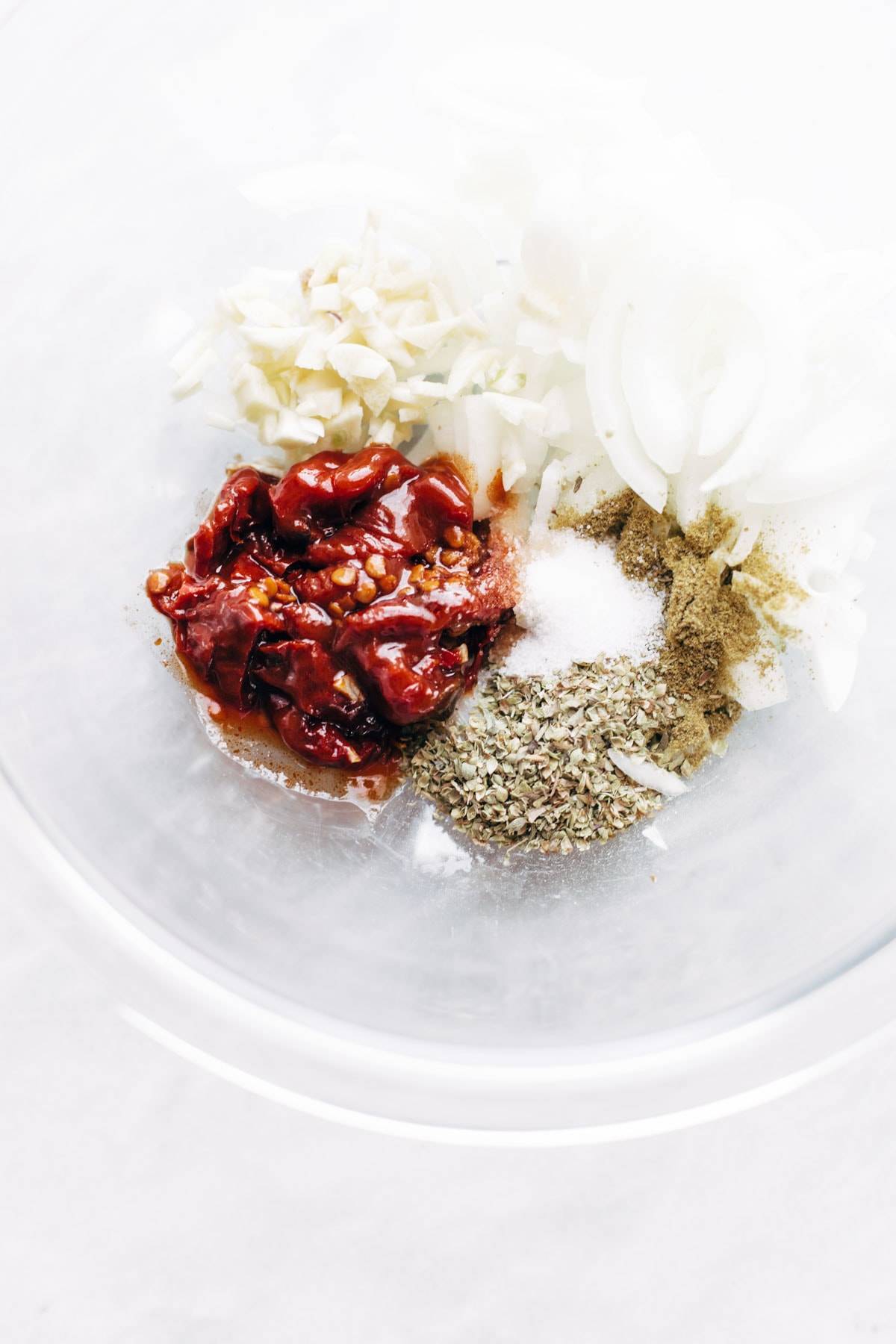 Then you throw your sauce in a pan with your chicken.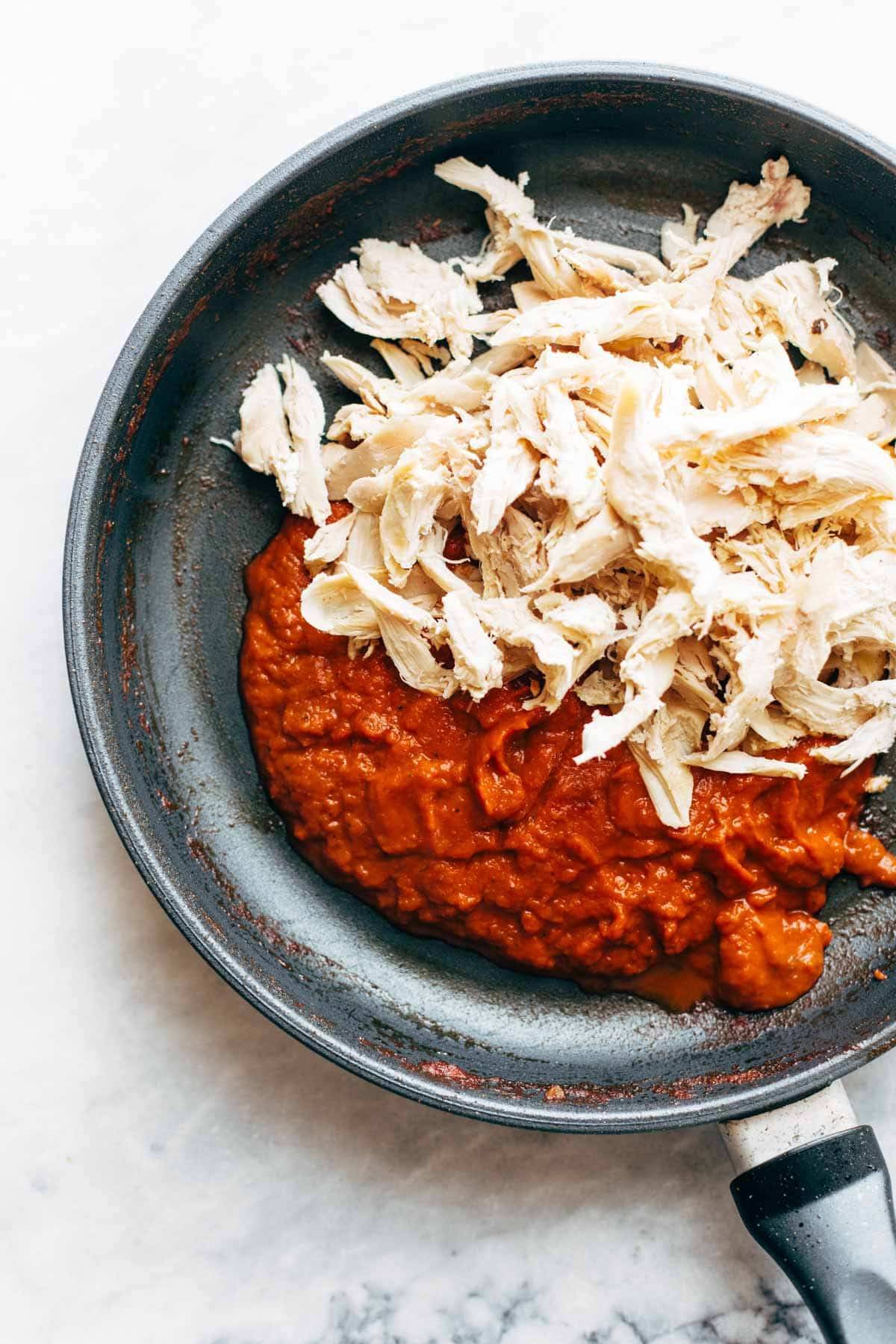 Then you have chicken tinga for your chicken tinga tacos.
It's that easy.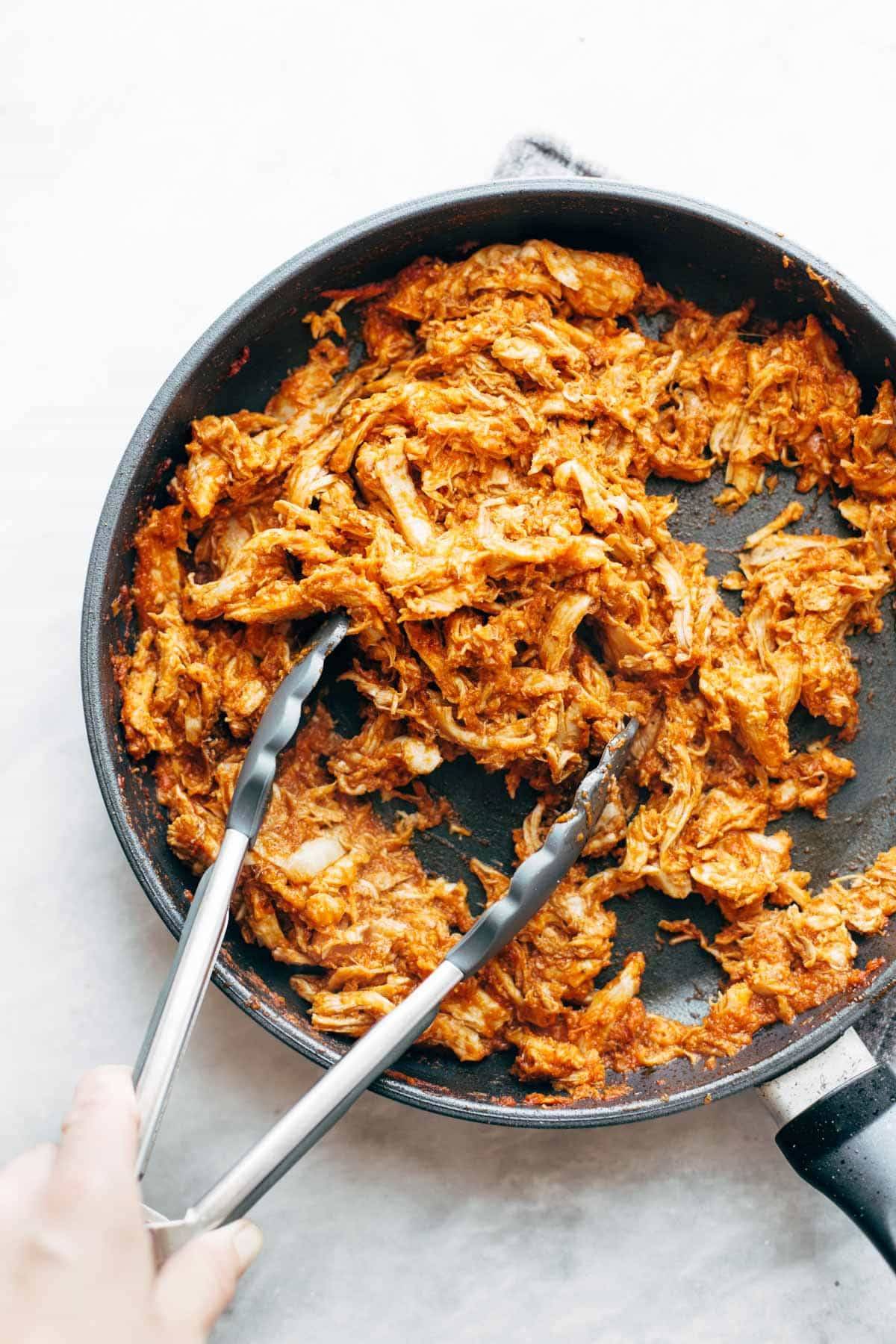 Avocado is necessary for these tacos (and/or for life?!?!), so you can either put some chunks of avocado on the tacos as Classy Melissa does in the book, or you can be like me who needs help with messy taco situations and you can just mash up your avocado on the bottom of the tortilla, like a little spread.
Pro tip: a little lime and garlic salt in your avocado mash won't be sad. It won't be sad at all.
Obviously, finally, you will lean hard into those toppings and generously sprinkle cilantro, red onion, and cotija over top to crown each beauty.
HELLO LOVER! That was so easy! Can you even with these.
Our Favorite Taco Accessories
The section contains affiliate links to products we know and love.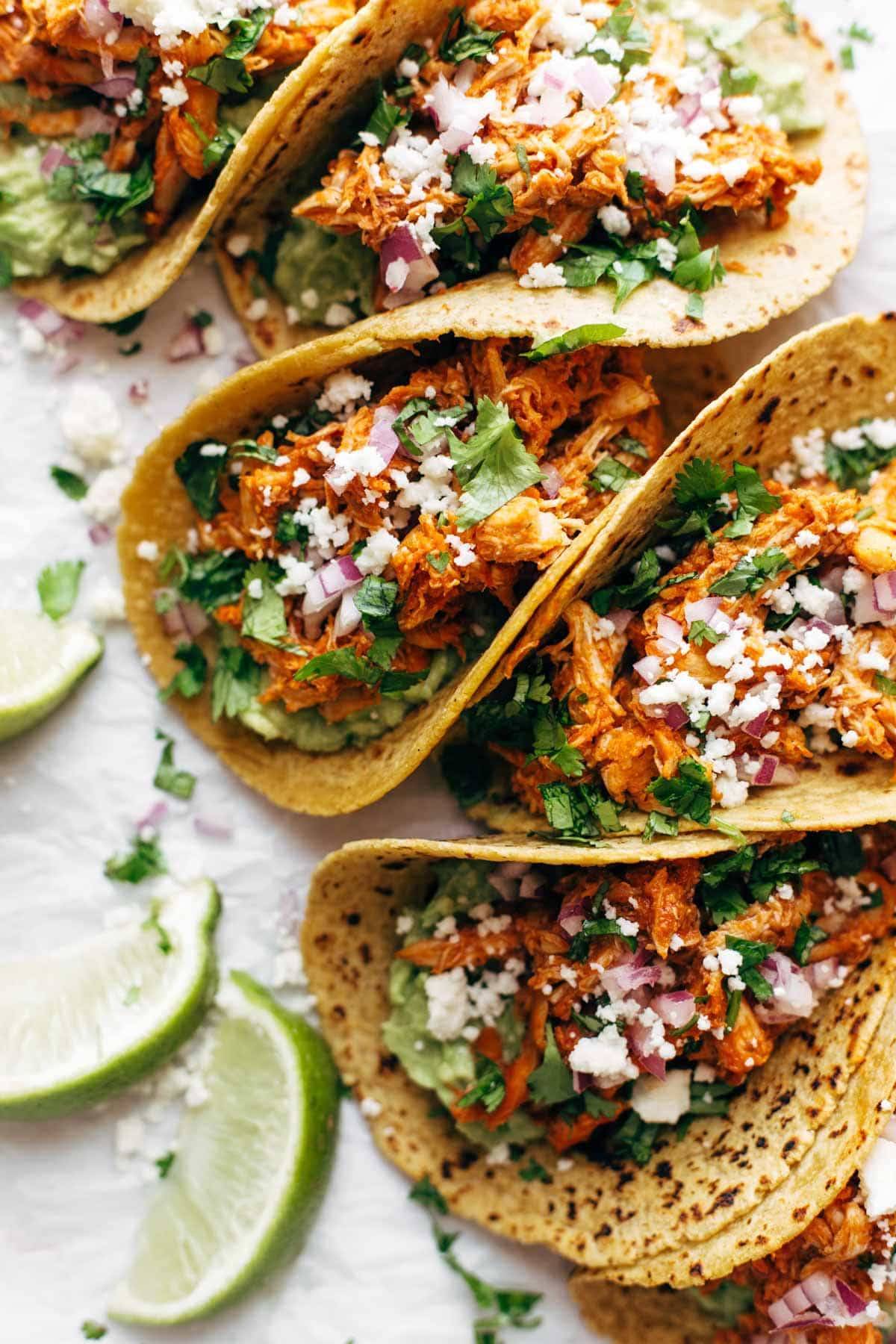 Do you recommend any specific brand of chipotle peppers in adobo sauce?
Any brand of chipotle peppers from your local grocery store will do but we like La Costena. (affiliate link) 
Print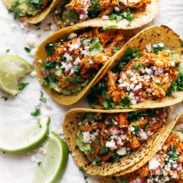 The Best Chicken Tinga Tacos
---
Author:

Lindsay

Total Time:

20 minutes

Yield:

3

servings (10-12 tacos)

1

x
Description
Chicken Tinga Tacos – the only chicken tinga tacos recipe you will ever need! Spicy, saucy, simple, and so fresh. Recipe is posted with permission from The Minimalist Kitchen (affiliate link) cookbook (although I've taken the liberty of adding "The Best" as a necessary recipe title prefix).
---
Chicken Tinga Tacos:
1 tablespoon

olive oil

1

cup

roughly chopped sweet onion

2

cloves garlic, minced

1

–

2

chipotle peppers in adobo sauce, chopped

1 teaspoon

dried oregano

1/2 teaspoon

ground cumin

3/4

cup

canned crushed fire-roasted tomatoes

1/4

cup

chicken stock

1/2 teaspoon

kosher salt

3

cups

shredded cooked chicken (rotisserie chicken works!)
For Serving:
10

(6-inch) corn tortillas

2

ripe avocados, sliced

1/4

cup

chopped fresh cilantro

1/2

cup

diced red onion

1/4

cup

crumbled cotija

1

lime, cut into wedges
---
Sauce: Heat a large skillet over medium. Once warm, add the oil and onion. Sauté for 4 minutes or until tender, stirring occasionally. Add in the garlic and cook for 30 seconds more. Stir in the chipotles, oregano, and cumin, and toast for 1 minute. Add in the tomatoes, stock, and salt. Bring to a simmer, and cook for 7 minutes.

Blend: Place the tomato mixture in a high-powered or regular blender, and blend until smooth.

Chicken: Return the blended sauce to the pan over low heat. Add the chicken, and cook for 5 minutes. Taste and add more salt if necessary.

Serving: Prepare the garnishes. To assemble, top the tortillas with the chicken and garnish with the avocado slices, cilantro, red onion, and cotija. Serve with a lime wedge for squeezing.

Equipment
The equipment section may contain affiliate links to products we know and love.
Notes
Instant Pot Chicken Tinga Tacos: Blend all sauce ingredients (I did not saute them first). Add sauce to Instant Pot along with about a pound of chicken breasts. Cook on high pressure for 10 minutes. Shred chicken in sauce and serve.
Spiciness: I like to use two chipotle peppers for optimal "medium" spiciness. If you want a mild version, just use one chipotle pepper. If you want it hot hot hot, go for three.
Avocado Mash: I found my avocados sliding out of the tacos because I am a taco monster and things got a little messy. To make sure I got every ounce of avocado goodness possible, I mashed up the avocado, squeezed in some lime juice, sprinkled in some salt and a super light dusting of garlic powder, and spread that on my tortillas before adding the chicken.
CHAR YOUR TORTILLAS PLEASE: Place directly over a gas flame to char the edges. Place on a plate, and cover with a towel to steam. (If working on an electric stovetop, heat the tortillas on a warmed pan, and cover to steam.)
Freezer Meal Version
Blend Into a Sauce:
1 tablespoon olive oil
half of an onion
2 cloves garlic
2 individual chipotles in adobo sauce
1 teaspoon oregano
1 teaspoon cumin
1 14-ounce can crushed fire-roasted tomatoes
1⁄2 teaspoon salt
Freeze sauce with:
2 lbs. boneless skinless chicken thighs
Instant Pot Instructions: High pressure 15 mins + 10 mins natural release
Slow Cooker Instructions: High setting 4 hours (thaw first)
Final Step: Serve as tacos, on a salad, in a rice bowl, or in enchiladas.
Check out our full freezer meal posts with all recipes and instructions here!
Pickled Onions – I like to add pickled onions to add an extra umph to this recipe. Go all in with this guide to onions. 
Prep Time:

10 minutes

Cook Time:

10 minutes

Category:

Dinner

Cuisine:

Mexican
Keywords: chicken taco recipe, chicken tinga, chicken tinga tacos, taco recipe
Recipe Card powered by
View the freezer meal version of this recipe here.
You might also like our full freezer meals post.

---
Time To Show You Off!
Tag @pinchofyum on Instagram for a chance to be featured
---
One More Thing!
Looking for more easy recipes to keep in your back pocket? Check out our go-to list here!