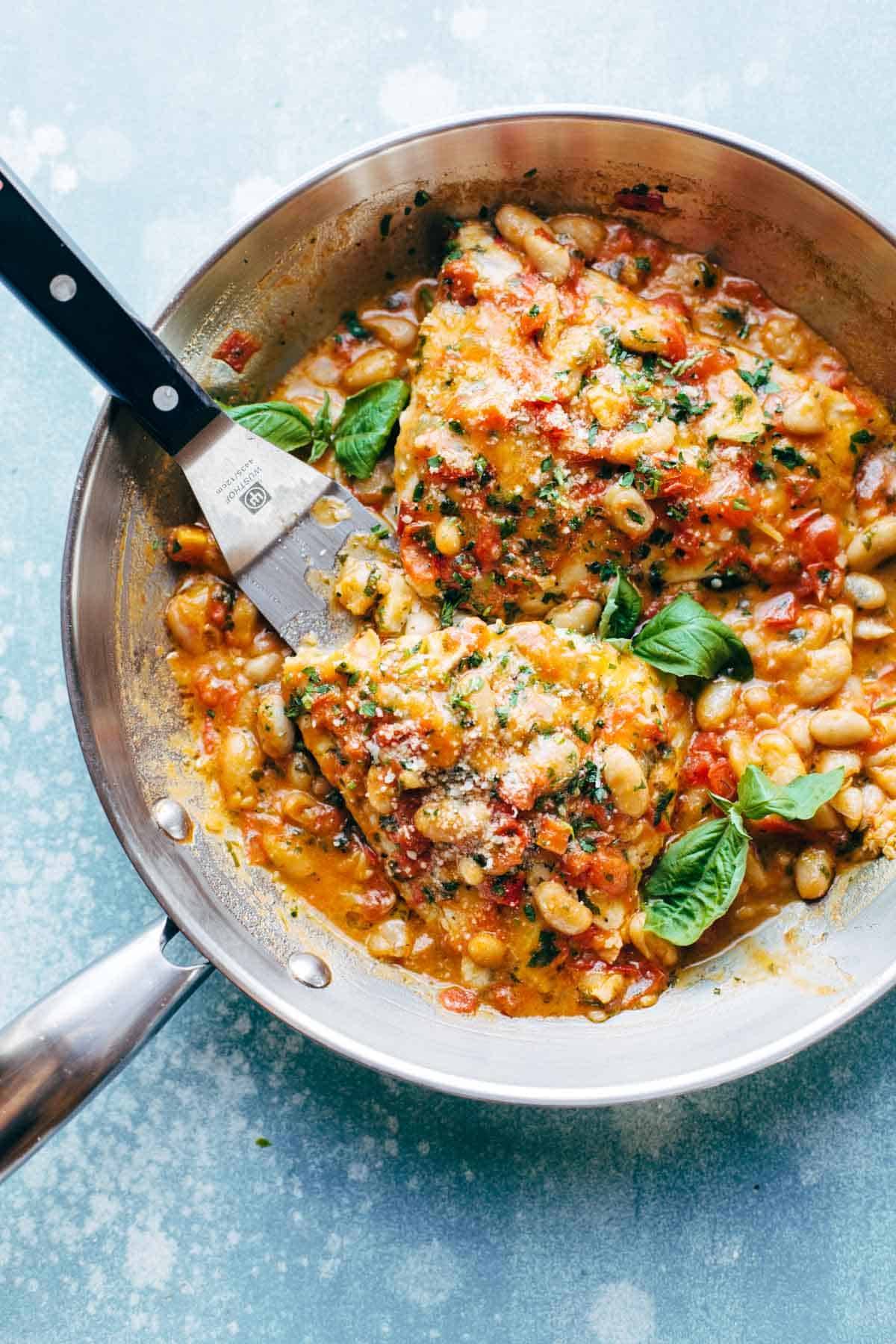 click here to Pin this recipe
Basil and garlic. Just close your eyes and breathe deep. Isn't it the best? It's aromatherapy, summer food style.
Now listen – a tomato-butter sauce situation bubbling gently on the stove, and yes, thanks for asking, it is as absolutely luscious as it sounds x10. You should know that it's also studded with white beans a quick pinch of grated parmesan, and served atop tender, flaky, flavorful barramundi (THE ULTIMATE SUSTAINABLE AND TASTY WHITE FISH WHICH WE LOVE).
Wows. These are seriously exciting food times.
Last night, at my best friend's house, we picked cherry tomatoes off of the exploding tomato bush situation that has taken over her garden and popped them in our mouths and felt their juicy little bursts and tasted their legit candy sweetness, all while setting lofty goals about what herbs we should grow next year and swatting at mosquitos and literally picking up the fuzzy tomato vines and breathing in their everything, because they have to be the only thing in the world that smells so green and grassy and magical.
Does anyone know of perfumes, candles, and/or other scented goods that replicate the tomato vine smell? I am literally asking this as a real question right now. HALP.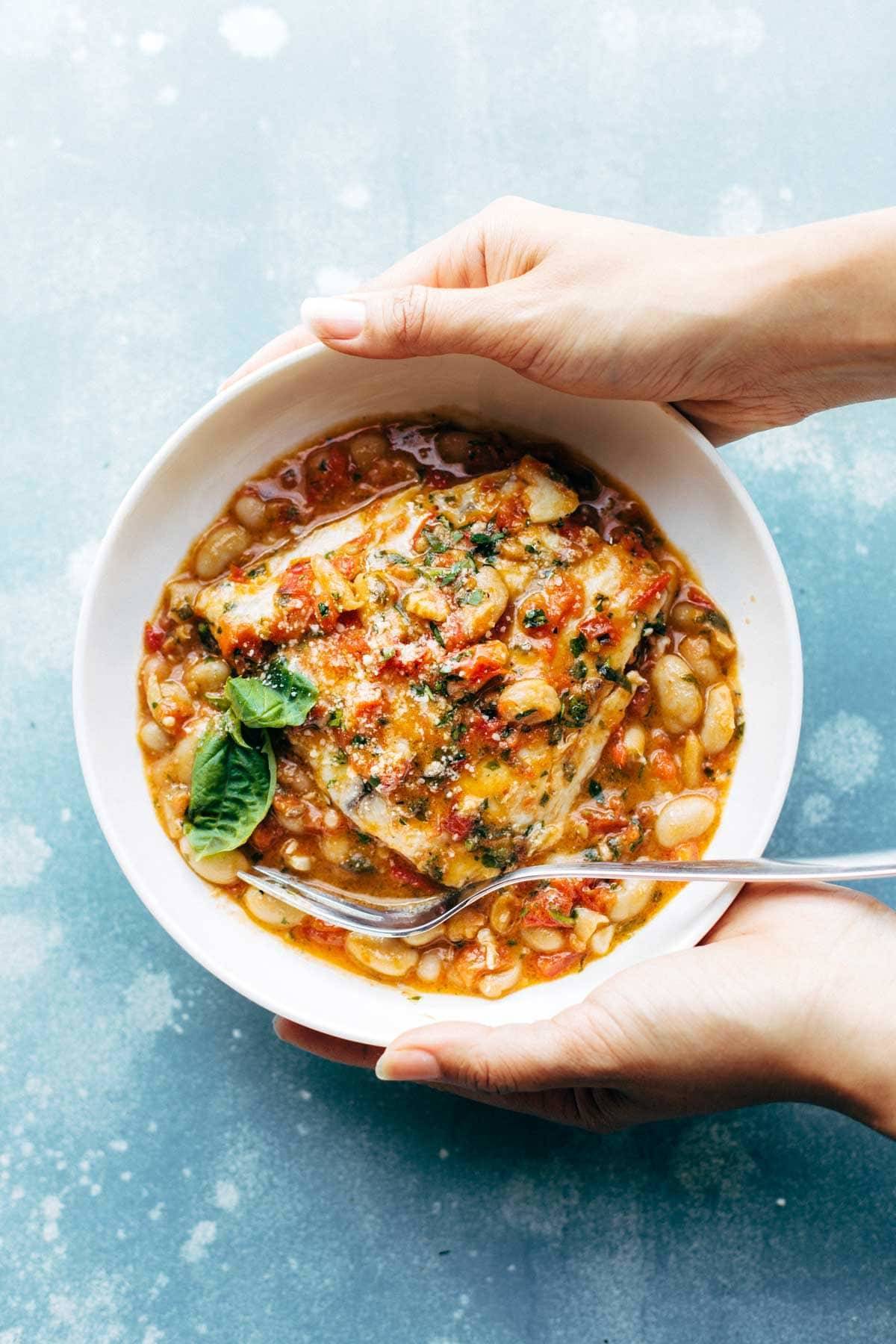 Confession about fish.
I am the kind of person who knows they want to buy more sustainable fish, but doesn't always know how to do that.
The Typical Scene: me, standing in front of the seafood freezer at the grocery store, rifling through packages of frozen fish and seafood with a permanent deer-in-the-headlights look. WHAT TO BUY. DON'T UNDERSTAND. MUST GET FOOD IN BELLY NOW.
This is not ideal and usually leads to an open bag of chips riding home in the front seat of the car which then leads to scrapped dinner plans for said seafood. Which is why now I'm going to tell you how to buy sustainable, delicious fish that will give you the stars in your eyes thing without making you drive to the special-seafood-people store halfway across town, or study a chart, or generally be anything more than a regular person who loves food.
Step One: go to a grocery store like Costco or BJ's or Whole Foods. If you want to make sure you're going to the right one, type your zip code here.
Step Two: look for this fish, called Barramundi.
Easy. Done. You just bought sustainable fish. Our beloved Australis Barramundi has the Monterey Bay Aquarium SeafoodWatch®'s Best Choice rating (!!!), which makes me proud and happy because when smart, responsible choices are also ACCESSIBLE (hi Costco) and DELICIOUS (hello tomato butter sauce), that's where the real magic happens.
If you guys are digging summer as much as I am (and I know you are from all your comments and emails about the cabin post last week – we are a summer lovin crew), then this has our names written all over it.
Fresh tomatoes, spicy garlic, delicate green basil, and that pan-fried white fish served with the white bean tomato butter sauce that is literally my favorite sauce texture ever. It's like a tomato butter GRAVY and it is divine.
You could serve this in a bowl, like I do with 99% of the foods in my life, or you could get fancy and serve it with a green salad and a little bread. The bread? This sauce? The sopping action that would ensue? You would become your own best friend. You would win the hearts of millions. You would probably actually bring about world peace.
The end.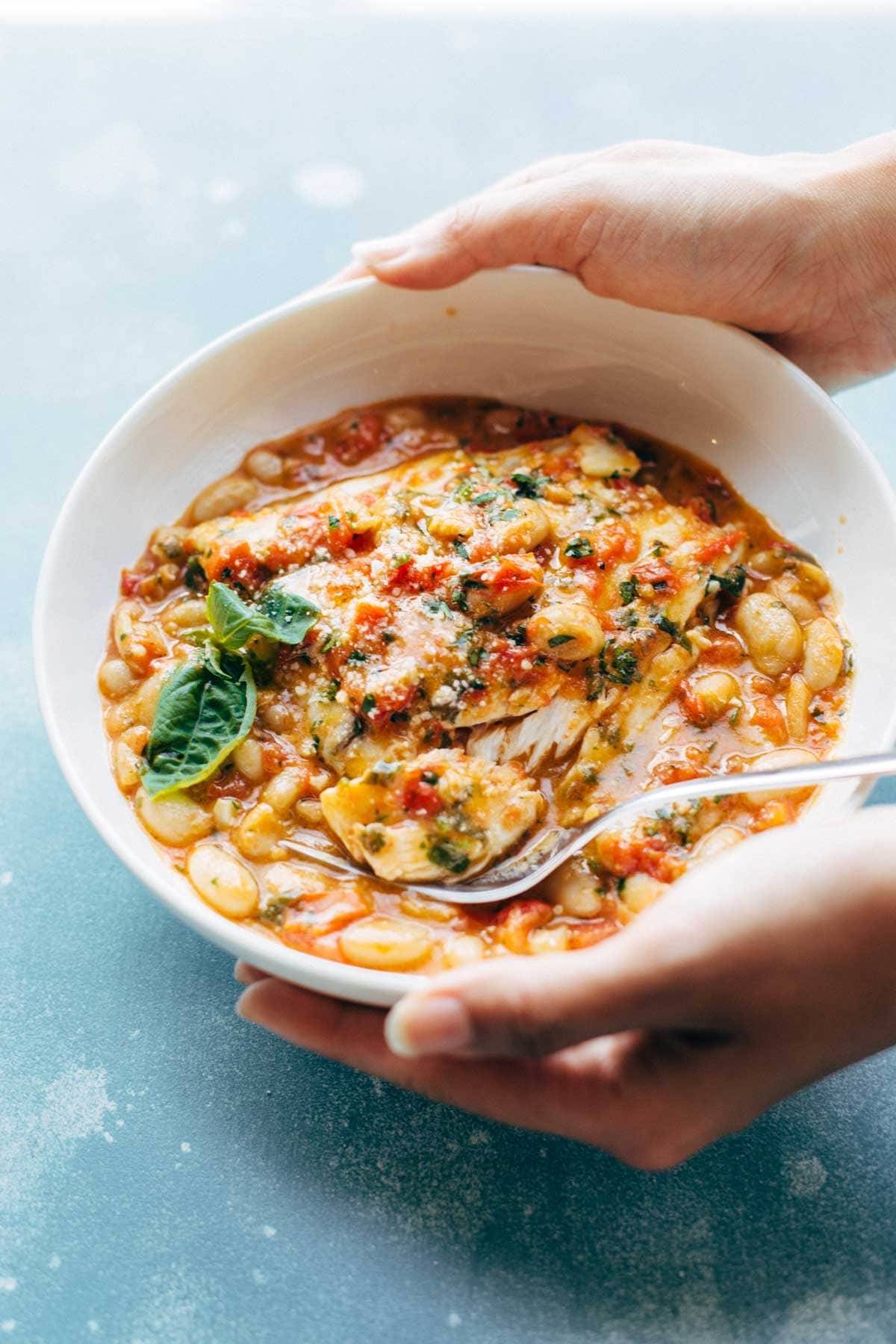 Garlic Basil White Fish Skillet with Tomato Butter Sauce
---
Author:

Prep Time:

10 mins

Cook Time:

20 mins

Total Time:

30 minutes

Yield:

3-4, depending on how much fish you use
Description
Garlic Basil Barramundi Skillet with Tomato Butter Sauce! SO YUMMY and super easy, with basic ingredients like garlic, basil, tomatoes, white beans, Parmesan, and white fish. Perfect with a green salad and crusty bread.
---
Ingredients
1 tablespoon olive oil
2 cloves garlic, minced
fresh torn basil and fresh minced parsley
generous pinch of salt, freshly cracked pepper
4-6 tomatoes, diced (about 1 1/2 cups)
1 12-ounce can white beans, rinsed and drained
12-16 ounces Australis Barramundi, thawed
1/2 cup chicken or vegetable broth
4 tablespoons butter
Parmesan cheese for topping
---
Instructions
MARINATE TOMATOES AND BEANS: Combine olive oil, garlic, herbs, salt, pepper, tomatoes and their juices, and white beans in a small bowl. Set aside to marinate while cooking the fish (although the longer they marinate, the yummier your sauce will be).
FISH: Heat a quick swish of olive oil in a pan over medium heat. Pat the fish dry, season with salt and pepper, and pan-fry on each side for about 4 minutes until golden brown. Remove from the pan and set aside.
SAUCE: Add the tomato white bean mixture to the skillet and add the butter. Bring to a low simmer – the sauce should start to thicken. Add the chicken broth as needed to thin it out. Season with salt and pepper. When the sauce is velvety and loose enough to evenly coat the back of a spoon, add the fish back in. Spoon the sauce over top of the fish and serve. Goes perfectly with a green salad and crusty bread.
Recipe Card powered by
This post was sponsored by Australis Barramundi. We love love love this delicious, sustainable fish!

MORE ROCKIN' SEAFOOD RECIPES: