I'm in tender, juicy, light and buttery seafood heaven. Because —> THIS. Garlic Butter Shrimp and Quinoa.
Featured comment
Wooowza! Best quinoa I've ever had! Family all loved this. Will be making quinoa this way all the time now.
But also because I'm in Washington, D.C., and after spending a weekend eating some reallyreallyreally awesome seafood, for example, shrimp (with pineapple salsa and guac), lobster (mac and cheese), and crab (cakes with caramelized brussels sprouts), I am more than ready to sign my life away and move to a more coastal location permanently. I can't blame my nice state for its sometimes unfresh seafood, but purely based on location, Minnesota just cannot keep up with a place like this. LOBSTER FOR DAYS.
Which leads to me say this: splurge on good shrimp for this dish. Good shrimp meaning the freshest you can get your paws on in whatever area you live. For me, it means going to a really nice grocery store that's a bit out of the way and buying it directly from the seafood counter, not frozen (although a commenter brought up a great point that sometimes frozen is best in terms of quality – it depends on the ingredient list, so check your labels – the fewer the better). I am a big believer in convenience, but this dish is really all about the shrimp so it is completely worth a little extra drive to a store with great seafood to have mouthwateringly juicy, fresh shrimp to work with here.
HOW TO MAKE OUR GARLIC BUTTER SHRIMP AND QUINOA:
What you just witnessed in that photo was the important step of the drenching of the butter. Oops. I think I meant drizzling. But you know that I really meant drenching.
The shrimp in this dish (and all shrimp ever) just begs for garlic butter, and garlic butter has always been one of my favorite was to prepare seafood. And just food in general, actually. So let's give those little shrimpies what they're asking for and make our mouths sing for joy.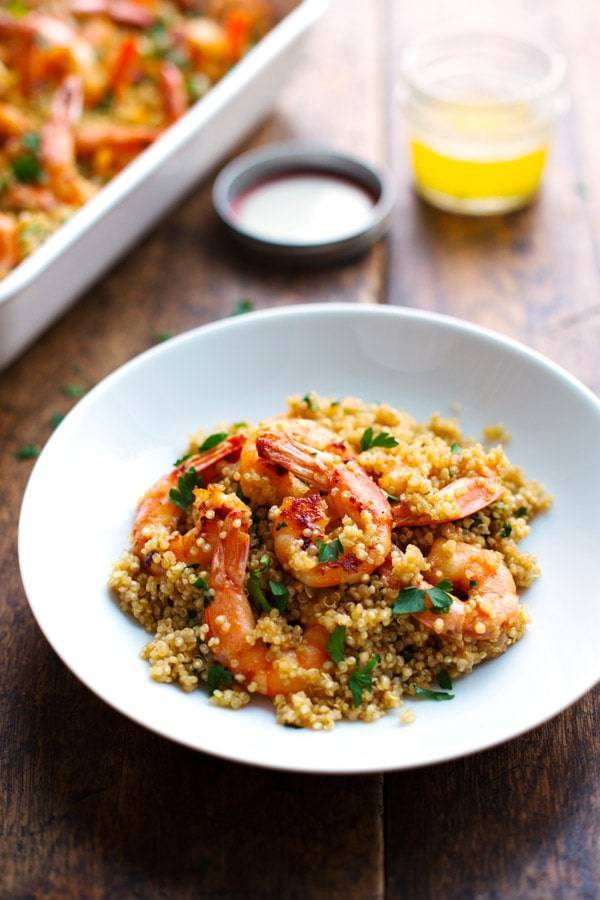 You know that I've always been a person with mixed feelings on quinoa. Being a food blogger, the peer pressure is crushing. BUT THIS TIME. It's actually good. Like, I took one bite and said, yum, I want another bite. Now. And another. And soon it was me, a fork, and a very large pot of quinoa making ourselves cozy in the corner. So simple and so good. Onion, garlic, chili powder, and broth. Who'd've known?
Yep, that was just a double contraction. Be impressed.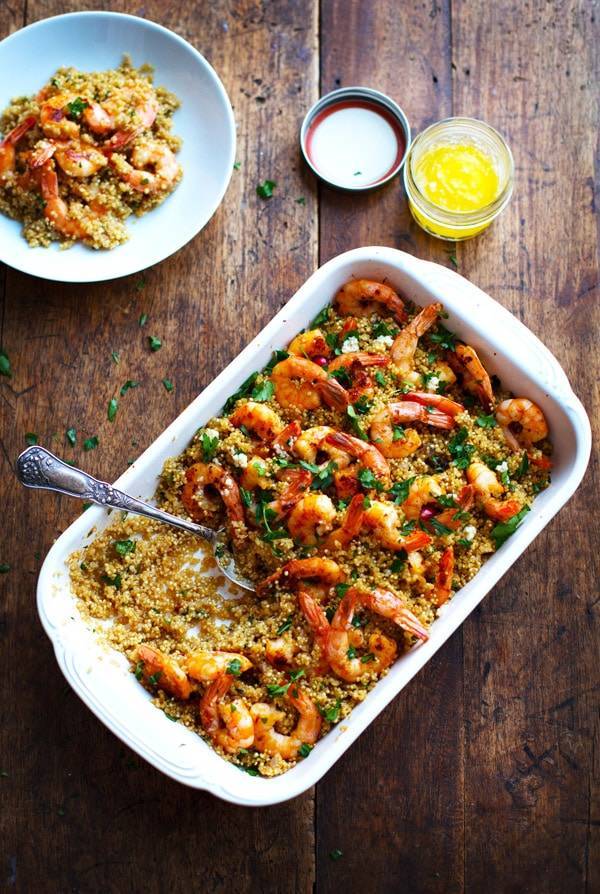 This shrimp and quinoa is made on the stovetop but you can serve it as if it were a casserole because casserole dishes say something special about food, like I LOVE YOU.
Optional add ins include fresh parsley, lemon juice, and extra sea salt and coarsely ground black pepper. The simpler and fresher the flavors and ingredients, the better.
Serve with a green salad or some kinda vegetables. Roasted or caramelized. And welcome to my happy place.
Print
Garlic Butter Shrimp and Quinoa
---
Description
This Garlic Butter Shrimp and Quinoa is ready in 30 minutes and is full of garlic butter flavor. One of my favorite ways to do shrimp!
---
1 tablespoon

olive oil

1/2 cup

finely chopped onion

5 teaspoons

minced garlic, divided

2 cups

uncooked quinoa

1 teaspoon

chili powder, divided

4 cups

vegetable or chicken broth

6 tablespoons

salted butter, divided

1

pound raw tail-on shrimp
salt and pepper to taste
fresh parsley for serving
fresh lemon juice for serving
---
Instructions
Heat the oil in a large nonstick pot over medium high heat. Add the onion and saute until softened, about 5 minutes. Add 2 teaspoons of the garlic and saute for 1 minute, stirring constantly to prevent burning. Add the uncooked quinoa and 1/2 teaspoon chili powder. Sprinkle with salt and pepper. Saute for another 1 minute to add flavor to the quinoa. Add the broth, bring to a boil, cover and cook for 15-20 minutes. When the quinoa is done, it will be soft throughout. Fluff with a fork and toss with fresh minced parsley.
While the quinoa is cooking, heat 1 tablespoon butter in a large skillet over medium high heat. When the pan is hot and the butter is melted, add the shrimp and sprinkle with the remaining 1/2 teaspoon chili powder directly in the pan. Season with salt and pepper and saute until no longer translucent and golden brown on the outside. Just at the end of the saute, add 1 teaspoon garlic and swirl around in the pan until the garlic is very fragrant.
Melt the remaining 5 tablespoons butter with the 2 teaspoons garlic to make a sauce for drizzling (for this, crushed garlic or garlic paste would work really well but minced is also fine).
Serve the quinoa and shrimp together in one dish, topping with fresh chopped parsley and lemon juice if desired. When the butter is melted and cooled slightly, drizzle over the shrimp and quinoa. Serve immediately, while still hot.
Prep Time:

10 mins

Cook Time:

45 mins

Category:

Dinner

Cuisine:

American
Keywords: quinoa and shrimp, shrimp recipe, shrimp casserole
Recipe Card powered by