Featured comment
These quesadillas were delicious! Easy to make. The magic green sauce absolutely makes the dish! Will definitely make this again!
It's time for another round of MEATLESS MONDAY!
I actually sort of get annoyed by the fact that Meatless Monday is a thing, but hooray! We're there. We're doing this.
This round of meatlessness features the most beautiful, yummy, vegetarian comfort food in all the land: QUESDILLAS! I'm talking about crispy golden brown tortillas wrapped around melted Pepperjack cheese and a spicy lentil and brown rice filling to make my new food love: Quick and Easy Lentil Quesadillas.
My sister saw the post title in my drafts folder yesterday and she was like, ummmm WUT are you doing, Sister. Lentil Quesadillas?
And I was like, Sister, you don't even know.
Friends, Sisters, Fellow Food Lovers, get yourself on this deliciously easy lentil quesadilla train right now. Don't be food nervous. We can branch out and put lentils in our quesadillas, right? We most definitely can.
Also please note the green sauce ALL OVER THE PLACE.
So let me tell you the truth about Meatless Mondays, which is that we actually don't really do Meatless Mondays. We just do a lot of our meals meatless EVERY day because that's how I usually like to cook.
Somehow, with my small town Minnesota upbringing, some percentage of my soul turned out to be vegetarian, so things that some Sisters might find weird (Lentil Quesadillas, for example) are actually my bread and butter when it comes to easy, fast, weeknight do-able cooking.
I honestly don't know where this love of meatless things comes from. Possibly because the recipes feel healthy, and I think they taste awesome, and I find myself being most creative with non-meat food combinations? Yeah, maybe.
Or maybe because sometimes it's just easier to toss some lentils and brown rice in the crockpot than it is to deal with meat? Umm, well, here's the thing, it's just… OKAY YAHHSSS. Totally busted.
With that in mind, let's take a look at how easy this recipe is.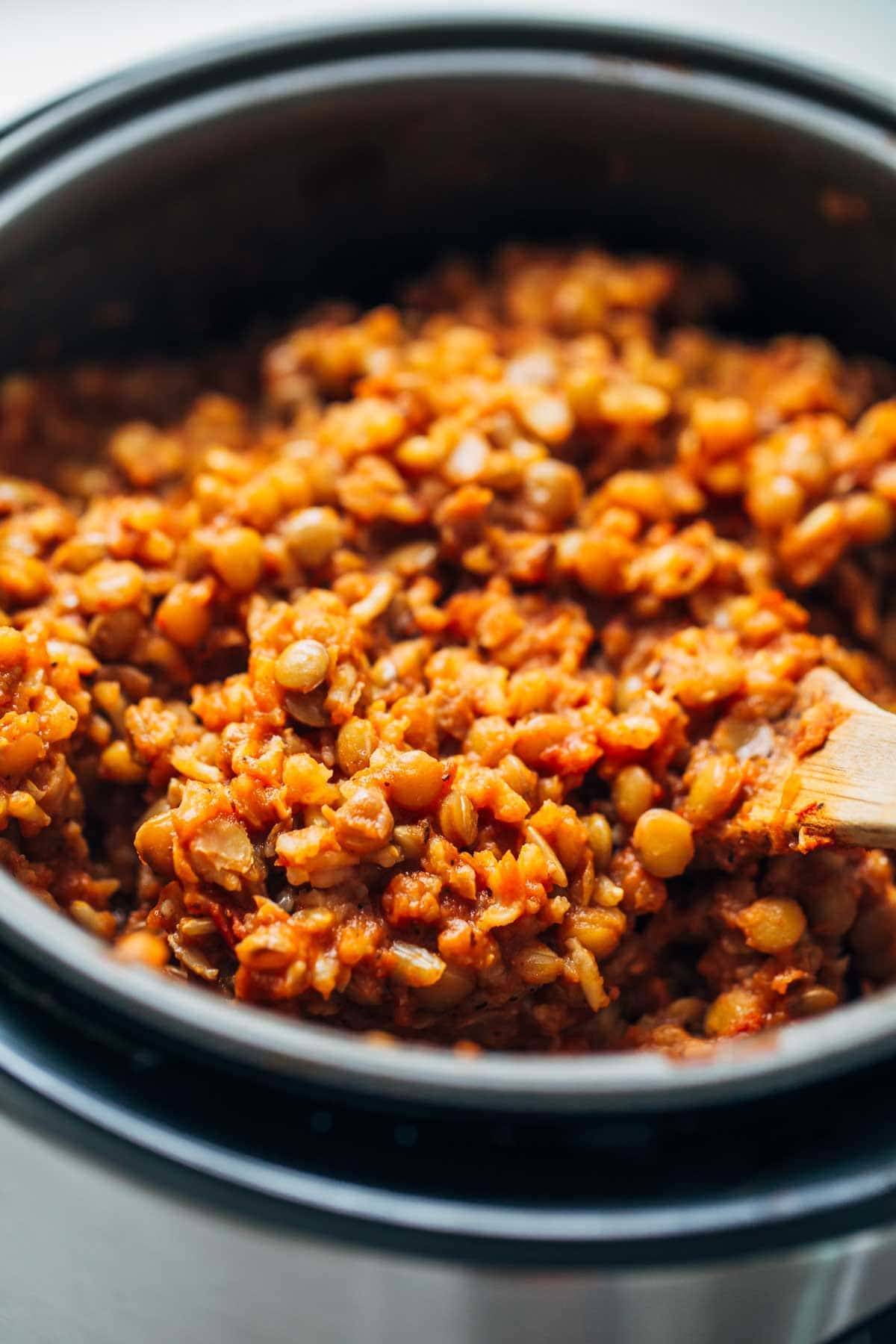 (And in case it's unclear what the last step of the process might look like, it would involve taking pictures of the lentil quesadillas in your living room, and fending off the dog who obviously likes lentil quesadillas too, and eating a slice in between every photo before then moving into the kitchen where you will proceed to dump all the remaining Magic Green Sauce over every slice and eat 800 quesadillas in two minutes flat.)
I spy a hungry you and a crockpot and some lentils and brown rice… and a weeknight dinner that is yet to be made.
Come on guys LET'S DO THIS ALREADY.
Print
Quick and Easy Lentil Quesadillas
---
Author:

Pinch of Yum

Total Time:

6 hours 20 minutes

Yield:

8

quesadillas

1

x
Description
Beautiful, yummy, vegetarian… QUESADILLAS! Crispy golden brown tortillas wrapped around melted Pepperjack cheese and a spicy lentil and brown rice filling!
---
For the Sauce
one

28 ounce

can diced tomatoes

half a

yellow onion

2

cloves garlic

1 1/2 teaspoons

cumin

2 teaspoons

chili powder

1 teaspoon

salt

1 tablespoon

oil
For the Quesadillas
1

cup

uncooked brown or green lentils, rinsed

1

cup

uncooked brown rice, rinsed

2 1/2

cups

vegetable broth

16

flour tortillas

3

–

4

cups

shredded Pepperjack cheese
a few tablespoons butter (optional)
---
Instructions
Sauce: Blend all the sauce ingredients together in a blender or food processor until mostly smooth.
Filling: Place the rice, lentils, sauce, and broth in a slow cooker. Cover and cook on high for 4-6 hours or low for 6-7 hours until soft. (Brown rice takes a long time to cook – when in doubt, let it cook longer!)
Assemble: Heat a skillet over medium high heat. Layer the following: tortilla, 1/4 cup cheese, 1/2 cup filling, 1/4 cup cheese, tortilla. Spread the outsides of the tortillas with butter and fry on each side for 3-5 minutes until golden brown. Remove from heat and let stand for a few minutes (they'll hold together better). Cut and serve! May I suggest topping with Magic Green Sauce?
Notes
If you have any extra filling, it freezes really well.
If you don't have a blender, just cut the onions and garlic into small pieces and stir all the sauce ingredients together.
If you want, you can make this on the stovetop or in a rice cooker. Just simmer or cook until the rice and lentils are soft. It took me two or three rounds in the rice cooker to get the brown rice cooked, so if you want it to be done faster, I'd use white rice.
For more spice, add a jalapeño or a chipotle pepper to the sauce! I did that a few times. Yummy.
Prep Time:

20 mins

Cook Time:

6 hours

Category:

Dinner

Cuisine:

Mexican-Inspired
Keywords: quesadilla recipe, lentil recipe, lentil quesadilla, vegetarian quesadilla
Recipe Card powered by
Nutrition facts will vary depending on what kind of tortillas you use. This label includes medium-small-ish tortillas that were 70 calories each. You can also make a lower fat version of this by just using less cheese. 🙂
Two more quick things!
1) If you have extra filling, it makes for a seriously great freezer standby.
2) My sister Kristin, who semi-made-fun of me for the lentil quesadillas but loves to cook and actually does like lentils, is joining forces with us here on the Pinch of Yum team!
And so is baby Charlie! As resident eye candy baby mascot.
With more than 700 posts that are live and active on the site, managing comments on all those posts is becoming increasingly difficult for me. In the reader survey, we found that most readers either don't care about comments or find them primarily useful for recipe reviews and ratings. So for the next few months, in order to free myself up to do more recipe and product creation, we're starting a trial period with Kristin managing comments on older posts.
I will still be commenting on the most recent posts because I love connecting and I don't want to give that up! But you might see Kristin's sweet face popping up here and there to answer questions or say hi after I've already gone through comments on a post. She's been the inspiration behind many popular recipes on Pinch of Yum, and she's also Cutest Mom to my Sweetest Nephew, so I think you'll love her right along with me.