Sweet potato casserole! ♡ And let me tell you, friends: this crunchy brown sugar topping will give you life.
You didn't think I would, but oh yes, in fact, I did.
I am tossing you a Thanksgiving recipe today. THANKSGIVING! And I want you to catch it and love it, okay? It is a deep, rich, sweet potato casserole with a crunchy brown sugar topping, and it's comforting and cozy and it's coming for you right now – ready?
I see two options for you right now. You can fall into a state of shock and awe that it is already borderline time for Thanksgiving (admittedly, this would be my default since usually I don't even think about Thanksgiving until three days before – WHO AM I RIGHT NOW), OR you can realize the true fact that something this good doesn't need to just be reserved for Thanksgiving and you can go right on ahead with your best kitchen self and make this happen even BEFORE the clock strikes dinnertime on Thanksgiving Day. And then you will obviously make it AGAIN when you have family gathered around the Thanksgiving table, and then AGAIN for Christmas dinner, because by this point you've become addicted and your family will never not ever let life go on without this recipe.
Those are the two options. You can choose.
HOW TO MAKE OUR SWEET POTATO CASSEROLE (50 Sec):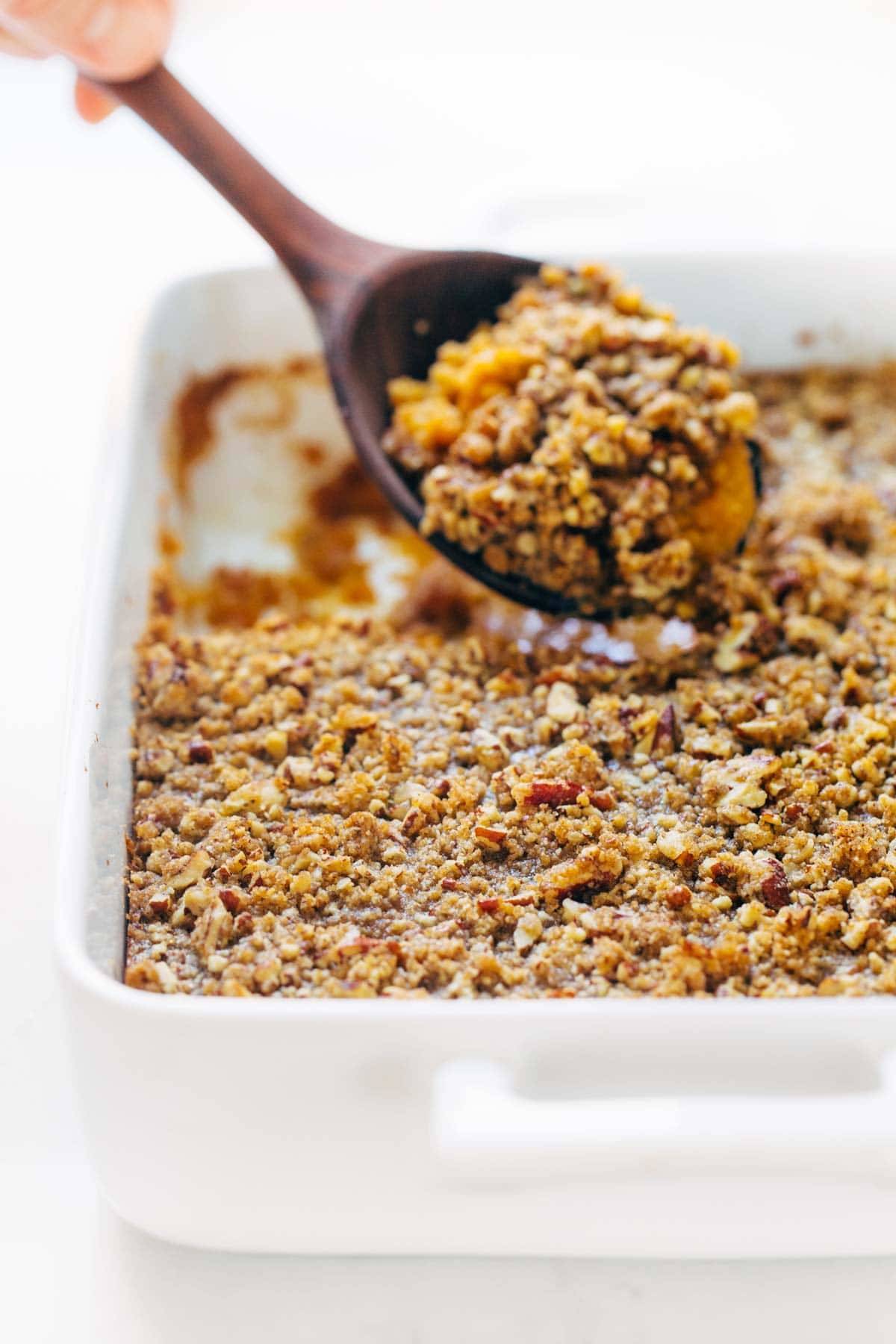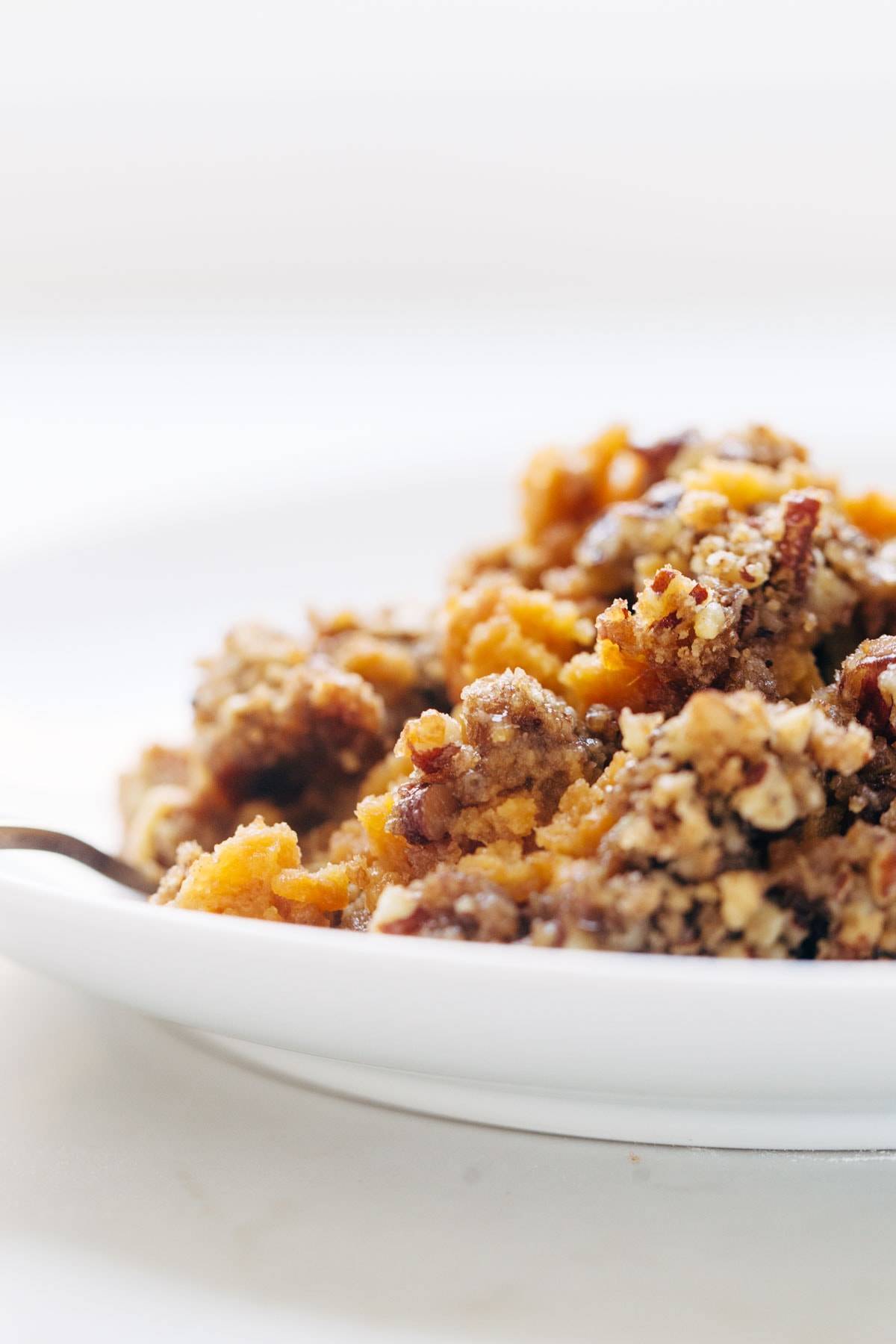 You guys, the strange thing about this sweet potato casserole is that it is very much a dessert, but never once in my Thanksgiving career have I experienced this being served as anything other than a completely luscious side dish to accompany the mashed potatoes and gravy, turkey, green bean casserole, and soft white dinner rolls. It just works. It's that one little pre-dessert side that you might even like more than your real dessert.
This is a recipe that my mom has been making for years, and she got it from one of her friends who has been making it for years before that, and there is a reason is has become a mainstay at Thanksgiving.
First, let's talk toppings. 👇🏼
Sweet Potato Casserole Topping Situation
I like to Easy Button my life whenever possible, so I just toss those pecans, flour, butter, and Wholesome! organic brown sugar in my food processor and give it a go-round till it makes that crumbly, streusel-like topping that we know and love.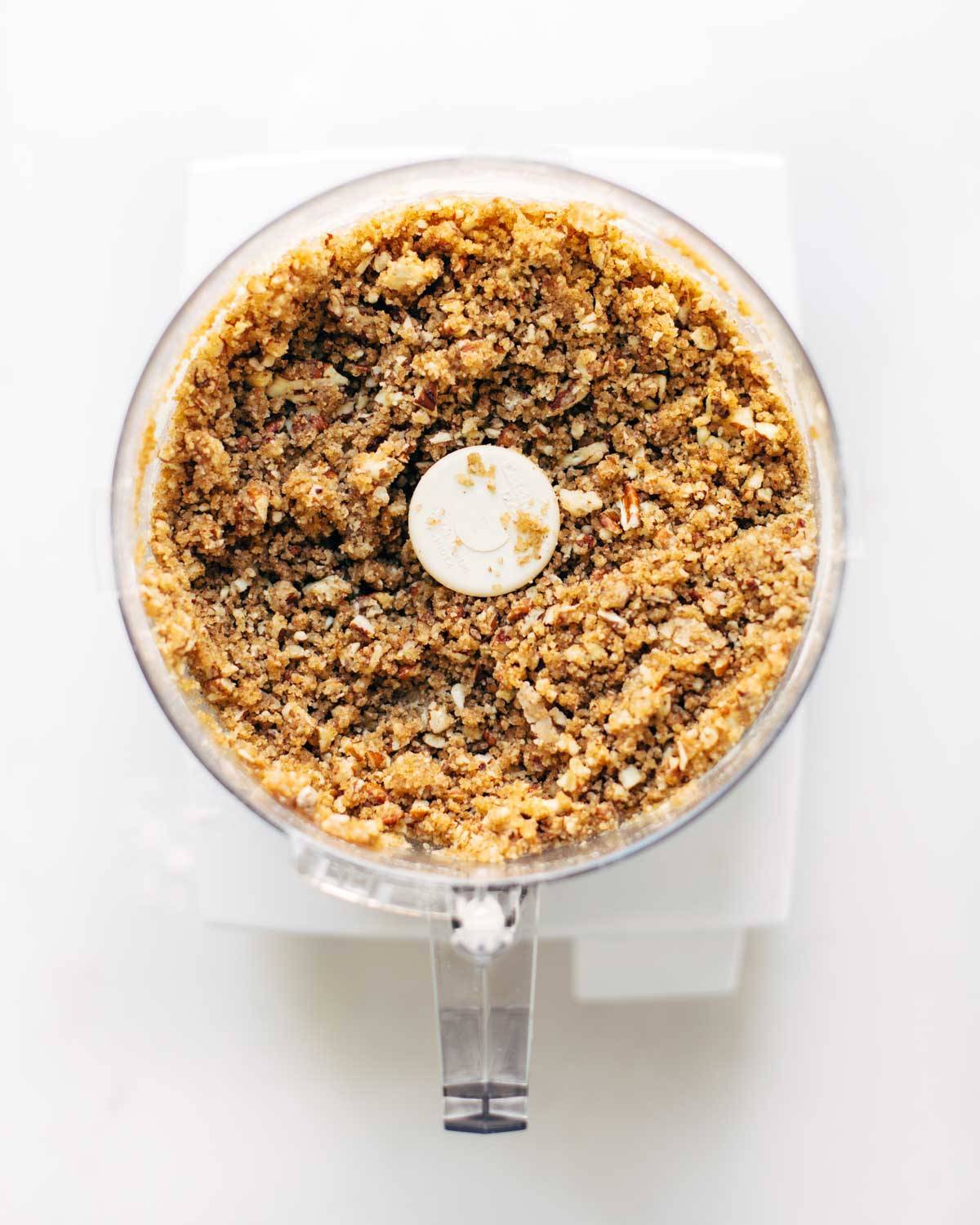 And yes, for this one, we do use and love Wholesome! organic brown sugar AND Wholesome! organic cane sugar – the texture of the cane sugar is just a tad bit coarser than traditional white sugar and the brown sugar has such rich and delicious molasses flavor… it's just the best of the best.
Wholesome! rocks the fair trade, organic, non-GMO, environmentally sustainable products. 🏆
You know where to buy it cause I've said 100 times already: THANK U TARGET.
Okay, we've got the topping.
Now the base.
Sweet Potato Casserole Base
The sweet potato mixture is as easy as mixing up a muffin batter – it starts with sweet potatoes (canned, which I know seems so retro and perfect and that's because it is – I've made this with non-canned sweet potatoes, and the weight of baked or boiled sweet potatoes is just too heavy, trust me on this one), and then eggs, butter, milk, sugar, and vanilla.
It's that easy. Mix and pour that mixture into a pan, and then top it with your beloved crumble.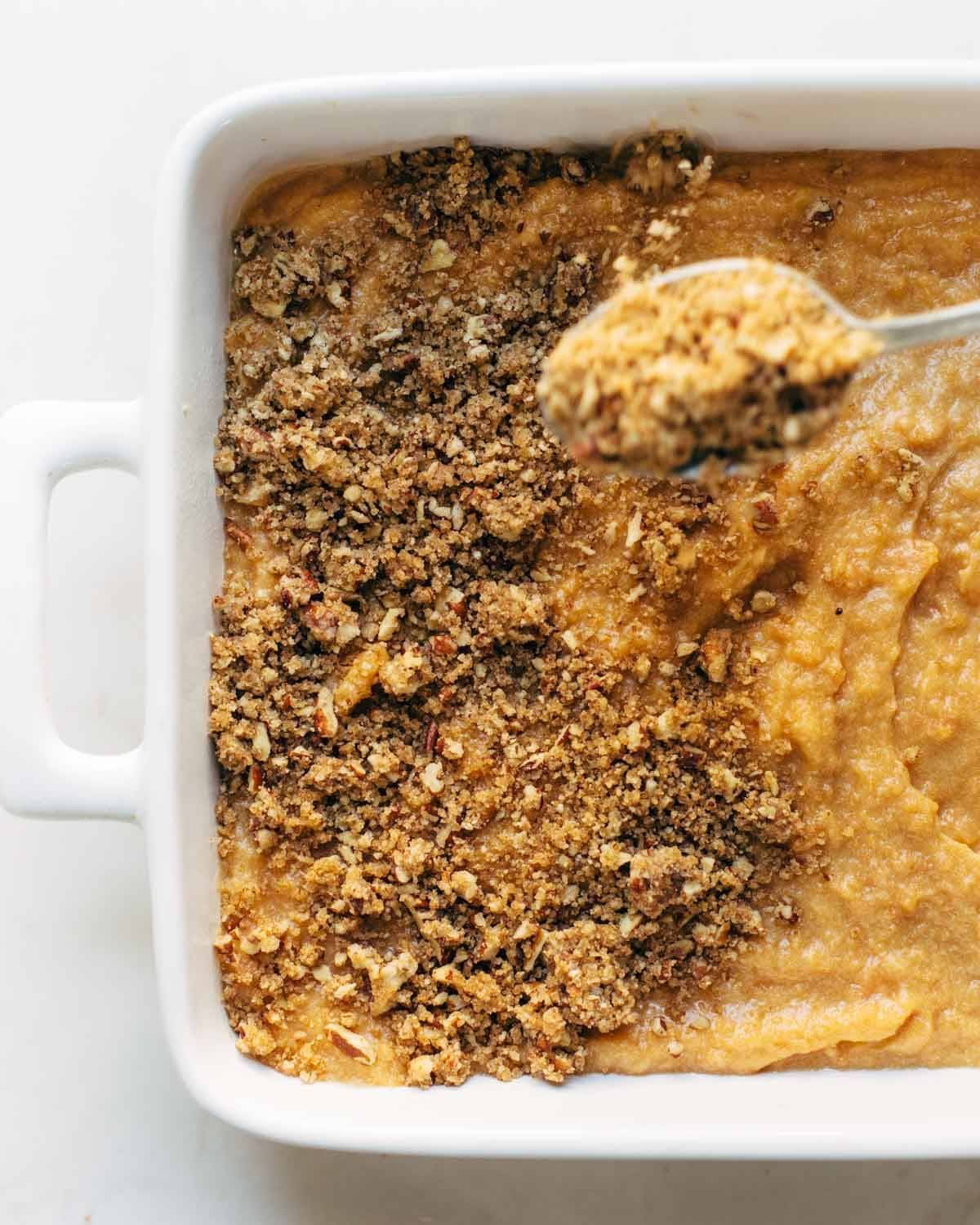 You're going to bake this guy for 30-45 minutes to get that topping nice and crispy, and then?
The moment of Thanksgiving sweet potato casserole truth.
YOU'RE A HERO.
The soft and sweet bottom layer + the crunchy and nutty top layer work their magic together to make the best sweet potato casserole that you could ever want for your Thanksgiving side-dish domination.
I can't wait for you to love this one.
Print
Sweet Potato Casserole with Brown Sugar Topping
---
Prep Time:

10 mins

Cook Time:

35 mins

Total Time:

45 minutes

Yield:

8

as a side

1

x
Description
Sweet Potato Casserole with a crunchy brown sugar topping that will give you life. A Thanksgiving recipe classic!
---
Scale
Ingredients
For the sweet potatoes
3 cups

(

1

29-ounce can) sweet potatoes, drained

1/2 cup

melted butter

1/3 cup

milk

3/4 cup

Wholesome! organic cane sugar

1 teaspoon

vanilla

2

beaten eggs
salt to taste
For the topping
---
Instructions
Preheat the oven to 350 degrees. Mash the sweet potatoes and add the melted butter, milk, sugar, vanilla, beaten eggs, and a pinch of salt. Stir until incorporated. Pour into a shallow baking dish or a cast iron skillet.
Combine the butter, brown sugar, flour, and pecan pieces in a small bowl, using your fingers to create moist crumbs. Sprinkle generously over the casserole. Bake for 25-35 minutes, until the edges pull away from the sides of the pan and the top is golden brown. Let stand for the mixture to cool and solidify a little bit before serving.
---
Category:

Side Dish

Cuisine:

American
Keywords: sweet potato casserole, sweet potato recipe, sweet potatoes and brown sugar, brown sugar casserole, thanksgiving casserole
Recipe Card powered by
Thanks to Wholesome!® – makers of this Organic Brown Sugar and Organic Cane Sugar – for partnering with us for this sweet potato casserole madness! ♡
MORE TASTY SWEET POTATO RECIPES: