Featured comment
This is the BEST chocolatey chocolate cookie recipe EVER!! So thick and amazing! Thank you!!!:)
I mean, we're talking, like, THICK. and FUDGY. A chocolate lover's utopia.
These cookies are my chocolate dreams coming true right in front of my face. They turned out completely different than what I thought they were going to be, which is just par for the course when you put, uhh, myself in the kitchen with "creative license" to play with recipes. The good news –> even though they weren't quite what I was expecting, they turned out even better than I was thinking they would. Thick, soft, like a brownie, chocolate cake, and a big soft cookie all in one.
Sometimes fails are just wins in disguise. Slash chocolate is not a fail, ever.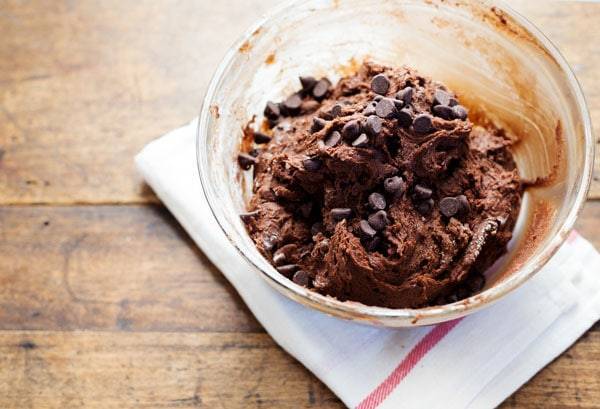 This weekend we spent some time with family and extended family out on a small Minnesota farm, celebrating Easter and doing things like the Grown-Up Kids' Easter Egg Hunt. It was an Easter-rific blast. And the fun won't stop – today marks one week until my birthday! So yay. That's kinda fun.
And as you might have guessed from me just mentioning it, I might be one of those people who has a birthday week. Okay, fine: it's a birthday month.
This year is extra special – it's going to be my golden birthday. Sparkly shiny gold glittery birthday. What do adults do for their golden birthdays? Do their spouses secretly plan extended vacations involving sun, sand, and poolside nachos with extra guac? Or are they awoken by a baby pug on their birthday morning? Or are they surprised by a remodeled attic turned dreamy master suite? Bjork, I'm so excited to see what you're cooking up. Wink wink hint hint mwah.
Remember love languages? Well, not like remember them like they're gone, they're definitely still around and people are still giving and receiving love in the way that best fits them. I know. But remember how there were all these different love languages, like quality time, physical touch, and acts of service? I am the person whose love language is gifts. No, like, PRESENTS. Might as well slap the Material Girl label right on my forehead because that's kinda what it feels like to say that my love language is gifting.
But, just think about it. Trinkets. Jewelry. Music. Flowers. Books. Thick and Fudgy Double Chocolate Cookies. I feel the love big time when I get and give gifts and I want to take you to the dark side with me. All the pretty things. Sparkllllles.
Speaking of dark + gifts, I had to gift these Thick and Fudge Double Chocolate Cookies to our friends who are expecting a baby immediately after making them. The transfer from the cooling rack to the container was just a blur – I couldn't even let myself think about it. Don't think just do do do do. It you keep these around your house: Danger Zooone. Not if you're pregnant (extra cals, doh), but if you're a regular person trying to not go into Double Chocolate Cookie coma in 60 seconds flat, you might need to gift these. They are sneaky – you'll turn around and five cookies will be missing. And you'll be the only one standing in the kitchen. And, wait a second…
I wonder if I'll ever find a dessert I love more than a big, soft, freshly baked, chocolate chip loaded cookie.
Doubtful.
Print
Thick and Fudgy Double Chocolate Cookies
---
Author:

Pinch of Yum

Total Time:

30 minutes

Yield:

18

–

20

very big cookies

1

x
Description
These Thick and Fudgy Double Chocolate Cookies are rich, decadent, and perfect with a glass of cold milk. I'll take 50, please!
---
1 cup

salted butter (melted and cooled – directions in step one)

1 1/2 cups

granulated sugar

2 teaspoons

vanilla

2

eggs

3 tablespoons

strong coffee

2 2/3 cup

all purpose flour (more if it's too sticky)

1/2 cup

cocoa powder

1 teaspoon

baking soda

1/2 teaspoon

salt

2 cups

chocolate chips
---
Instructions
Prepping the Butter: Melt 1/2 cup butter in the microwave for 30-45 seconds or until completely melted. Transfer to the refrigerator or freezer and cool until solid, about 30 minutes. Leave the other 1/2 cup butter out on the counter to bring it to room temperature. If the butter is rock solid (usually from the freezer) I stick it back in the microwave for 10 seconds to get it workable again. See notes for more info.
Dough Part One: Preheat the oven to 350 degrees. With an electric mixer (I usually just use a hand-held one), cream the melted/solid butter, room temperature butter, sugar, and vanilla until creamy and fluffy. Add the eggs and mix until just incorporated.
Dough Part Two: In a separate bowl, combine the flour, cocoa powder, baking soda, and salt. Add the flour mixture to the creamy butter mixture and mix until incorporated, adding the coffee gradually as you go. The dough should be thick and sticky, but dry enough to touch with your hands without making a huge mess. If it's still too sticky, add more flour. Stir in the chocolate chips.
Baking: Roll the dough into even balls (I got about 20 out of the whole batch) and place on a baking sheet lined with parchment paper. Bake for 8 minutes and transfer to a cooling rack right away. They will be underdone and super puffy, which makes them perfectly soft, thick, and fudgy when cooled.
Notes
The butter melting and cooling is something I always do for my cookies (see Tips for Perfect Chocolate Chip Cookies) and I would strongly recommend that you take the extra time to do that part, even though, I know, it's annoying, you just want the cookies right now. I get it. But if you don't melt and cool the butter as directed, I can't guarantee that the cookies will turn out correctly because it affects the amount of flour needed and ultimately the thickness and fudginess of the cookie.
Prep Time:

20 mins

Cook Time:

10 mins

Category:

Dessert

Cuisine:

American
Keywords: double chocolate cookies, fudge cookies, chocolate cookies
Recipe Card powered by