Well, well, well. Soak it all up, friends –> the glory that is this rainbow veg bowl of coconut curry soup which is turning my face into a permanent heart eyes emoji.
Featured comment
This was so delicious! Thank you for the recipe!! I mostly followed it and added fun toppings and we all loved iT! Can't wait for leftovers tomorrow! Thanks again!!
😍😍😍😍😍
Yesterday, when it was Sunday and I couldn't think more than Weekend Thoughts, I drafted this post with this very non-descript name, thinking I would change it when I went to publish it because surely I'd get some more professional inspiration when the clock struck Monday morning.
But my professionally inspired brain is, how can I say this… taking a break? and I guess I'm actually officially going to call this the Anything-You-Have Coconut Curry Soup. 🙆 Are we all okay with that?
Here are my thoughts. You come home from work, you've had a long day, you're Hungry with a capital H. You want to make one of the bajillion recipes from your Pinterest board, but you don't have more than half of the ingredients for any of them. Driving to the grocery store is a distant dream at this point. I mean, really. AS IF.
Enter: the most beautiful vegetarian/vegan coconut curry soup bowl that really only requires two things from you at its most basic level: CURRY paste or powder of some sort, and COCONUT MILK.
How To Make Our Coconut Curry Soup (45 Sec):
There are essentially two parts to this recipe.
Part one: the soup base, which is made from any number of delicious aromatics (onion, garlic, ginger) and curry (could be red or green paste – probably even powder, if you worked it right) and a good amount of creamy coconut milk. This flavorful coconut milk concoction is then pureed with some veggies, hopefully starchy ones like potatoes, so that you can have a luscious, silky-smooth texture for your simple coconut curry soup. But the beauty is that you can also use other veggies to puree – like eggplant, sweet potatoes, or carrots. Main idea: thicken the sauce by pureeing with veggies.
Part two: the toppings. I can't even go into it or we'll be here for hours. But I chose tofu (crispy-caramelizingly-fried in a little splash of the coconut soup itself), cilantro, carrot noodles, and purple cabbage. And sriracha. Unpictured, but yes, always sriracha.
As if that weren't enough choices, this can be made in the crockpot while you're at work all day OR in a good ol' soup pot over the stove.
SO MANY CHOICES. I'll just give you a second to process.
…Time's up because we need to discuss the magic that is a tofu press. 👇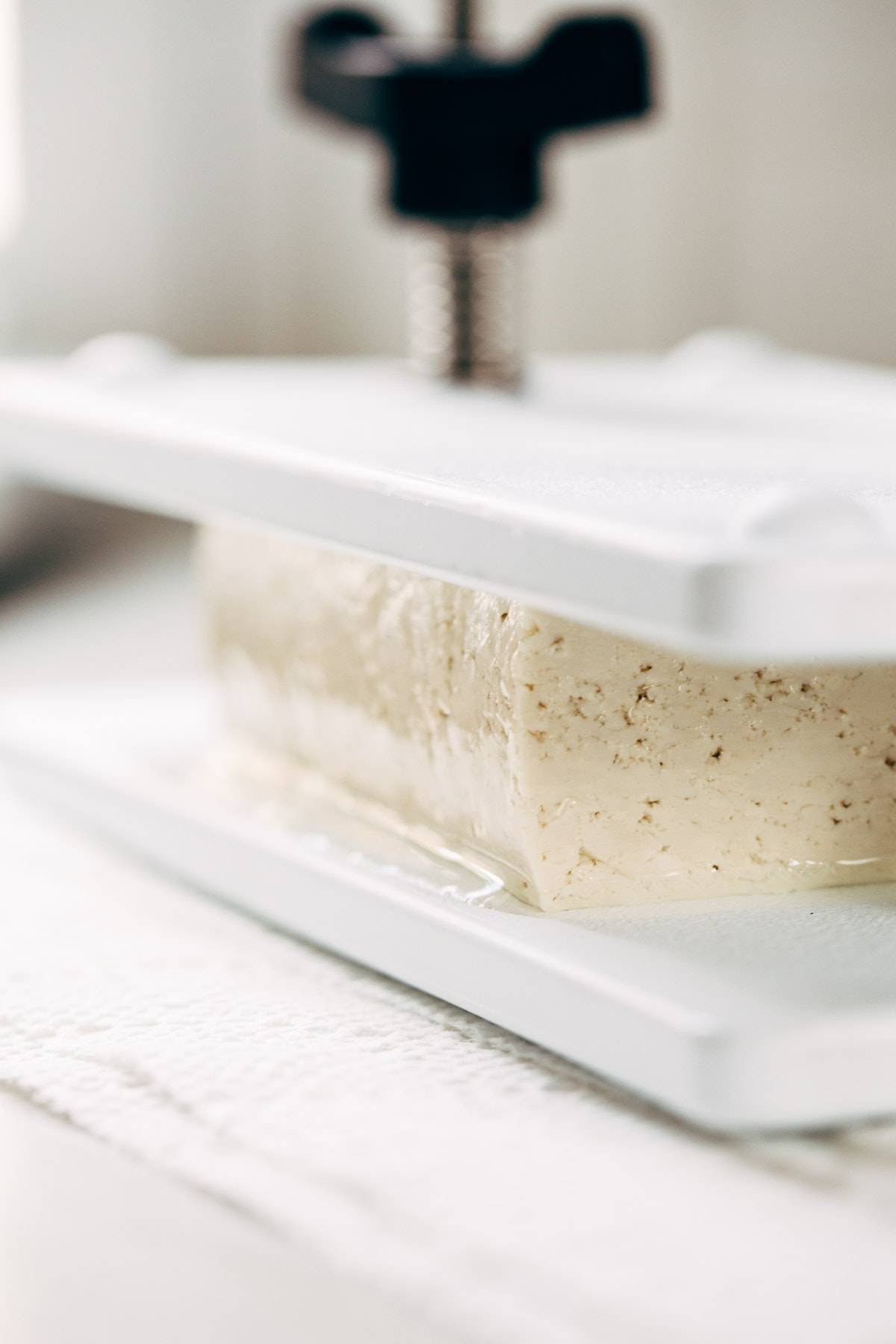 Really, how I came to be a person who owns a tofu press is a bit of a long story.
But in general it goes like this: I like to cook and eat meatless recipes, and I like to buy random gadgets on Amazon. Therefore, TOFU PRESS. The end.
While you make the soup, the handy little press will squeeze out all the water from the tofu all on its own – and there is no need for you to mess around with a whole entire roll of paper towels or get tofu water all over the place. EASY.
Getting all that water out helps reduce the tofu-mush-factor. Then, when you cook it, it will get golden brown and crispy on the outside and you'll love it. Cutest little invention for $20 on Amazon – and it has a 5-star rating from 250 reviews.
Friends, don't buy a tofu press if you don't make a lot of tofu. But if your story is similar to mine (loves meatless and loves Amazon gadgetry), you might want to get on that train.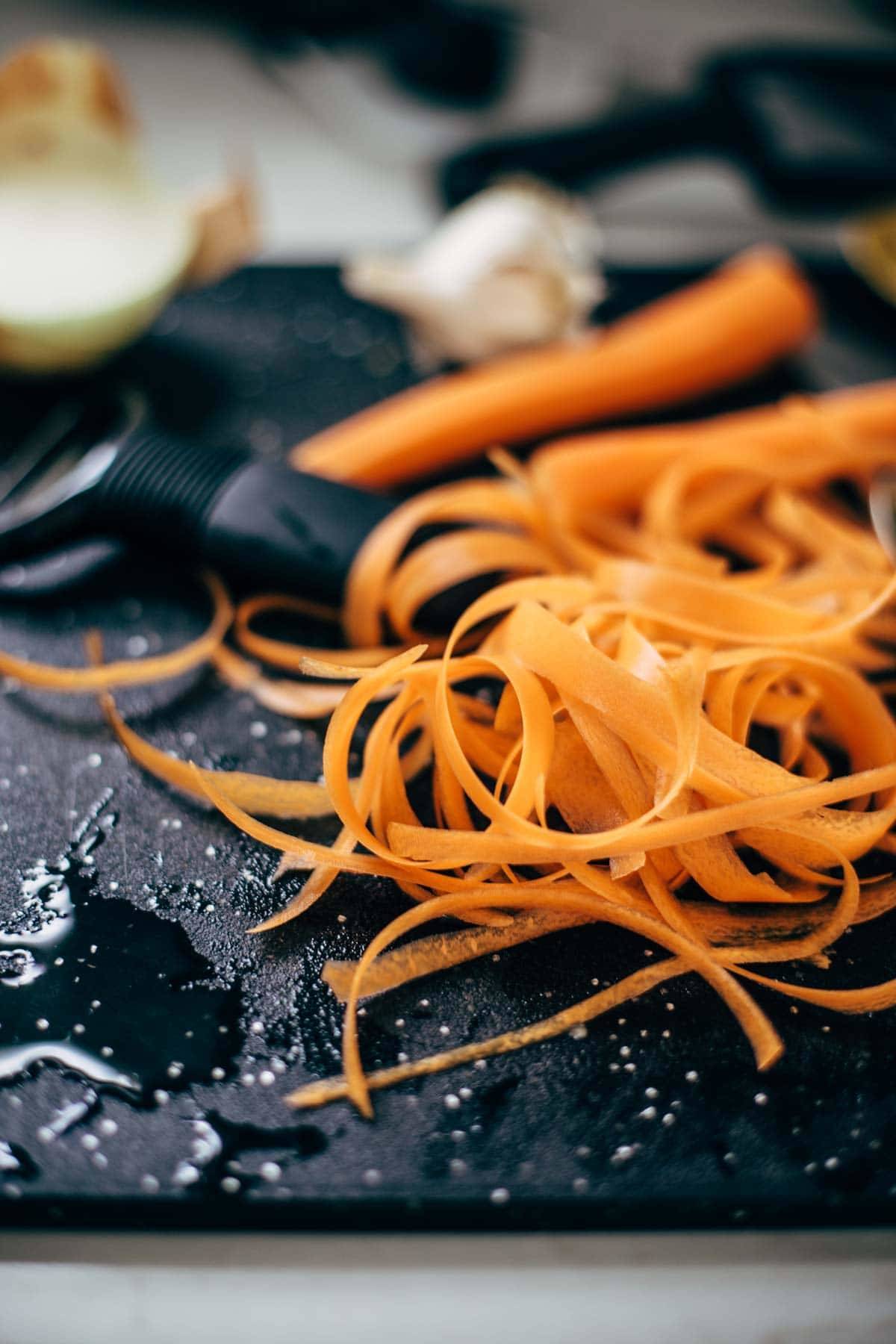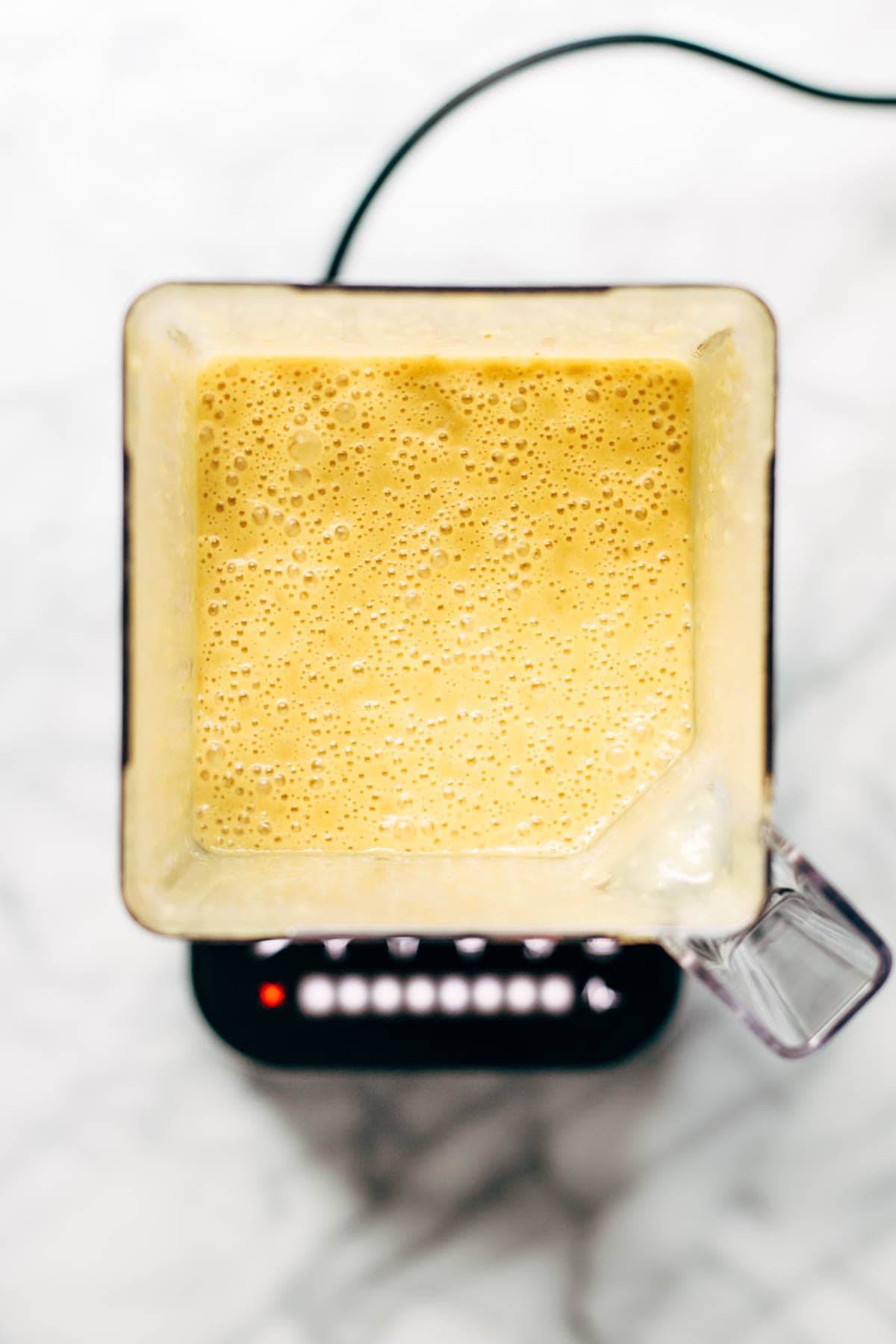 Okay, here's the thing I've actually wanted to tell you the whole time but got a little distracted by the tofu press.
This soup is kind of like SOUP MEETS SALAD. Which sounds totally weird. And looks a little weird. You stir it all up and, just, it becomes something unusual looking. I can accept that.
But it's not weird – it's so, so good. It's like an anything-you-have version of non-authentic pho. Like you know how with pho, they pile the soup high with sprouts and cilantro and almost make it into something of a Soup Salad? That's what this is. I seriously LOVED eating it because it was part crunchy-healthy salad, and part comforting-cozy soup, and I could use different veggies and protein every time I made it. Lindsay is my name and soup+salad texture is my game.
Remember – anything you have. There are probably, like, five limitations to that rule in the whole universe, but generally speaking, you can work with what's in your fridge right now (check out my notes in the recipe itself for specific ideas).
Just follow your common curry senses.
They are leading you straight home into the arms of a Soup-Salad bowl of Coconut Curry Soup.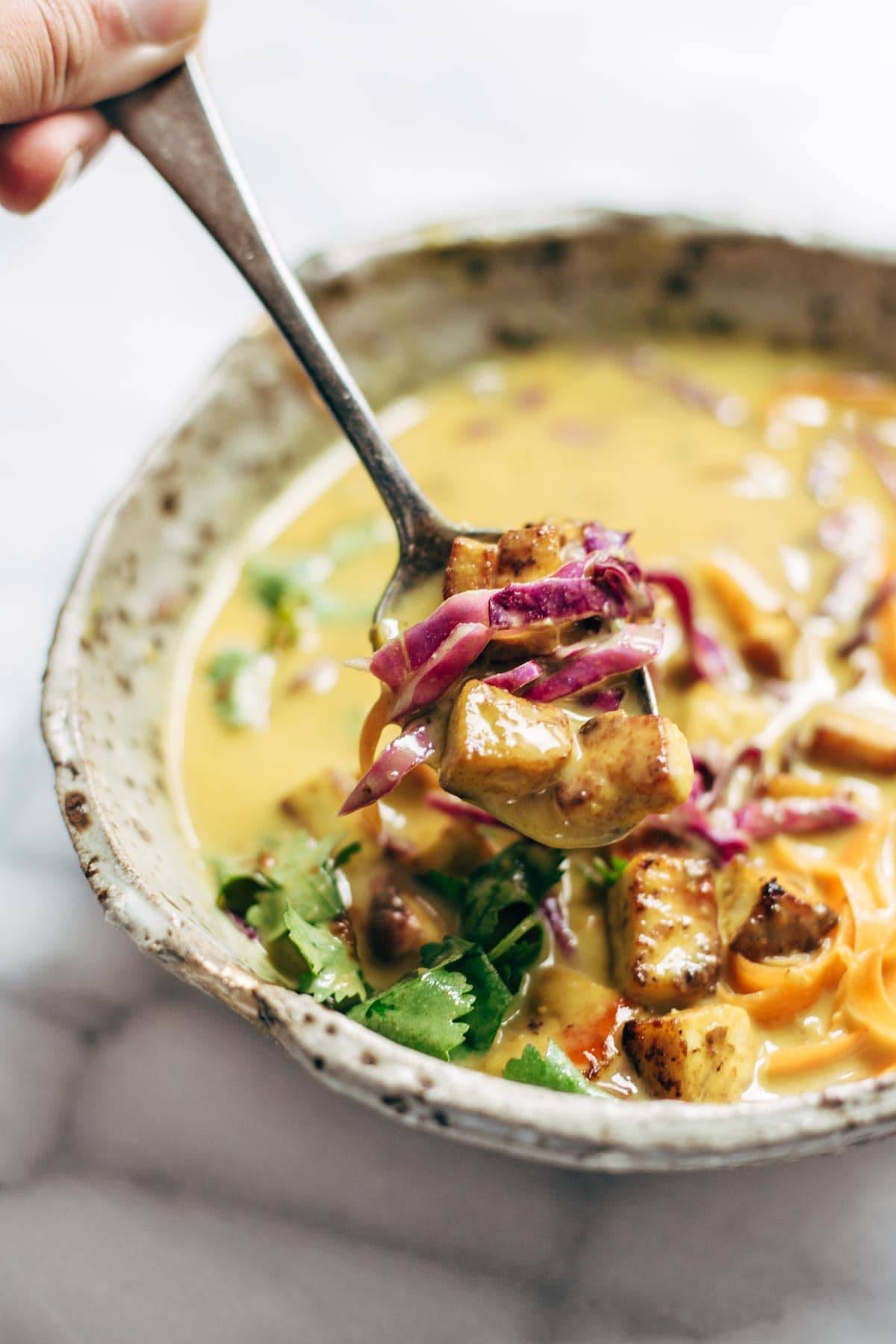 Print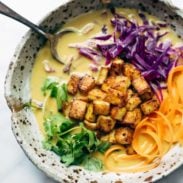 Anything-You-Have Coconut Curry Soup
---
Author:

Pinch of Yum

Total Time:

30 mins

Yield:

8

servings (about

1 cup

soup + lots of tofu and toppings per serving)

1

x
Description
Coconut Curry Soup – this easy recipe can be made with almost ANY vegetables you have on hand! Silky-smooth and full of flavor. Vegetarian and vegan!
---
1 tablespoon

oil

1

onion, chopped

3

cloves garlic, smashed

1

knob of ginger, peeled and grated

1

–

2

tablespoons red curry paste

1

–

2

tablespoons turmeric

1 teaspoon

salt

2 tablespoons

sugar

12

baby yukon potatoes

2

14-ounce cans coconut milk

3 cups

vegetable broth

24 ounces

extra firm tofu
anything you have for fresh veggie toppings! see notes
---
Instructions
PREP: Start smushing the tofu in that nifty TOFU PRESS. It's amazing. (Or rig up some kind of system to press the water out of the tofu while you prepare the soup.)
SIMMER SOUP: Heat the oil in a large pot over medium heat. Add the onion, garlic, and ginger, and stir fry for a few minutes until fragrant. Don't let the garlic burn or brown. Add the curry paste, turmeric, salt, and sugar. Stir fry for another few minutes. Add the potatoes, coconut milk, and broth. Simmer until the potatoes are soft.
BLEND SOUP: Allow to cool slightly (I can never wait very long…) then transfer to a blender and puree until smooth and silky. The soup should be rich and thick so that it coats the back of a spoon. Add in more water or broth (I think I ended up adding about 2-3 cups) to thin out the soup as needed.
FRY TOFU: Remove the tofu from the press and cut into small pieces. In the same pot, heat a little more oil and add the tofu, stir frying until light golden brown. Pour in a small amount of the pureed soup – it will sizzle and pop, and it will also give the tofu the most wonderful color and caramelized exterior. Remove from heat with the tofu is deep golden brown and crispy.
TOP AND SERVE: Top each serving of soup with fresh veggie toppings and crispy caramelized tofu and enjoy your luscious salad-meets-soup combo.
Notes
Toppings: green onions, cilantro, basil, red or green cabbage, asparagus, baby kale, carrots, zucchini shreds, bell peppers, mushrooms, spinach, broccoli, snap peas, bean sprouts… ANYTHING YOU HAVE.
(There is a short list of things that don't sound like they would be awesome in this recipe, like tomatoes… and… I can't think of any more, so that might be all. Use your best curry judgement.)
Regular or light coconut milk will work! Nutrition info is for light coconut milk. But regular is so, so good.
In place of potatoes, you could also use sweet potatoes, carrots, or eggplant.
I've also done this with green curry paste and it's still great.
Prep Time:

10 mins

Cook Time:

30 mins

Category:

Dinner

Cuisine:

Thai-Inspired
Keywords: coconut curry soup, curry soup, tofu soup
Recipe Card powered by
Ugh – it was really challenging to create an accurate nutrition label for this recipe because of the extreme variance between types of coconut milk and also the size of the potatoes. I'm posting the label that is the closest to accurate even though there are some known errors with the saturated fat amounts. If these numbers are important to you, you might want to re-calculate this based on your own ingredients, specifically your coconut milk and your potatoes.
This post contains an affiliate link for that adorably clever TOFU PRESS. 🙋
---
One More Thing!
This recipe is part of our easy weeknight dinners page. Check it out!