Well well well well well. What have we here on a Monday morning? To my hungry eyes, this looks like bacon-wrapped dates: soft, sweet Medjool dates stuffed with creamy, tangy goat cheese wrapped in salty, smoky bacon and baked to crispy-soft perfection.
Wait, it's not actually Monday, is it?
A few months ago I decided to start a dinner club. I don't even really know what that means except that I invited a few friends over for dinner, and we all made or brought something delicious and then got overly personal in the best way by talking for hours through dinner and drinks and dessert, and then I invited everyone to do it all over again the next month. Repeat x forever because I love it that much. If you've ever thought about doing something like this, let me just say: now is your time. Invite, eat, connect, and be glad you did it. ♡
These Bacon Wrapped Dates Were a Game-Changer
One of my friends brought these bacon-wrapped dates as an appetizer during our first DCM –> dinner club meeting –> because sometimes life is hard and I can't be more creative than that with a dinner club name. Come on, you guys, just GIVE ME A BREAK.
We all bellied up to the peninsula in our kitchen and she unwrapped the foil from the Bacon-Wrapped Date plate and BAM. They disappeared. So awesome, so alarming, and so right.
The soft, melty goat cheese instead the warm, plumped up date (how much do you like it when I say plumped up date? mixed feelings here) wrapped in the little bite-sized pieces of bacon was the absolute perfect three-way combo for our food-cray group of girls.
Obsessed doesn't even touch it.
It's a Salty/Sweet Food Love Affair
Fast forward to a few months ago – I went to California and like I do with all my friends, I had the urge to make Bacon Wrapped Dates for a group of food bloggers. This was about the time I realized that, considering that this is my #1 favorite appetizer in the whole wide world, I should probably know HOW TO MAKE THEM.
Like, geeeeez self. Get with the program already. (I'm the teeth-baring cringe emoji right now.)
Since I've now officially learned it for myself and made them one bajillion and one times, I think it's time for me to share the magic.
Because you must. You just must.
Your salty-sweet, melty-cheese loving mouth is going to love them like whoa.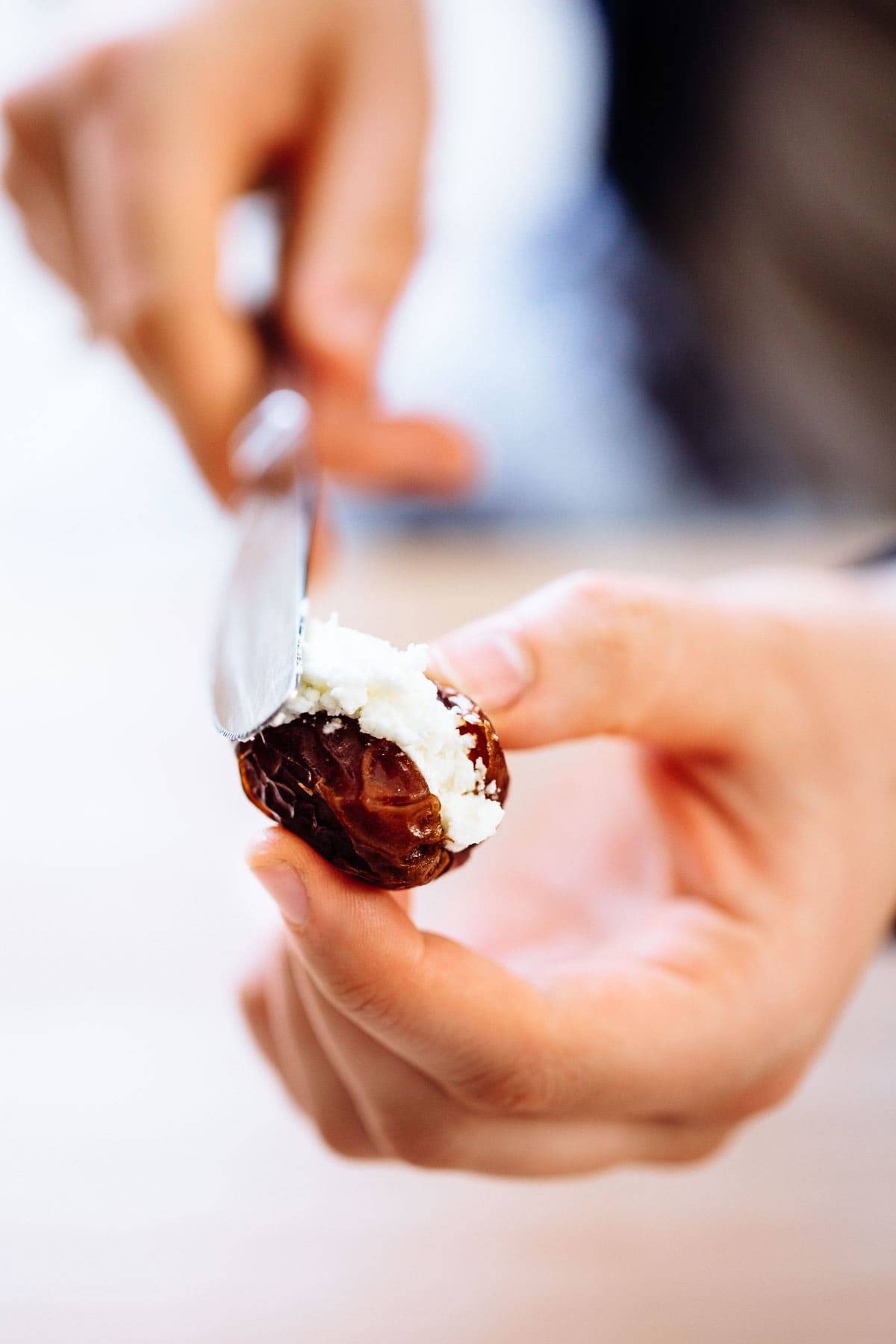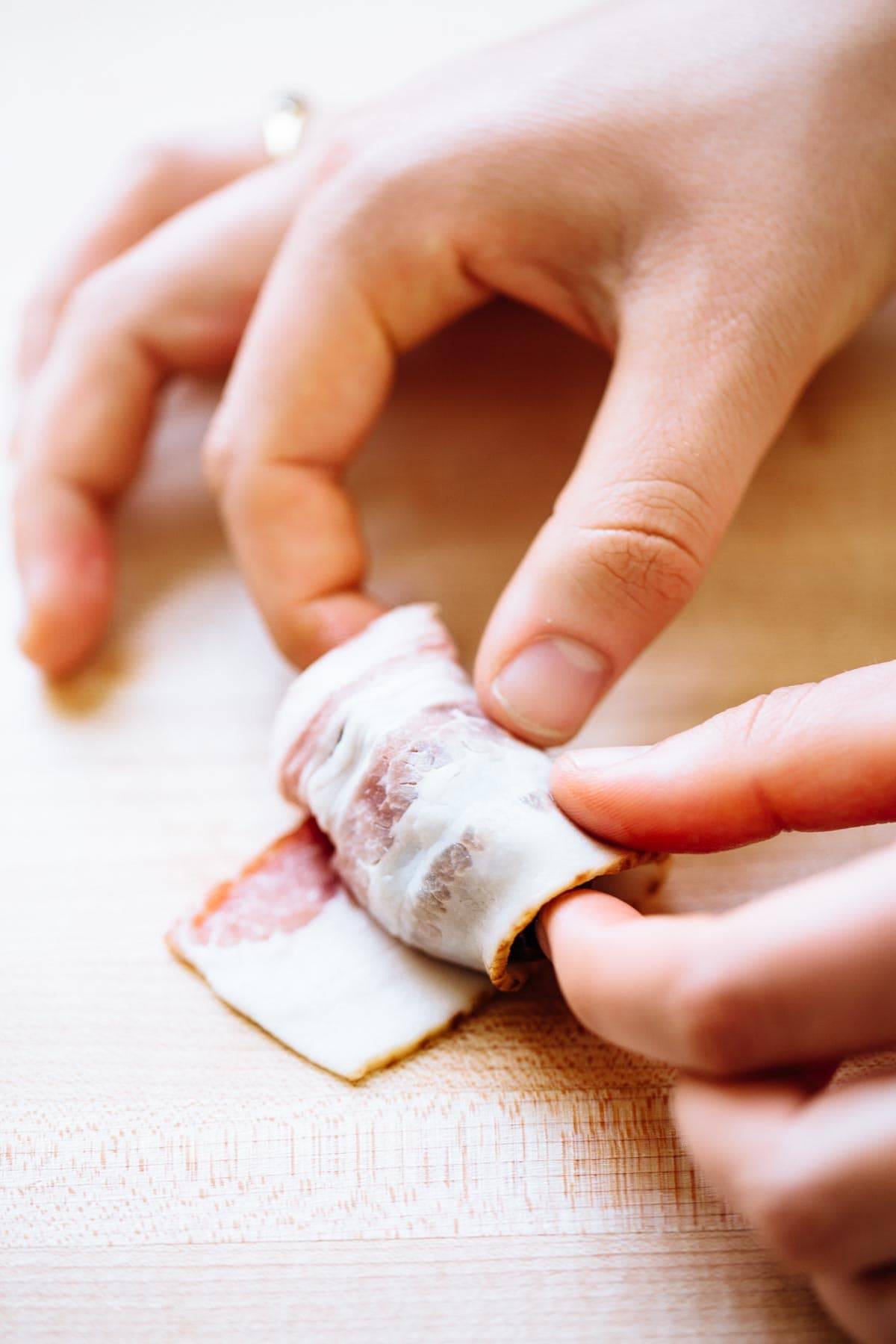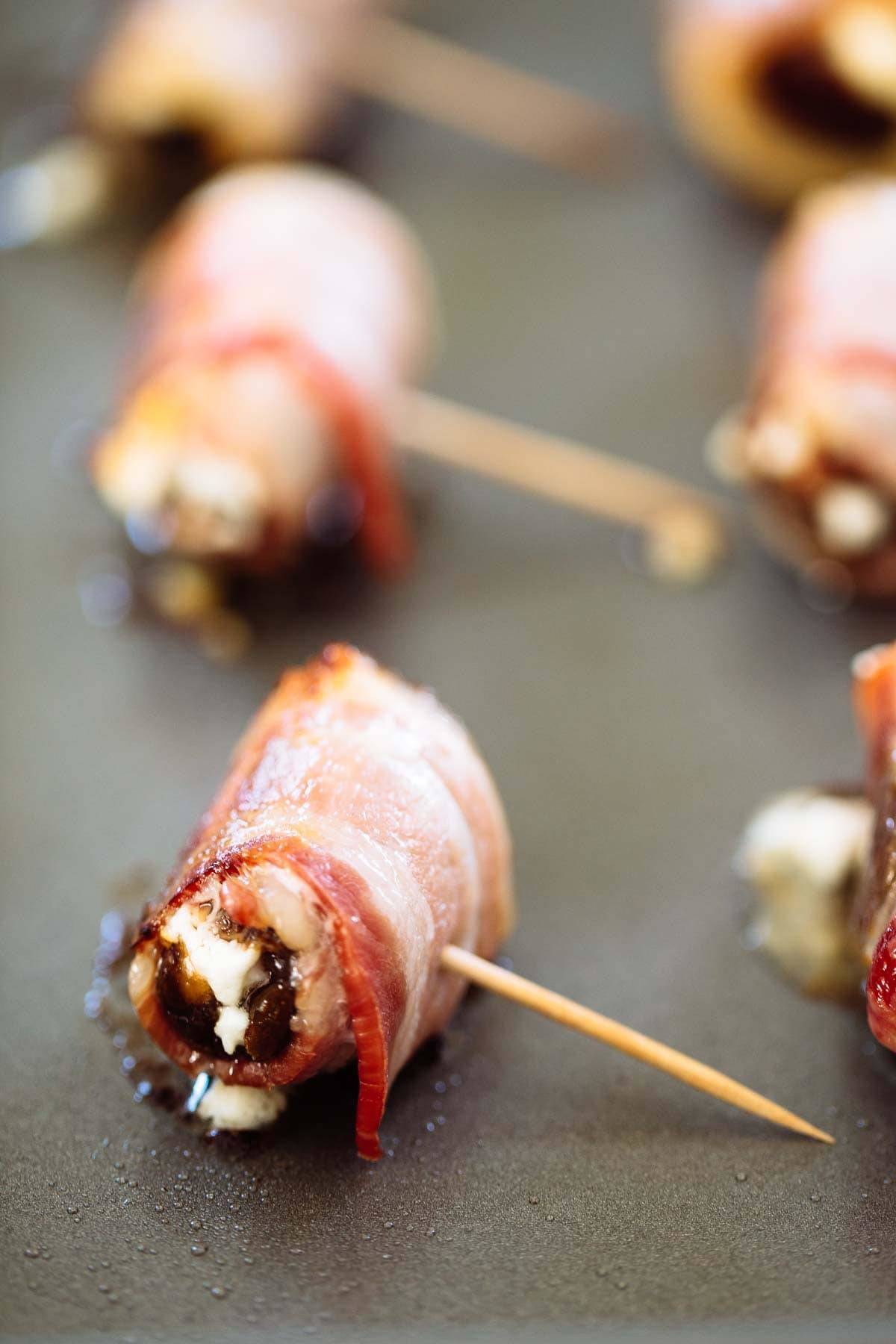 Kitchen Hack Ahead
Okay, pause. This is my sideways baking trick.
Basically what this is is me dealing with my annoyance about the bottoms of these little guys getting crispy-bacon while the sides stay chewy-bacon. It's not evenly cooked and it's not okay.
So my solution: stick a toothpick in each one and then use the toothpick to turn the Bacon Wrapped Dates every so often so that they get cooked on every side.
Crispy-bacon all around makes for a better party anyway.
Now what I want you to do is this: go to the store and pick up these three ingredients – bacon, goat cheese, and dates. Make these bacon-wrapped dates and try them. I KNOW, RIGHT?! SO GOOD, RIGHT?! and now share them // try to share them // think about sharing them while sitting on the couch enjoying your bacon-wrapped date appetizer party.
I'm virtually cheers-ing you on this Monday-but-not-Monday-in-spirit morning.
Cheers!
Bacon-Wrapped Dates with Goat Cheese: FAQs
How do I get my bacon extra crispy?
For crispier, browned bacon, set the oven temperature at 375. For crispier bacon, bake longer. Keep leftovers in the fridge.
My bacon didn't cook. What did I do wrong?
Usually, my bacon pieces wrap around the dates 1.5 times. If it's wrapping more than twice around the date, trim your bacon slices so they're a little shorter. If that bacon layer is too thick, it won't cook.
How did you make that glaze in the video?
Take these to the next level by putting a little honey bourbon glaze on top. Just mix about 1/4 cup of honey with 1 tablespoon of bourbon and brush the mixture on the dates when they come right out of the oven. 
Prefer To Watch Instead Of Read?
Print
Bacon-Wrapped Dates with Goat Cheese
---
Author:

Pinch of Yum

Prep Time:

10 mins

Cook Time:

20 mins

Total Time:

30 minutes

Yield:

8

(2 dates per serving)

1

x
Description
Bacon-Wrapped Dates with Goat Cheese – a simple 3-ingredient appetizer that will blow you away! Enjoy with a crowd of friends!
---
8

slices bacon (I find that thin bacon works better)

16

dates

4

ounces

goat cheese
toothpicks
---
Instructions
Preheat the oven to 350 degrees Fahrenheit.
Slice the dates lengthwise on one side to create an opening. Remove the pit.
Using a spoon, stuff a small amount of goat cheese into the cavity of each date and press the sides together to close.
Cut the bacon slices in half. Wrap each date with a slice of bacon and secure with a toothpick.
Arrange evenly on a baking sheet with raised edges (otherwise grease will get everywhere) and bake for 10 minutes. Remove the dates and use the toothpick to turn each one so it's laying on its side. Bake for another 5-8 minutes, until browned to your liking, and turn the dates to the other side and repeat. Remove from the oven, place on a paper towel lined plate, and let stand for 5 minutes before serving.
Equipment
The equipment section may contain affiliate links to products we know and love.
Notes
Nutrition information is for two bacon-wrapped dates.
Category:

Appetizer

Cuisine:

American
Keywords: bacon-wrapped dates, goat cheese dates, bacon and goat cheese, date recipe
Recipe Card powered by
More Apps To Feed a Crowd
---
One More Thing!
This recipe is part of our collection of best healthy snacks. Check it out!