Featured comment
I made this recipe exactly as written and it was delicious. This will definitely go into our favorites file. Next time I will double so we have leftovers!
This game is called How Can I Get You To Like A Sloppy Delicious Wild Rice Thing All Baked Up In A Pan.
To which I say GAME ON.
First things first: Minnesota. You should probably come. If you're ever going to appreciate a cold snowy winter wonderland and pan-o-goodness of chicken and wild rice, December just before Christmas is the time. I'll crank up the heat in our little house to a nice warm 75 degrees like the perpetually cold energy wasting person that I am, and you can come sit on my couch, snuggle with my favorite used-to-be-white Pottery Barn blanket, smell the wild rice cooking away in the oven, and listen to the crackling fireplace.
Oh snap. We don't have a fireplace. I am a fireplace ledge dweller and therefore this is the most sad thing ever about our adorable house nestled into the cold, frozen land of the Minnesota tundra. It's basically a crime to live here and not have a fireplace. Maybe in some future house we'll have a fireplace to cozy up to, but right now, it's just us and the new fridge.
Wait, the FRIDGE! Houston, we have a fridge. There are functioning kitchen appliances in the house other than a blender and a toaster for the first time in months, and I have been slow on telling you about it because I ate all that turkey a while ago and it just… I dunno. It just made me slow at life. Forgive?
Kitchen remodel video update coming atcha in 3, 2, 1…
Kitchen Update (2 MINS):
We are down to a matter of DAYS before the complete kitchen reveal happens! The backsplash still needs to get finished, I need to get my kitchen gear organized (story of my liiife), and we need to hang a few things on the walls. Maybe.
Be sure to subscribe to Pinch of Yum on YouTube <— a) because you don't want to miss the big final kitchen reveal and any recipe videos that will follow! and b) because we? I? Pinch of Yum? has a fantastic, tiny little army of exactly 689 followers, and for that reason I still celebrate every single follower, which means that I will eat an Oreo truffle in celebration when you subscribe. So, like, hurry up.
Okay, though, we started out with me trying to make sure you know how great it is to eat chicken wild rice soup in casserole form, especially when topped with buttery golden brown toasty bread cubes.
It's almost unfair for me to make a chicken wild rice casserole because I am so very happy eating chicken wild rice soup forever. I don't have many recipes that I make more than a few times in my life, but that crockpot chicken wild rice soup is a once-a-month regular. My goal with this casserole wasn't to replace the soup (hello, NOT POSSIBLE) but more just to offer my hungry self a recipe that could be a real food + comfort food casserole type thing that would give us all the cozy feels of soup without actually being soup. I sort of love casseroles in that very predictable Minnesota winter way, but I also like to try to make them updated to 2014, and this is why Chicken Wild Rice Casserole came into my life.
No cans of anything here – just lots of real, healthy ingredients (okay FINE there's a little butter, too) which kind of feels good, and smart, and grown up and all that stuff, plus it just tastes like a bite of Minnesota home. Real food + comfort food.
Essentially what this Sloppy Wild Rice Deliciousness is all about is a good hearty pile of wild rice cooked in broth and carrots, onions, and celery –> then baked with the chicken and the creamy sauce that you'll make from scratch because you're awesome –> then topped with the cutest little butter-soaked bread cubes for the looks (rawr) and the delicate crunch.
It's like soup meets buttered bread meets casserole meets Minnesota.
Ugh. I just get so happy when those four things collide right into my world.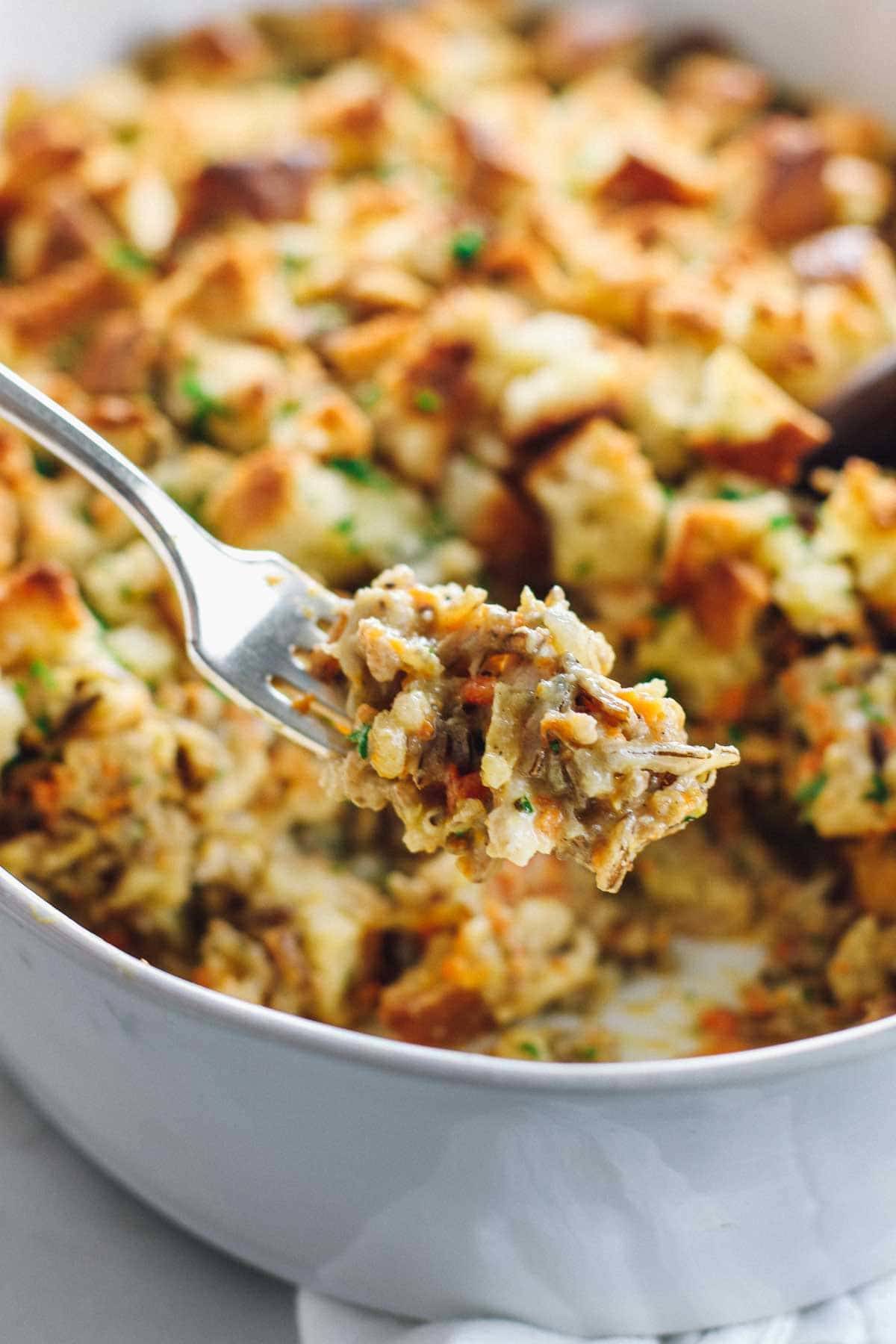 Print
Chicken Wild Rice Casserole
---
Author:

Pinch of Yum

Total Time:

2 hours 5 minutes

Yield:

8

(about

3/4 cup

per serving)

1

x
Description
Chicken While Rice Casserole! Real, healthy ingredients and it just tastes like a bite of Minnesota home. Real food + comfort food.
---
1

onion

5

carrots

5

stalks celery

1 cup

wild rice

3 cups

chicken broth

1

lb. chicken breasts, cut into small pieces

10 tablespoons

butter (divided)

1 teaspoon

salt

1/2 teaspoon

poultry seasoning

4 tablespoons

flour

2 cups

milk

3

–

4

cups cubed bread (dry, sturdy, or day old bread works best)
---
Instructions
Preheat the oven to 350 degrees. Chop the onion, carrots, and celery. Place in a large baking dish. Add the wild rice and the broth. Cover tightly with foil. Bake for 1 hour 15 minutes.
When the rice is almost done, melt four tablespoons butter in a small saucepan over medium heat. Add the flour, salt, and poultry seasoning and cook for one minute. Add the milk slowly, whisking to form a thick, creamy sauce.
If you want the topping, melt the remaining six tablespoons butter and toss with the bread cubes. (I've also made it without the topping and it's still delicious).
When the rice is done, remove foil, add raw chicken and creamy sauce, and stir to combine. Arrange the bread in a layer on top. Turn the heat up to 450 and bake uncovered for another 20-30 minutes until chicken is no longer pink and the bread cubes are golden brown. Top with salt, pepper, and/or parsley for a pop of green color.
Prep Time:

20 mins

Cook Time:

1 hour 45 mins

Category:

Dinner

Cuisine:

American
Keywords: chicken wild rice casserole, wild rice casserole, chicken casserole
Recipe Card powered by
Also, I must tell —> That fun video thing I was working on in San Francisco earlier this fall? It's a little blogger photography class – and it's live!
I worked with Brit + Co. to develop a simple course called Photography for Bloggers. I used food (because WHAT ELSE is there) for my teaching purposes, but the idea is that these are photography basics that would help any new blogger – foodies and beyond – up their skills in the photography department by learning manual controls, lighting, and composition.