And all the curry lovers, please stand up! Truth: I shoved a jar of yellow curry paste in your face on a Wednesday morning and you didn't even close the browser window on me. YOU ROCK.
Today's recipe (**dat yellow curry paste!**) is a lot of things.
Scary. At least a tiny bit scary. Because it's curry paste and it seems intimidating to make from scratch and it also just looks intimidating. I mean… it's a straight up YELLOW PASTE. Hi. Not super friendly looking.
Exciting, though, because I love curry and I know you love curry (otherwise how would you put up with my bajillion and one curry recipes?), and as curry lovers, how exciting is it to think about us making delicious Thai yellow curry truly from scratch? It's exciting.
Delicious. You guys, seriously, a good yellow curry is a gift from heaven. Which is why we need to start with the paste and then expand from there into a full yellow curry recipe. For example – I have this existing recipe for Thai Yellow Curry with Beef and Potatoes and I will be sharing another even easier recipe for Thai Yellow Chicken Curry tomorrow. The bite of heat, the punch of color, the comforting, creamy texture of the coconut milk simmered to slow yellow curry perfection … ugh. It's almost just too much. ♡
But, um, the list is still going. This recipe is also:
Friendly. I really worked hard to make this recipe accessible to the person who doesn't like to go to more than one grocery store –> points to self <—. When I had my friends over for dinner club and we made that Thai Yellow Curry with Beef and Potatoes from scratch, I did the real official thing where I went and got a few ingredients from the Asian grocery store that is awesomely two miles from my house, but that was a special occasion, okay? I don't like to do that in my regular life. Also: one of the ingredients I had to buy to make it authentic – that shrimp paste? – totally grossed me out. I know it's the right thing to do for authentic curry paste, but I just… no. I just couldn't do that again. So I re-made the curry paste (the version you're seeing in this here recipe) using only ingredients that I could find at my local, mainstream grocery store. NO EXTRA TRIPS! If you do want to make the extra trip, good on you! You'll be more authentic and wonderful (and you can use the curry paste recipe in this post). But for the rest of us – this is it! Regular grocery store ingredient yellow curry paste.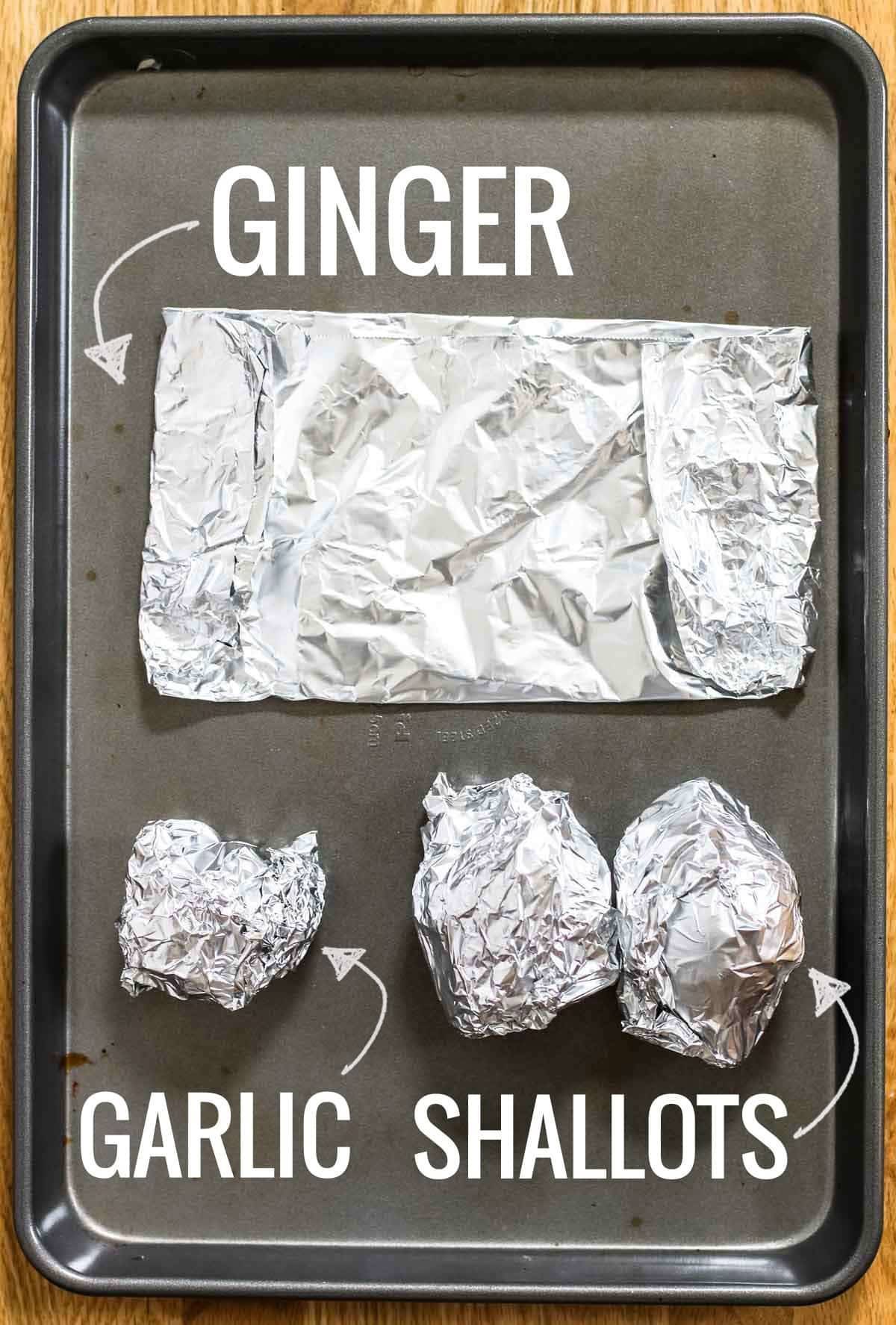 (Still going.)
Smart. What's going to happen here is that you're going to spend 45 minutes making this yellow curry paste (30 of which involve waiting for the garlic and shallots to roast, so hiiiii phone games) and after you put in the time to make this yellow curry paste, you will be giving yourself the gift of 4+ batches of homemade curry ready to go at a moment's notice because this stuff can FREEZE, baby. Awyeah. Homemade Thai yellow curry on demand is a very, very good thing.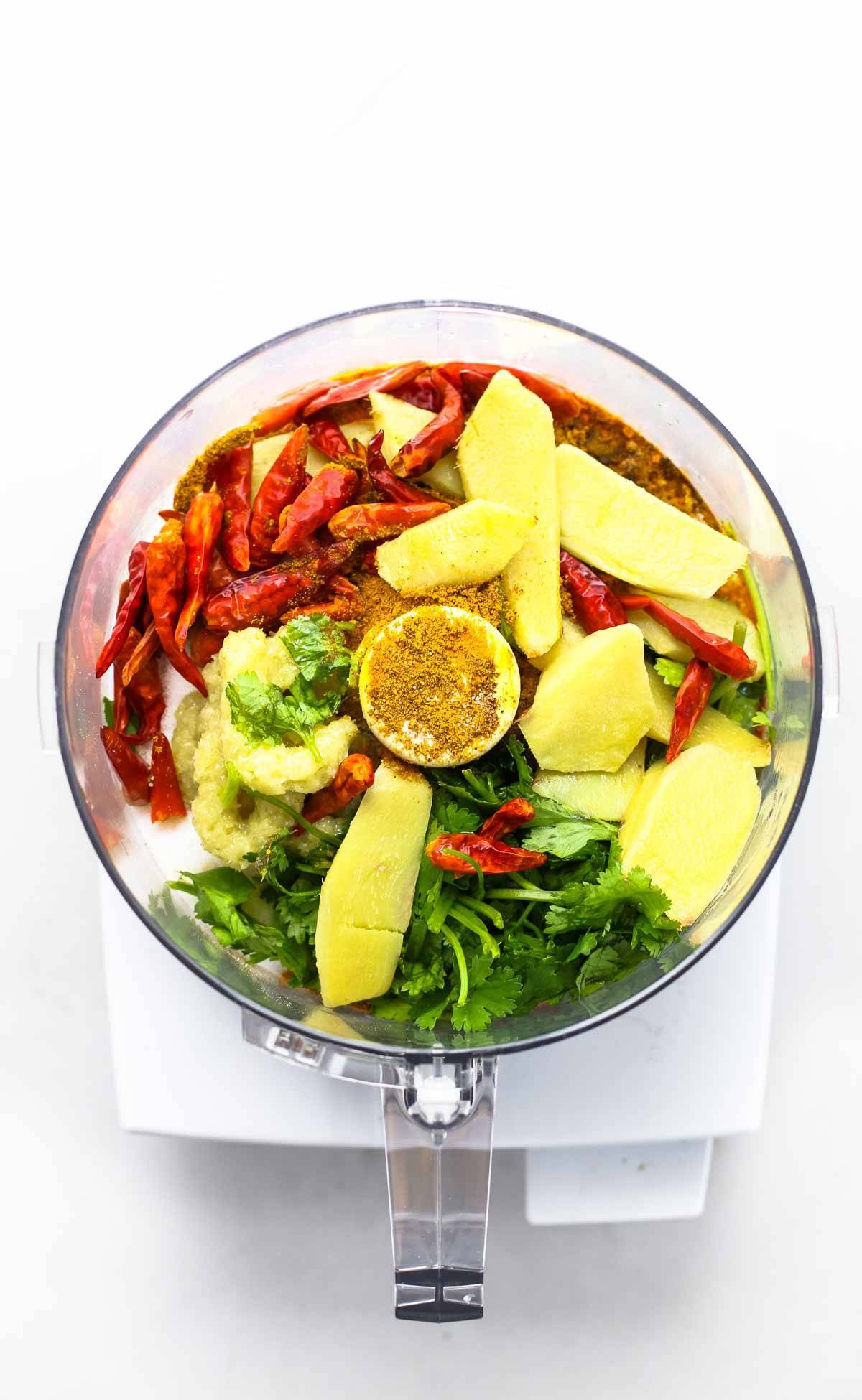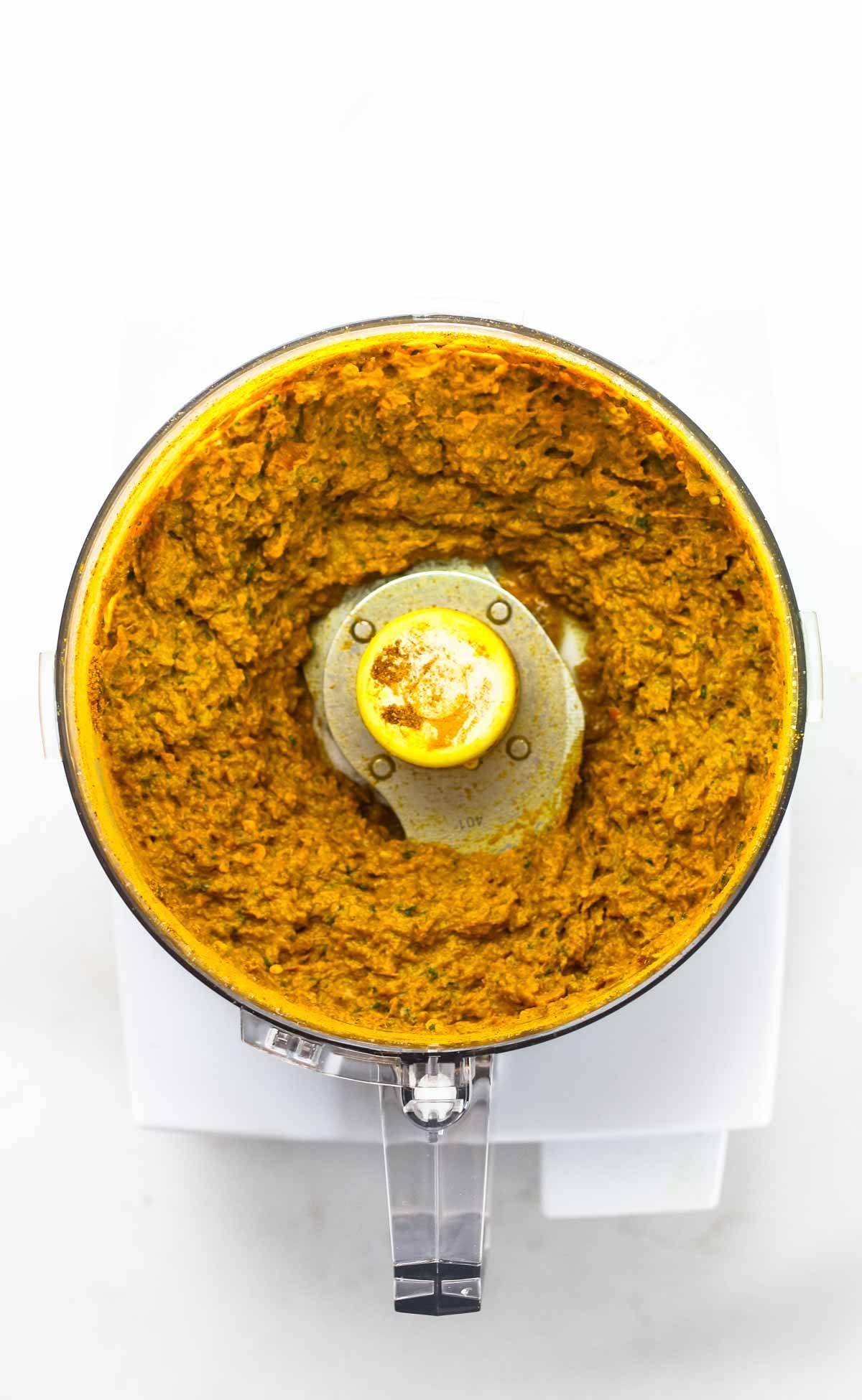 And that's that, my curry loving friends! Who even knew that this could be so do-able?
When I first made curry officially from scratch for that dinner club beef and potato yellow curry, I thought to myself: this is awesome and I don't think I will make it again because it takes so long. It was a three hour process (and more, including the time it took me to drive to the Asian grocery store and get the galangal and shrimp paste), and for me, that's just not going to happen.
But you guys – my love for curry runs deep. And after making it completely from scratch and realizing HOW GOOD IT CAN REALLY BE, I couldn't not at least try to make it again, and maybe make it a little easier.
And now? Look at me being all I Make My Own Yellow Curry Paste! Whaaaat. I plan to make a batch of this easier, time-saver, extremely yummy curry paste once every few months to keep feeding my yellow curry habits.
Yel-low-curry! Yel-low-curry! Yel-low-curry!
I don't know, we might be sort of obsessed.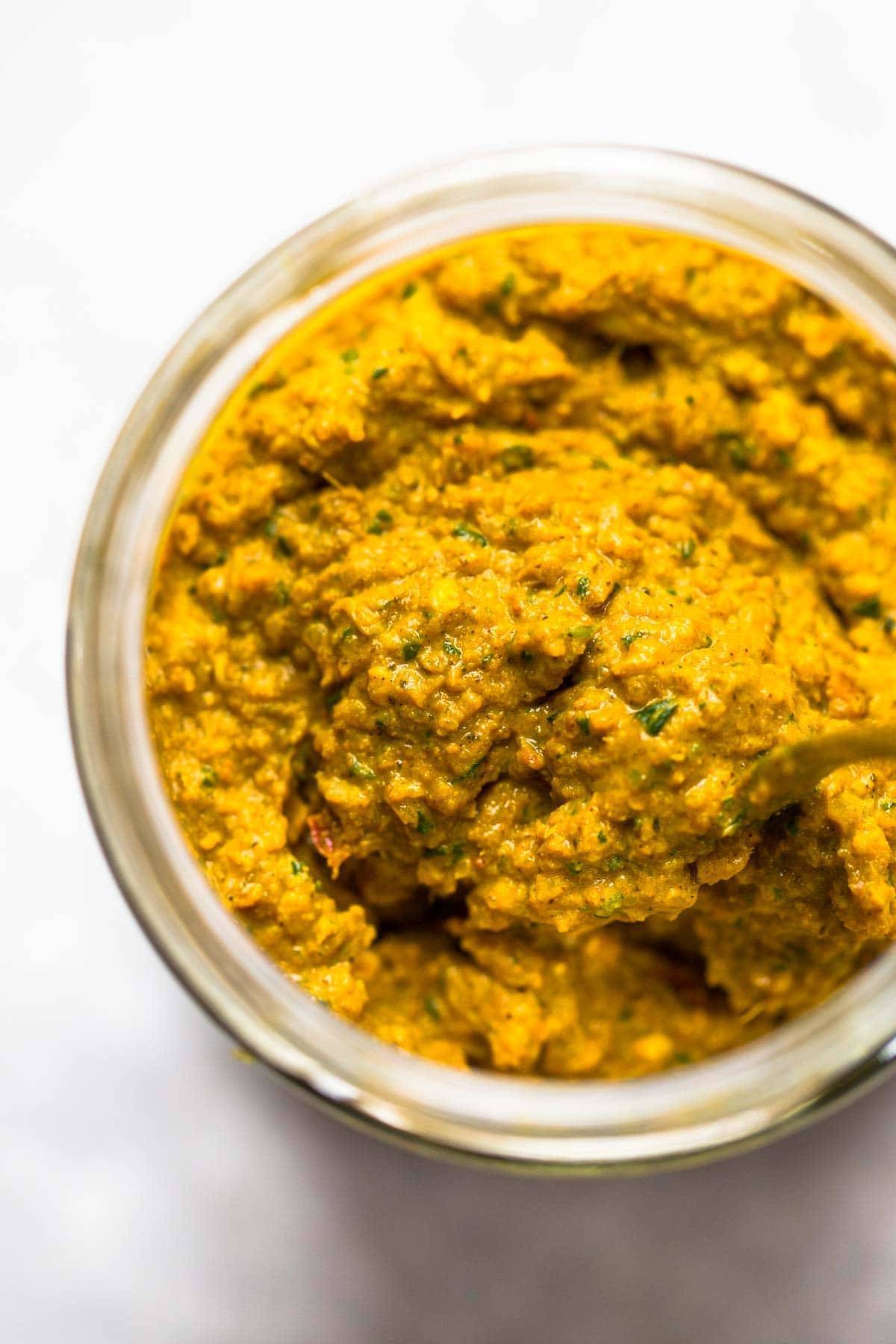 Check out our video for how to make Thai Yellow Curry Paste:
Easy Thai Yellow Curry Paste
---
Author:

Pinch of Yum

Prep Time:

10 mins

Cook Time:

45 mins

Total Time:

55 minutes

Yield:

2 cups

curry paste

1

x
Description
This Easy Homemade Yellow Curry Paste can be made with easy to find ingredients! 45 minutes = 4 batches of homemade curry.
---
Scale
Ingredients
4

large shallots

4

large heads of garlic (not individual cloves – FULL HEADS of garlic)

1

6-inch piece of fresh ginger

5

–

20

whole dried Thai chili peppers** (they're very small and usually found in the spice section)

1 1/2 tablespoons

salt

2

–

3

tablespoons turmeric

2

–

3

tablespoons mild curry powder

2 teaspoons

roasted ground coriander

3 tablespoons

lemongrass paste (I use Gourmet Garden which they sell at my regular grocery store)

1/4 cup

packed cilantro leaves and stems
---
Instructions
Preheat the oven to 350 degrees.
Prep the aromatics: Peel the shallots – then drizzle with oil and wrap in foil. Peel the ginger and cut into thin slices. Arrange in a single layer, drizzle with oil, and wrap in foil. Pull the outer paper off the garlic. Cut the pointy tops off the heads of garlic so the cloves are partially exposed. Drizzle with oil, and wrap each head of garlic in foil.
Bake the aromatics: Place all the foil packets on a baking sheet. Bake for 15 minutes. Remove the ginger (it should be soft), increase the temperature to 400, and roast the shallots and garlic for another 30 minutes until golden brown and very fragrant. When cooled, you can squeeze the garlic cloves out of the rest of the paper.
Soak the chilis: While the aromatics are roasting, pour boiling water over the chili peppers to rehydrate them. Let them soak for 15 minutes. Drain the water.
Make the paste: Put everything in a food processor or very strong blender. Pulse or puree until the yellow curry paste reaches your desired consistency. The recipe should make about 1 1/2 – 2 cups of curry paste, and I use about 1/3 cup or more in each of my yellow curry recipes, so usually I can get 4-5 batches of curry out of this yellow curry paste recipe. The paste keeps for about a week in the fridge and it freezes well!
---
Notes
The equipment section above contains affiliate links to products we use and love!
**The number of peppers will either make your curry paste mild or hot.
5 chilis = very mild
10 chilis = medium
15 chilis = medium hot
20 chilis = HOT
The measurements for the spices can be played with a little bit, which is why the curry and turmeric are written as 2-3 tablespoons. I usually go for MORE spice, but if you don't have enough of one thing, try adding a little more of something else to compensate. It's definitely somewhat of a flexible recipe.
Bjork and both really like spicy food, but the 20 chili version was hard for us to eat. 10 chili peppers (medium) was my preferred amount – yum! I highly recommend starting with just a few if you aren't ready for the heat. 🙂
For a more traditional Thai yellow curry paste that features a few harder-to-find but true to actual curry ingredients, check out THIS RECIPE.
You can use less salt (1 1/2 tablespoons seems like a lot, I know), but you will likely need to add it in later when you make it into a curry – just remember this is divded into at least 4 batches with 4-6 servings per batch, so that salt gets distributed out pretty well.
Category:

Sauce

Cuisine:

Thai
Recipe Card powered by
PS. I was on TV this week! More importantly: SAGE WAS ON TV THIS WEEK! I sort of forgot to tell you because I was too busy feeding my nervousness with too many ultra thick and soft chocolate chip cookies. But I survived! and I managed to talk about food photography hacks and show off the magic green sauce and inner goddess truffles without making anyone too uncomfortable. Win?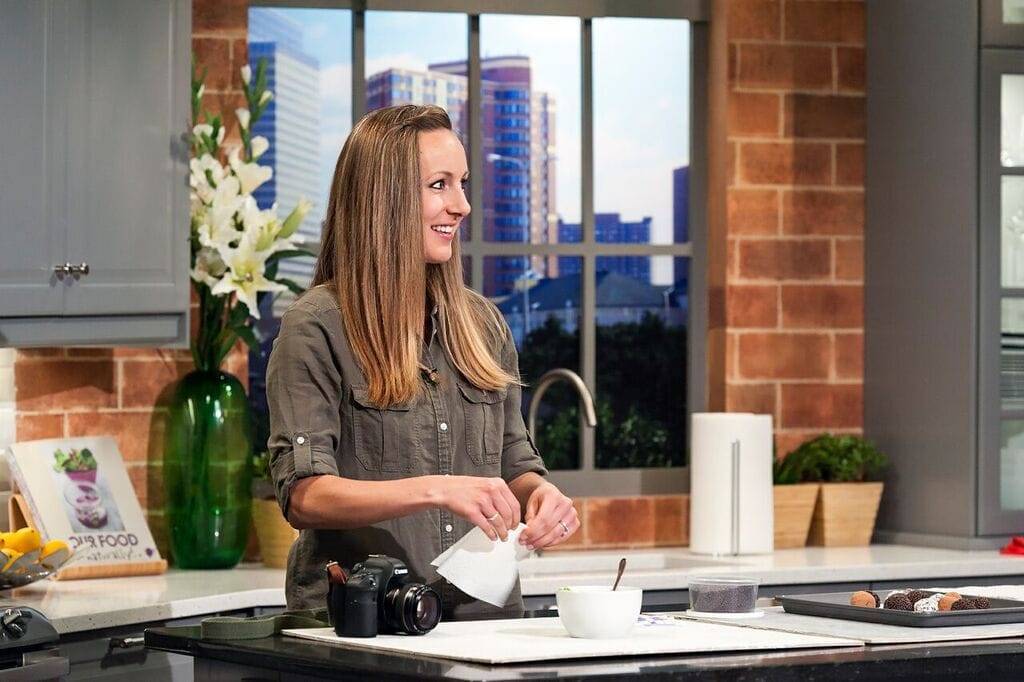 If you want to see more pictures of the day and/or the actual clip itself, join us in our private VIP Facebook group for the bestest of the best Pinch of Yum readers. 👍 You request to join, I'll add you, and the fun times will rolllll.