Why hello, my love. And when I say my love, I most definitely do mean this creamy, savory-sweet, Thai Yellow Chicken Curry that is rice's best friend + my idea of food heaven. ♡
The thing is that I don't normally post on Thursdays, but sometimes life tells you to make Thai Yellow Curry Paste, and as a result, you need to share a recipe that uses it on the very next day. NEED to. Because I know every single one of you sweet readers has that curry paste made, packed into jars, and ready to be made into this luscious Thai Yellow Chicken Curry. Right? COME ONNNNNN you guys.
You should know – or should you know? too late – that just this morning I went into the fridge to pack up the leftovers of this Thai Yellow Chicken Curry and I found myself eating them straight out of the pan instead. This is one of a million reasons why writing a food blog works for me – I don't even need to make this stuff up.
I am usually not a savory morning person, okay? I want my toast and peanut butter and honey and/or my donuts, and I want them bad.
But this curry is honestly so good and so perfectly savory with just a teensy bit of sweet that this morning, before 8am, I found myself scraping out the extra curry-coated rice from the bottom of the pan and spooning it all straight into Ze Mouth. And as I enjoyed a few bites of that cold, creamy Thai Yellow Curry as my .5 breakfast, I had this thought: why am I not eating yellow curry for breakfast every single day? It's so comforting, spicy-sweet-savory, soul-hugging, and it just generally puts me in a good mood about life.
Curry therapy. Curry morning therapy.
This is a thing starting now.
Okay, here's what we have going on in this beauty.
Obviously, to start, the yellow curry paste from yesterdays' post.
If you did not make the yellow curry paste from yesterday's post, fear not. You can either make it real quick (45 minutes) so you're ready for this recipe x4 because you'll have enough left over to make it again and again, or you can buy a little jar of yellow curry paste.
Except the only problem is that if you BUY yellow curry paste, a) I don't know where you're going to buy it from because I can never find it at my grocery stores – they have red, they have green, but they never have yellow – because they hate me and they want to starve my curry addiction? I don't know. You tell me. and b) you will probably need to change the amount used in the recipe because I make no guarantees that the store bought will match the spiciness and potent-ness of the homemade version.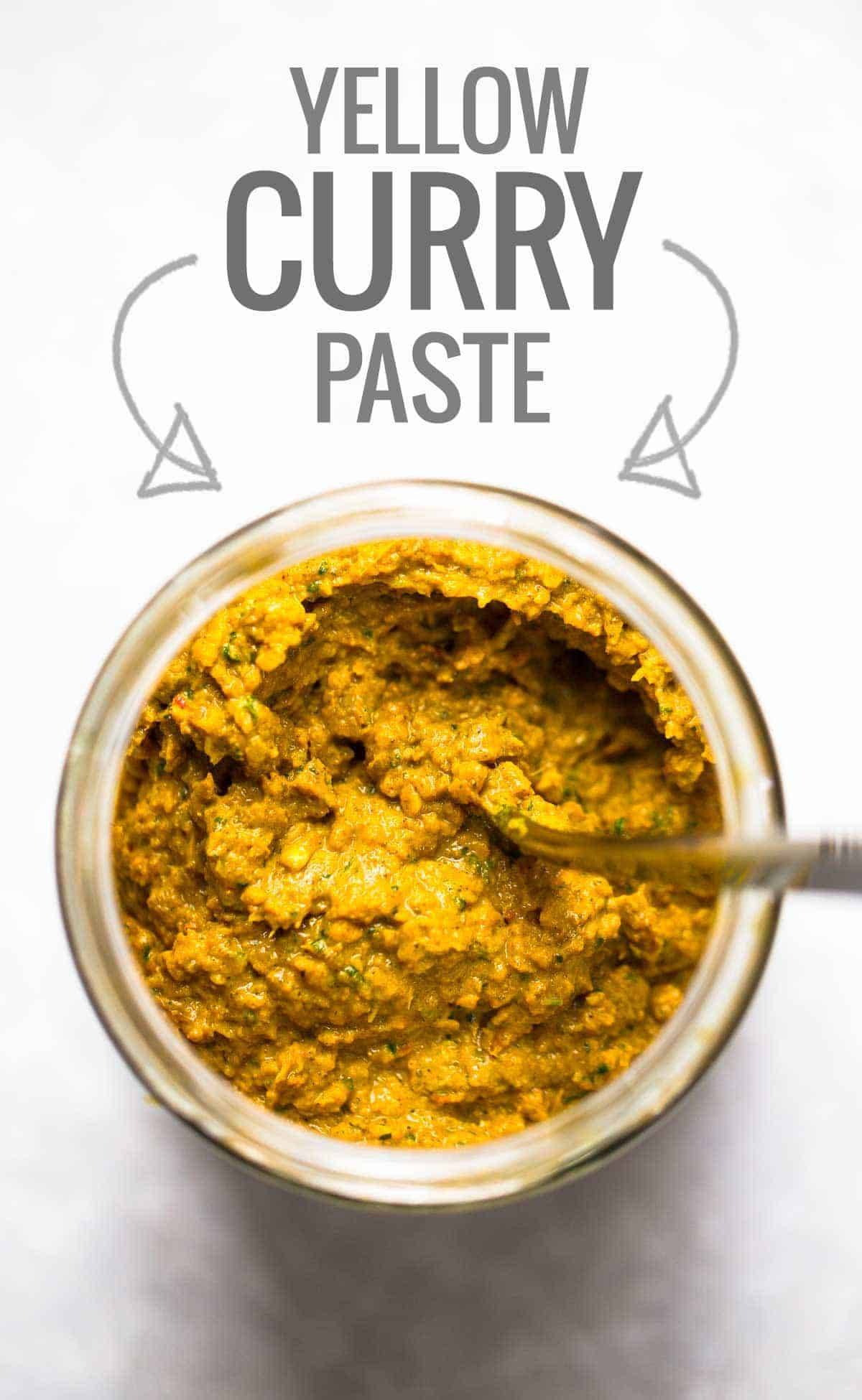 *begin PSA for Thai yellow curry paste*
Guys, I know it takes a little time (45 minutes, yes, I hear you) but it's SO TOTALLY WORTH IT. You will love yourself so much in a few weeks when you're ready to have curry again and you remember – boom! I'm awesome and I already made curry paste and it's in the freezer ready to become my delicious, comforting, Thai Yellow Chicken Curry dinner.
Because I'm happppppyyyyyyyyyyy. 🎶
If you make your own paste and have it on hand in advance, this Thai Yellow Chicken Curry recipe *almost* reaches the level of Five-Ingredient Easy, which, in and of itself, is worth the effort.
This is the best food gift you could give yourself. Make it make it make it. You'll love it. Please try it. BUT SERIOUSLY. DO IT NOW.
*end PSA for Thai yellow curry paste*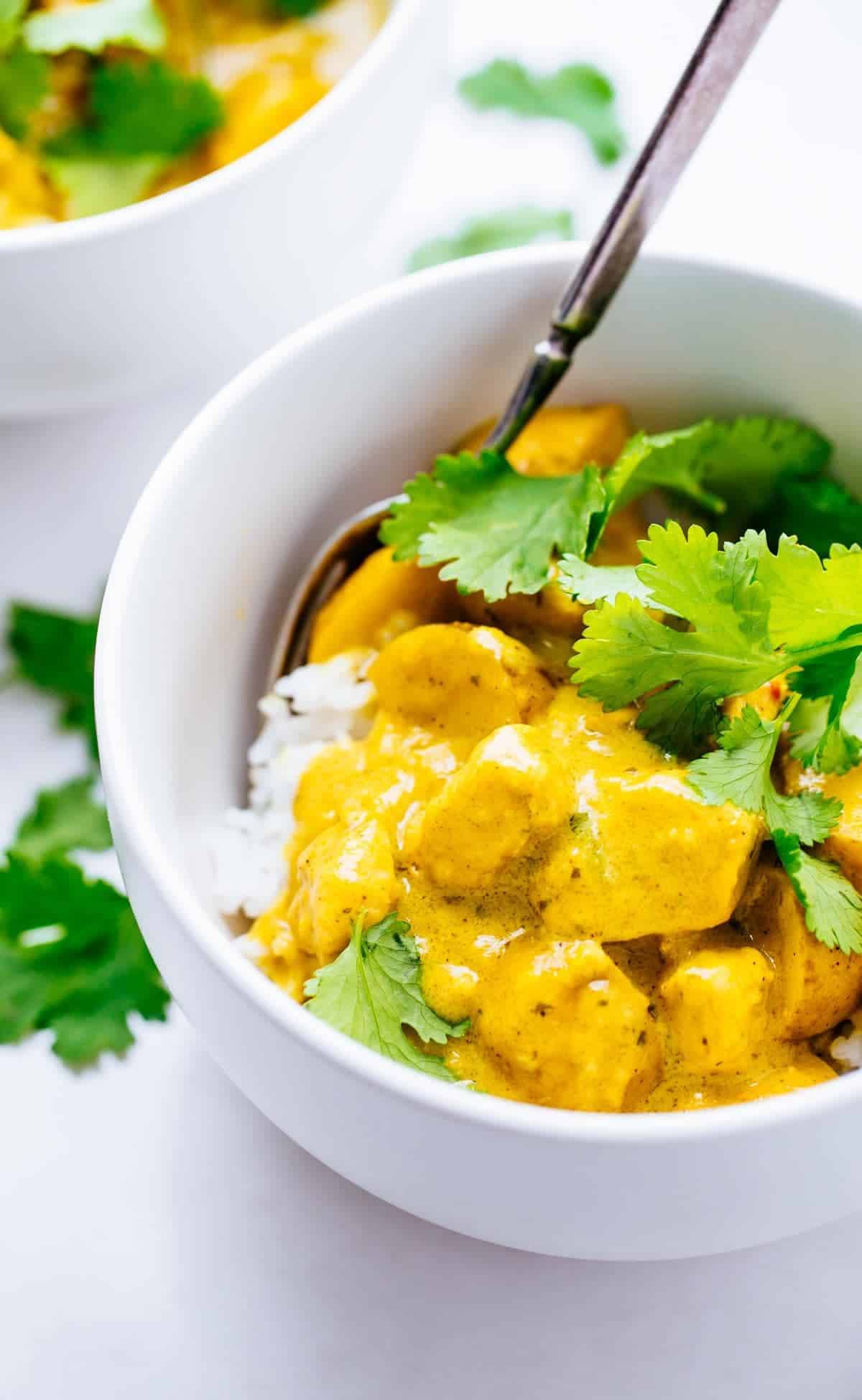 This Thai Yellow Chicken Curry is comfort food meets takeout at home. Or are those the same thing? It's so good – especially if you treat yoself with the coconut cream instead of the usual coconut milk – and it is so simple to make, you won't even believe it.
Onion / chicken / yellow curry paste / potatoes / coconut milk / done.
That's it. And the flavor. Ohhhhh that sweet Thai yellow curry flavor!!!! <– it has come to this.
Excuse me while I go back to the fridge for those leftovers I meeeeeean….
Check Out Our Video For How To Make Thai Yellow Chicken Curry:
Print
Thai Yellow Chicken Curry with Potatoes
---
Author:

Pinch of Yum

Prep Time:

15 mins

Cook Time:

25 mins

Total Time:

40 minutes

Yield:

6

1

x
Description
Thai Yellow Chicken Curry with Potatoes – the ultimate comfort food that is surprisingly easy to make! So perfectly savory with just a teensy bit of sweet.
---
1 tablespoon

oil

half a

yellow onion, sliced thinly

1

pound boneless skinless chicken breasts, cut into bite-sized pieces

1/3 cup

yellow curry paste

10

baby golden yukon potatoes, cut into bite-sized pieces

1

14-ounce can coconut cream (it's like coconut milk, but even more luscious)

1/2

–

1

cup water

2 teaspoons

fish sauce (optional)

1

–

2

tablespoons brown sugar (optional)
cilantro and rice for serving
---
Heat the oil in a large pot over medium low heat. Add the onions and saute for a few minutes until the onions are fragrant and softened. Add the chicken and curry paste; saute for 3-5 minutes. Add the potatoes and stir to coat with the curry paste.

Add the coconut cream and 1/2 cup water to the pot – simmer for 20-30 minutes or until the chicken and potatoes are fully cooked, adding more water depending on the consistency you want for the sauce.

Stir in the fish sauce and brown sugar to really take it up a notch. Seriously – so good. Serve over rice.

Equipment
The equipment section may contain affiliate links to products we know and love.
Notes
The yellow curry paste I use is HOMEMADE because I can never find it in the store – and it's super easy to make. It takes about 45 minutes, but then you'll have enough to last you through five batches of curry (and you can freeze it). Here's the recipe: https://pinchofyum.com/easy-homemade-yellow-curry-paste
Coconut milk would work fine in this recipe, if you just adjust the amount of water based on the consistency you want for the sauce. But if calories are less of a concern, coconut cream will make it REALLY delicious.
The nutrition label does not include the rice. 
Category:

Dinner

Method:

Sauté

Cuisine:

Thai
Keywords: yellow curry recipe, yellow curry chicken, chicken curry, thai yellow curry
Recipe Card powered by