5 Ingredient Vegan Vodka Pasta
A creamy, tangy, luscious, and SUPER easy take on vodka pasta – and vegan!
rotini noodles, vodka, coconut milk, tomato paste
Red Pepper Fettuccine With Shrimp
Quick, pan-fried shrimp, creamy noodles, and red pepper garlic butter lemon sauce vibes. Perfect quick and easy dinner!
fettuccine noodles, shrimp, chili powder, garlic, lemon
3 Ingredient Creamy Tomato Shells
This trick will make your pasta sauces creamy, velvety, and nutritious with no butter or cream!
shell pasta, cashews, tomato sauce
Slow Cooker Beef Ragu With Pappardelle
Slow Cooker Beef Ragu with Pappardelle – easy comfort food from the new Skinnytaste cookbook!
pappardelle pasta, flank steak, crushed tomatoes, garlic
Simple Mushroom Penne With Walnut Pesto
AMAZING mushroom penne made with easy ingredients like Parmesan cheese, whole wheat penne, mushrooms, garlic, and butter.
penne pasta, butter, mushrooms, Parmesan cheese, basil
Date Night Rigatoni With Sausage And Kale
AMAZING rigatoni with sausage, kale, tomato cream sauce, Parmesan, and red pepper flakes! Perfect for date night.
rigatoni, Italian sausage, fennel, Parmesan cheese, kale
Date Night Mushroom Fettuccine
Date Night Mushroom Fettuccine that's elegant and luscious and FIVE INGREDIENT EASY.
fettuccine, Parmesan cheese, mushrooms, butter, garlic
Red Pepper Cashew Pasta With Roasted Cauliflower
Red Pepper Cashew Pasta with Roasted Cauliflower that is TOO GOOD TO EVEN BE TRUE. This sauce is a three-ingredient game-changer!
penne pasta, cauliflower, cashews, roasted red peppers
Garlic Herb Spaghetti With Baked Chicken Meatballs
Garlic Herb Spaghetti with Baked Chicken Meatballs is SO GOOD! Lots of lemon, butter, parsley, and a handful of Parmesan. Yum!
spaghetti noodles, lemon, ground chicken, butter, Parmesan cheese, garlic, spinach
No-Boil Baked Penne With Meatballs
Baked Penne with Meatballs! No-boil, fail-proof, garlic-buttery, easy dreamy weeknight dinner. SO GOOD!
penne pasta, fire roasted tomatoes, butter, spinach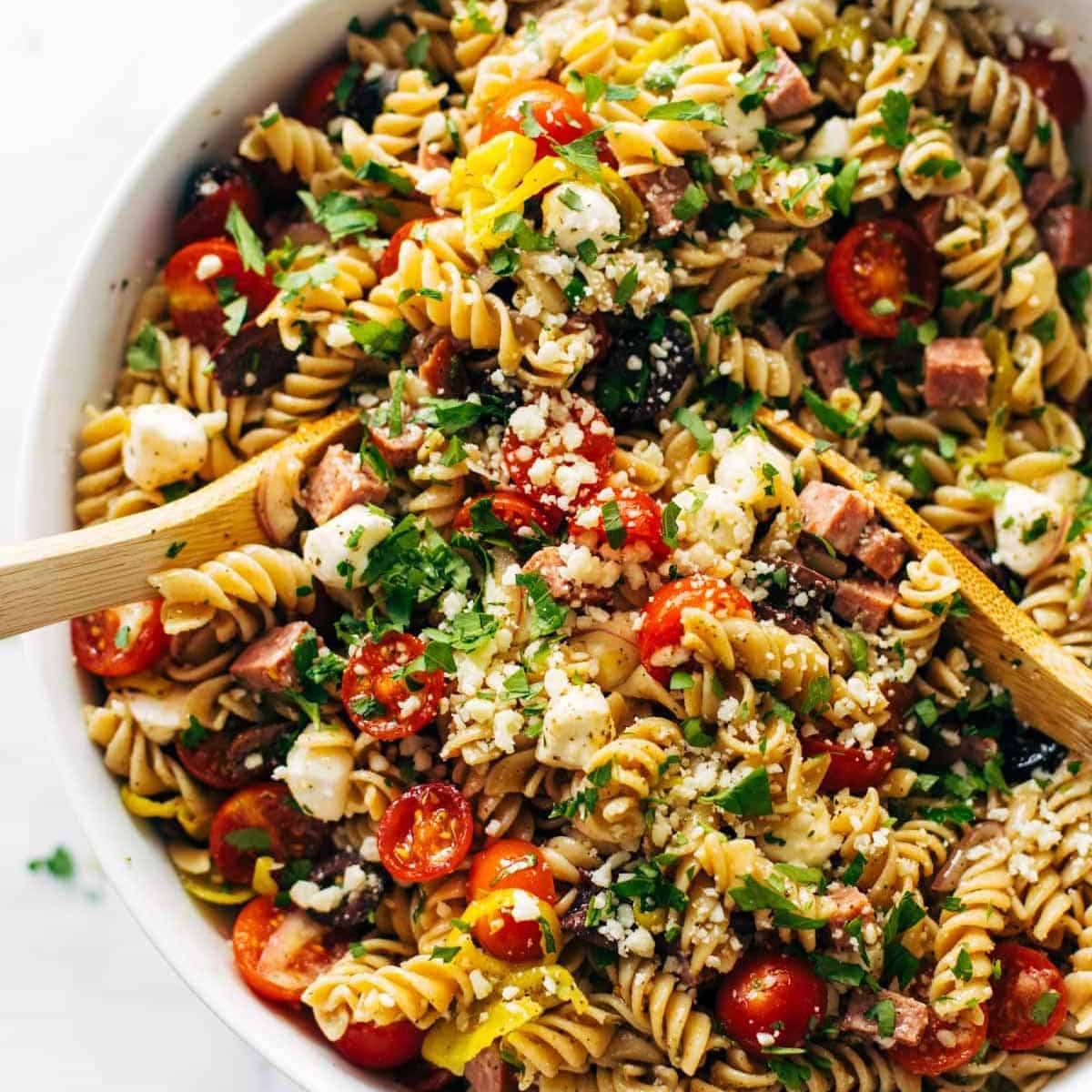 Best Easy Italian Pasta Salad
Super easy Italian Pasta Salad – with pasta, tomatoes, fresh mozzarella, spicy salami, pepperoncini, olives, and easy Italian dressing. DANGEROUSLY GOOD.
pasta, summer sausage, cherry tomatoes, mozzarella cheese, olives, pepperoncini, Italian dressing
Instant Pot Mac And Cheese
Instant Pot Mac and Cheese – made with just 5 real food ingredients. This is SO MUCH BETTER (and easier) than any mac and cheese I've ever had! Unreal.
pasta, butter, whole milk, shredded cheese