Third recipe in our Feeding a Broken Heart series, cominatcha today.
Introducing my newest comfort food love: BEEF STEW. That can be made in an Instant Pot. As in Instant Pot Beef Stew. The meal that will change your life.
To answer your questions: YES, I've become a new person since this stew was introduced into my life. I am a non-beef-loving-part-time-vegetarian who now adores beef stew. I attribute my newfound love of beef stew to two things – 1) how easy it is to make, and 2) how truly, awesomely, gravy-loving delicious beef stew actually is. I guess I was just being judgy about it for a minute there.
I grew up in a small town in Minnesota (hello, Cambridge!), along with my husband Bjork. When we both sat down to eat this and took our first bites of this beef stew as delivered by our friends Tyler and Heidi, we literally said, almost at the same time, "This tastes like Cambridge." For both of us, beef stew tastes like dinner with grandma and grandpa on Sundays. It tastes like love. It tastes like home.
Which is why it's perfect for our Feeding a Broken Heart series. Food, love, home. 100% on brand.
Watch How To Make Our Instant Pot Beef Stew: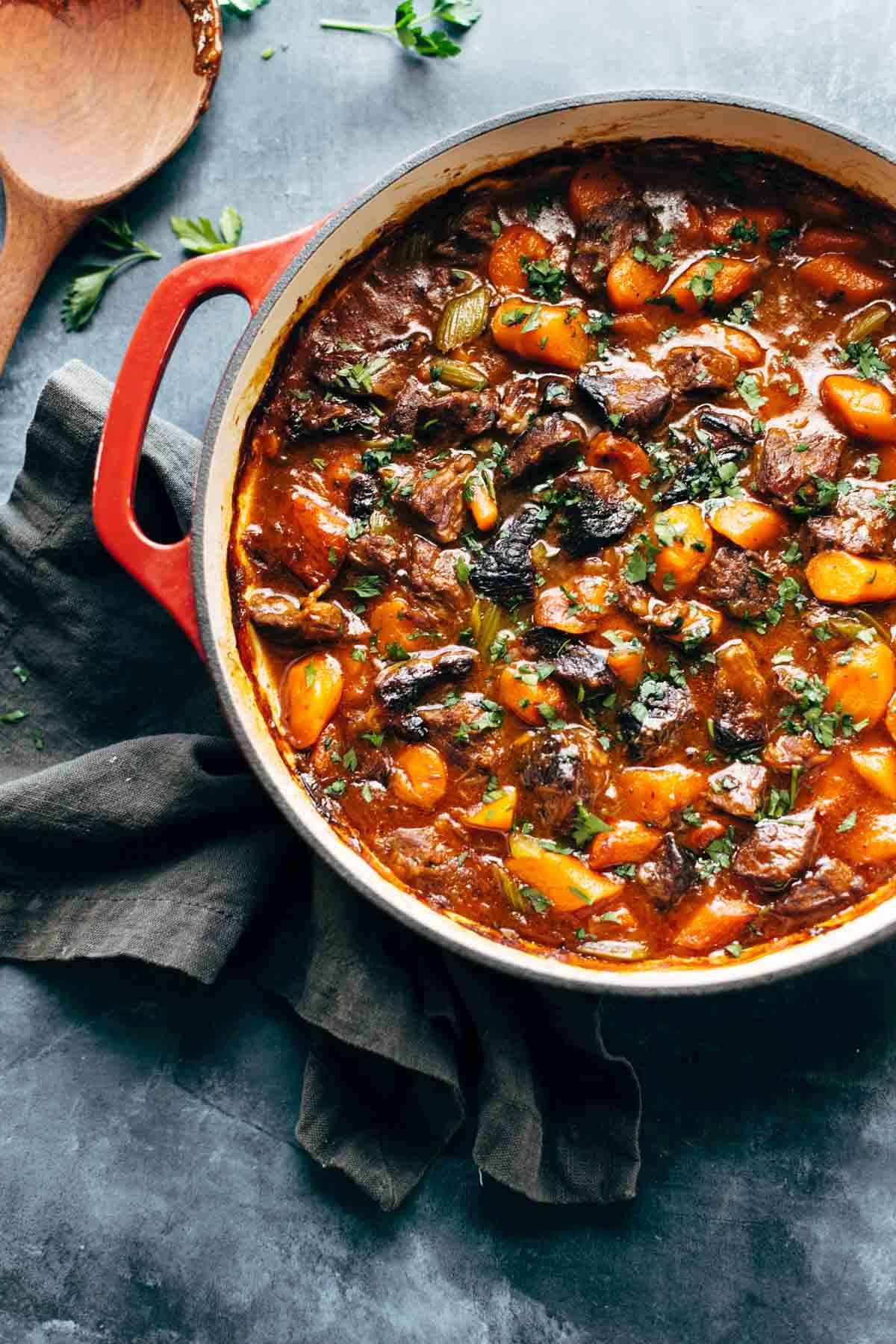 My friend Tyler brought us this beef stew, and as you can see, Tyler is a master of the northern Minnesotan home-cooked meal.
My recipe is almost the exact same as his recipe, which obviously came in the format that all the best recipes come in -> a photo of a recipe chicken-scratched out onto a piece of yellowing paper that has been handed down for years and years and years. The only thing I changed about it was making it in the Instant Pot. I mean, this doesn't HAVE to be an Instant Pot recipe, but please hear me when I say that the Instant Pot is amazing and the stew turned out just as delicious in 35-ish minutes as compared to the traditional four hours that are written into the oven version of the recipe.
Admittedly, you get less awesome house smells. There is no real replacement for the magical healing powers of a stew bubbling away in your oven for four hours.
But maybe you just got home from work and you didn't plan super well and you don't want to wait until 10pm to eat? Hi, we're the same person. In that case, go with the Instant Pot.
PS. If you are not familiar with the Instant Pot (affiliate link), WHAT UNIVERSE ARE YOU LIVING IN.
True story:
I wasn't home when Tyler dropped off the stew, so I asked Bjork to pop it in the oven. He sent me approximately one hundred text messages asking how he should put it in. What are the instructions? How do I do it? "It's not a big deal," I said. "Just literally take it out of the fridge and put it in the oven."
When I came home and opened the oven, I realized quickly that I had not been specific enough for my overachiever – he had gone just one step further and taken the foil off of the dish. Three hours in the oven, uncovered? The meat was browned. Like, really really browned. Like, borderline crunchy, with little to no gravy happening in the pan. I stepped in, beef-stew-expert that I am (OR NOT), and amateur rescue efforts were initiated.
And then we ate it, and I discovered that while the crunch factor of our first attempt was maybe a little bit extreme, I actually DO like those meat chunks a little bit browned on top. And I actually DO like that gravy a little thicker.
I'm no beef stew expert, but my one big tip for your Instant Pot beef stew? Transfer the cooked stew to a homey casserole dish and pop it in the oven for a few minutes before serving. UNCOVERED, friends. Go after that browning action like a boss – not too much, just enough to give you a little more fun in the texture department.
Plus, in addition to a nice little bit of caramelization, we all know the Instant Pot doesn't stand a chance against the hygge vibes of a heavy red Dutch oven. I mean, it's BEEF STEW. It deserves to look like it came straight off Little Home on the Prairie.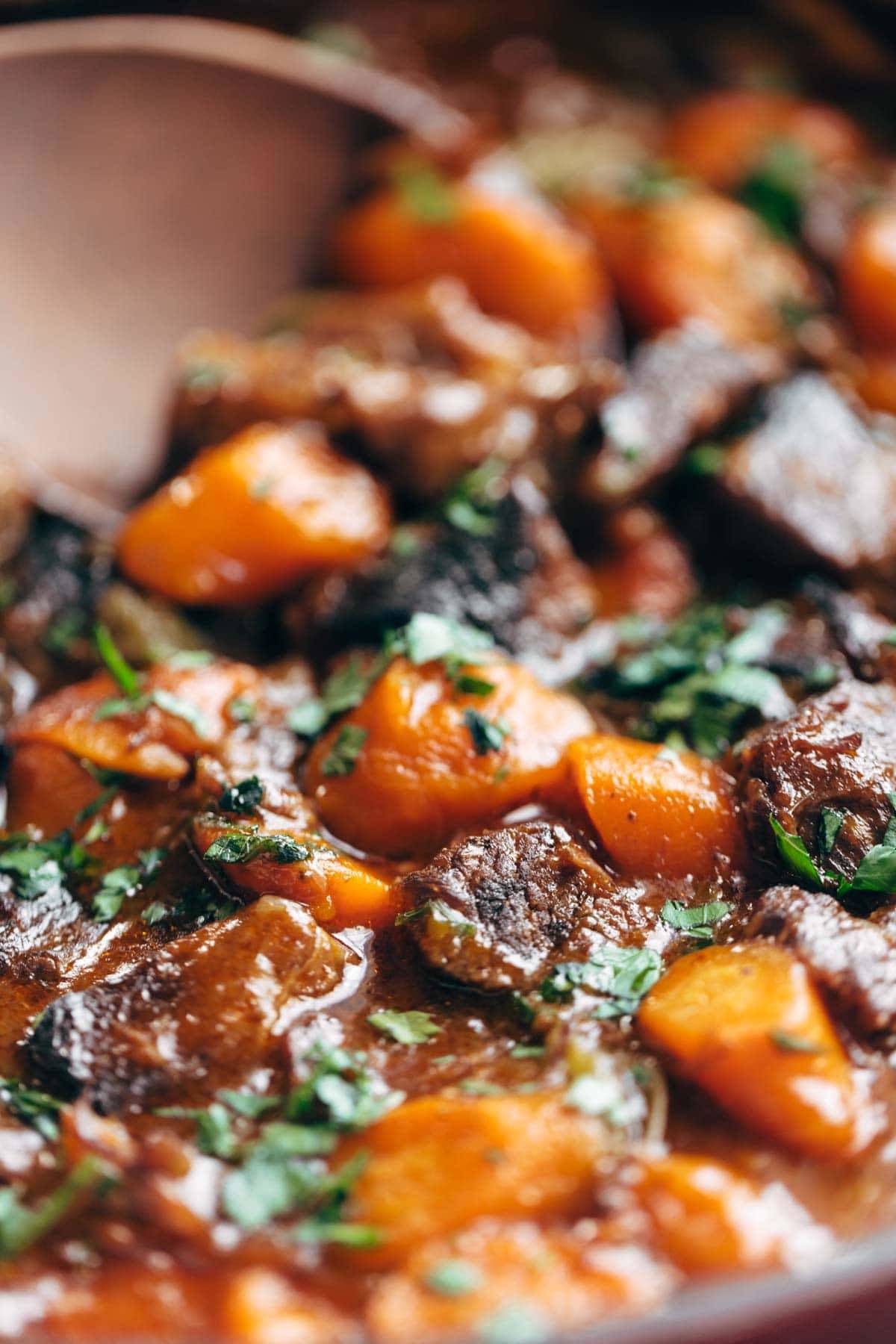 Please serve this with lots of hot, crusty, buttery bread to mop up the gravy, and a simple green salad to feel like total domestic royalty.
And while you're at it, have someone over to feed their broken heart. Or if you don't live close, send cookies. Or a meal delivery gift card – ubereats is as miraculous as it sounds. Tell us about it using the hashtag #feedingabrokenheart and then check this page as well as my Instagram account to see our favorite stories featured. 👋🏼💙
Print
Life Changing Instant Pot Beef Stew
---
Author:

Lindsay

Prep Time:

10 minutes

Cook Time:

40 minutes

Total Time:

50 minutes

Yield:

5

–

6

servings

1

x
Description
Beef Stew made in an Instant Pot! 6 ingredients, 45 minutes, SO EASY.
---
2

lbs beef, chuck roast, fat trimmed, cut into 1-2-inch chunks

1

medium onion, sliced thinly

2

stalks celery, sliced diagonally in thick pieces

6

carrots, sliced diagonally in thick pieces

2 tablespoons

small tapioca – see notes

1/2 cup

tomato juice

2 teaspoons

salt

1 tablespoon

sugar
---
Instructions
Instant Pot Instructions: Place everything in the Instant Pot. Select the stew/meat setting (about 35 minutes, high pressure). After it's done, let everything mellow out for about 10 minutes before releasing the steam. Technically at this point, it's done. But I recommend finishing with a quick browning session in the oven (see notes below).
Traditional Oven Instructions: Preheat oven to 320 degrees. Place all ingredients in a baking dish – it can be glass or ceramic (we use a round casserole dish – something between 8×8 and 9×13). Cover with foil and bake for 3-4 hours. If the gravy dries out, you can add a little water to the gravy to loosen it up before serving. See notes below for additional modifications/instructions.
Finishing in the Oven: Whether you make this in the oven or in the Instant Pot, I recommend finishing by giving it about 10-20 minutes in a hot oven (400-ish degrees), uncovered, before serving. It gets the meat nice and caramelized on top and helps the gravy thicken up.
Equipment
The equipment section may contain affiliate links to products we know and love.
Notes
Alternatives to Tapioca Pearls for thickening:
Just leave em out. Your gravy may be a little less thick, but it will still be delicious.
Toss the beef in 1/3 cup flour, shake off excess and add to the Instant Pot as normal. If you do this and you have a newer Instant Pot, you will likely need additional liquid (I'll often do a second can of tomato juice) to avoid the burn warning on the Instant Pot.
Make a slurry of 2 tablespoons corn starch and 1/4 cup water. Add the slurry to everything in the Instant Pot after it's cooked.
As written, this is more like a traditional saucy beef stew. If you want it to be more like a soup, just add a second can of tomato juice and an extra pinch of salt and sugar. The biggest challenge people have when baking this in the oven is that the sauce/gravy dries out. I would suggest adding a little bit of water (1/4 cup or so) before baking, and then periodically throughout baking as needed. The browned gravy will be really delicious, and a little water mixed in will easily bring it back to life. Another comment we often get is that the tapioca can sometimes still be visible in very small specks, which is okay. It's so small and it should be extremely soft after cooking in the Instant Pot, so it's never interfered with my love of this beef stew. It just looks like part of the gravy. But if that bothers you, just try one of our other tapioca-less methods listed above.
Freezer Meal Version
Freeze Together:
2 lbs. beef chuck, fat trimmed, cut in small-ish pieces
1 medium onion, sliced thinly
6 stalks celery, sliced diagonally
6 carrots, sliced diagonally
2 teaspoons salt
1 tablespoon sugar
2 cans tomato juice (about 1 cup)
Instant Pot Instructions: High pressure 30 mins + 10 mins natural release
Slow Cooker Instructions: High setting 6 hours (thaw ingredients first)
Final Step: After cooking, add a cornstarch slurry to the stew (2-3 tbsp cornstarch + 1-2 tbsp water). Transfer to a baking dish and broil for 5-10 minutes to get everything browned and thickened, or let it rest in the pot until thickened.
Check out our full freezer meal posts with all recipes and instructions here!
Category:

Dinner

Cuisine:

American
Keywords: instant pot beef stew, beef stew recipe, easy beef stew
Recipe Card powered by
View the freezer meal version of this recipe here.
You might also like our full freezer meals post.

---
Time To Show You Off!
Tag @pinchofyum on Instagram for a chance to be featured
---
One More Thing!
This recipe is part of our best Instant Pot recipes page. Check it out!