click here to Pin this recipe
It all started with a lazy Sunday afternoon. And when that inner 7th grader came out and started taking way too many self-takes in PhotoBooth, I knew that I needed to get in the kitchen and make this day worthwhile.  I headed to the kitchen armed with a recipe for a light version of Chocolate Molten Cake and my lovely ramekins
.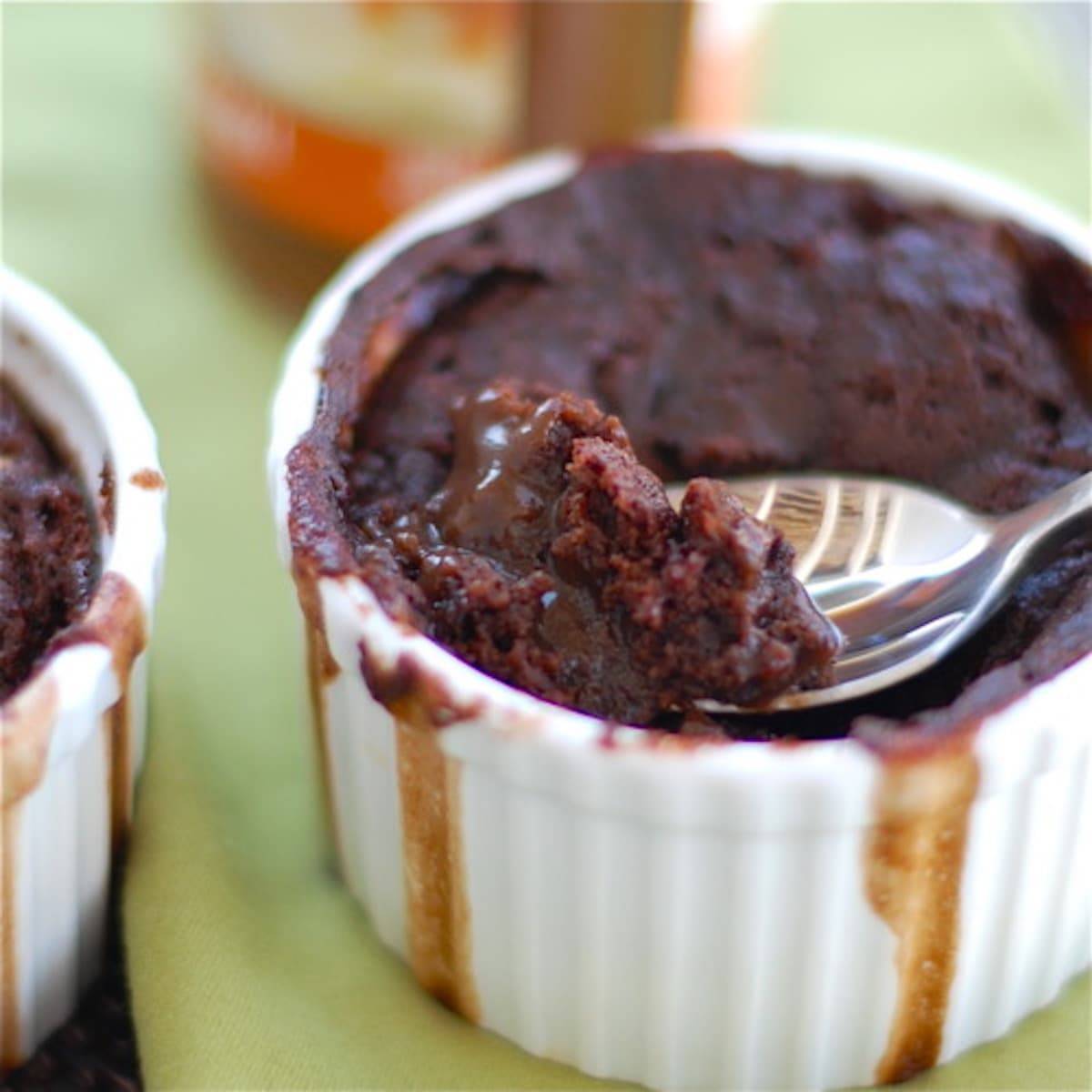 The recipe served eight.  But I think you remember what happened the last time we had eight servings around this house.  I was not about to let that happen again, so I halved the recipe to serve 4.  Which I divided between 3 ramekins.  Which was all eaten by 2 people.
They came out of the oven, and BAM.  I fell in love with Molten at first bite.  What exactly is Molten?
I give you… Molten.
Warm, fudgy Molten.
Dreamy Molten.
More Molten, please.
Would it be weird to name our firstborn Molten?
Molten Chocolate Cakes
---
Author:

Prep Time:

15 mins

Cook Time:

30 mins

Total Time:

45 minutes

Yield:

4

Calories:

491
Description
These Molten Chocolate cakes are made in ramekins and are oozing with hot molten chocolate sauce. Baked in minutes and perfect for chocolate lovers!
---
Ingredients
All Purpose Flour – 3/4 cup
Sugar – 2/3 cup
Unsweetened Cocoa Powder – 1/2 cup
Baking Powder – 1 1/2 tsp
Salt – 1/2 tsp
Low Fat 1% Milk – 1/2 cup
Canola Oil – 3 tbsp
Brown Sugar – 2/3 cup
Semisweet Chocolate Chips – 1/4 cup
Vanilla Extract – 1 tsp
Boiling Water – 1 1/4 cups
---
Instructions
Grease ramekins or baking dish.
In a shallow dish, combine flour, sugar, cocoa, baking powder, and salt. Stir until mixed. (If you are making this in a large dish, you can do it right in the greased baking dish!)
Add milk and oil. Mix until well combined and spread out. If using ramekins, pour the batter into the ramekins.
Sprinkle brown sugar on top. Sprinkle chocolate chips on top.
Add vanilla to hot water. Pour over the top of the batter and DO NOT MIX. It will look gross, but it will not taste gross when it's all said and done. Trust me.
Bake at 350 for 30 minutes if using a baking dish; about 15 if using ramekins.
Category:

Dessert
Recipe Card powered by
Fortunately, this story has a perfectly sweet and molten-y ending.  After devouring all four servings between the two of us, I realized that although the recipe was light…the only ingredient that I had forgotten to half was…
the oil.
Serves me right for trying to make these light! Don't mess with Molten.