First of all, how good is warm, crusty, soup-dunkable bread.
Secondly, take that and times-it by 100 because how good is warm, crusty, soup-dunkable CHEESE bread. Remember this life-changing No Knead Bread? Let's take it next-level.
We're talking a beautiful loaf of cheese bread that you MADE, you boss baker you! With your own two hands. Your own two clean hands that didn't need to do anything fancy except hold a bowl and a wooden spoon.
This cheese bread is soup's best friend. It is crusty and golden on the outside – enough to really crackle when you tear into it – but the inside is pillowy and soft with an appropriate amount of density from that melted cheese holding it all down. Please put down all the knives and just pull it apart with your hands in hot, steaming chunks. It's a rustic, hands-on bread and it doesn't need you to pretend.
I don't make homemade bread, you say? A) I understand you because I am you, and B) This one is different. You can make this bread.
Here's How To Make No Knead Cheese Bread:
Step 1: Stir up a dough – with a wooden spoon is perfect. Work a little cheese in there. Cover and let it rest.
Step 2: Now it's puffy and loose, so just roll it out and onto a piece of parchment. Bake it in a Dutch Oven with a tight-fitting lid, and finish without the lid to get it browned.
Step 3: Tear into it. Dunk it. Butter it. Butter and salt it. Dunk it again. Impress your friends and family because you are a now a person who makes homemade cheese bread.
Grab your soup bowls. Put on your sweaters.
No Knead Cheese Bread season is upon us!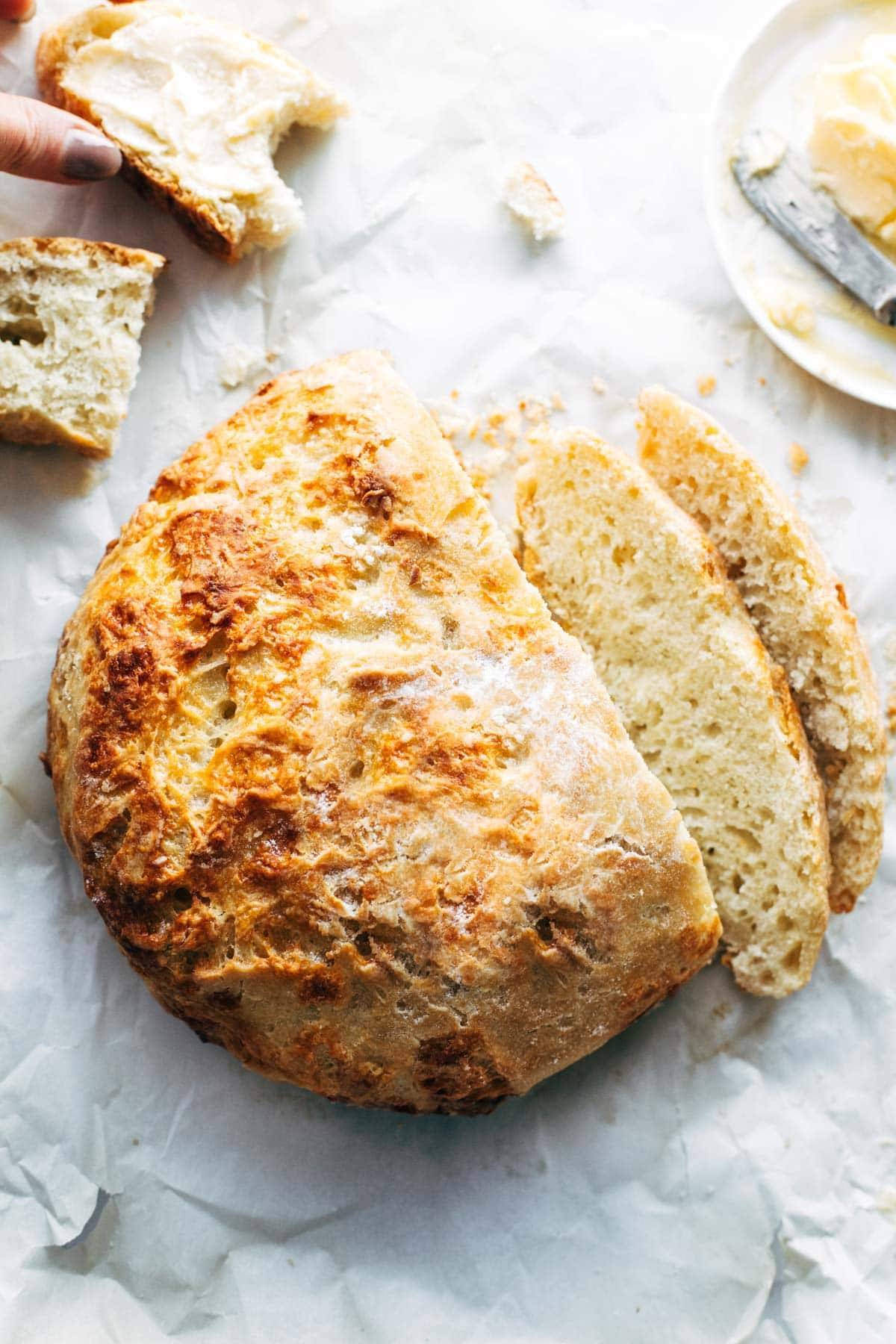 Check Out Our Video For How To Make No Knead Cheese Bread:
Print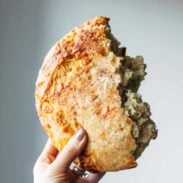 No Knead Cheese Bread
---
Author:

Lindsay

Prep Time:

12 hours

Cook Time:

40 minutes

Total Time:

12 hours 30 minutes

Yield:

6

servings

1

x
Description
No Knead Cheese Bread! Just five ingredients and stupid easy to make. Crusty golden outside, and pillowy soft cheesy inside. The BEST.
---
3 cup

s all purpose flour

1 1/2 teaspoon

s salt

1/2 teaspoon

 instant yeast

1 1/4 cup

s room temperature water

1/4 cup

olive oil

1 cup

shredded cheese of choice
---
DOUGH: In a large mixing bowl, with something basic like a wooden spoon, combine the flour, salt, and yeast together until mixed. Stir in the water and olive oil until a chunky, thick dough forms. If it needs a little more water, add just a few more tablespoons. Gently stir in the cheese. It's gonna look scrappy and weird and you're going to question me, but just you wait.
REST: That's it. You don't have to touch a thing. Just cover the mixing bowl with plastic wrap, or a towel, and let it rest for 12-18 hours at room temperature. Overnight is ideal.

BAKE: When it's baking time, preheat the oven to 450. Stick a 6 quart Dutch Oven (or similar) in the oven for about 30 minutes to preheat. At this point, the dough should be big and puffy and pretty loose, with little bubbles in it. Gently scrape the dough out onto a well-floured surface. (Remember: NO KNEAD.) Gently shape it into a ball with flour on the outside, set on a piece of parchment, and wait for your pan to heat up.

BAKE: Lift the dough and parchment together into the pan. Bake, covered with a tight fitting lid, for 30 minutes. Remove the cover and bake another 10-15 minutes to get the exterior nice and golden brown and crispy. Now start breaking chunks off, admiring the cheesiness, spreading with butter and salt, and dunking in all your best soups. THIS IS LIVING!

Equipment
The equipment section may contain affiliate links to products we know and love.
Notes
I like to use cheddar cheese, white cheddar cheese, pepperjack cheese, and Gruyere cheese. All make for a differently-flavored and slightly differently textured bread! All are delicious!
This works well with vegan cheese, too!
If you want to get a melty cheese bread situation, check out our spicy cheese bread that gets rolled up.
Category:

Side Dish

Cuisine:

American
Keywords: cheese bread, no knead cheese bread, no knead bread, homemade bread
Recipe Card powered by