Just carrots, onions, garlic, tomatoes, broth, and bacon are all you need for homemade tomato soup. It's deliciously rich in flavor and comes together in just under an hour.
Hallooooo, March!
And hallo, last month of soup weather. Right? RIGHT? Although, let's be honest – I would not be sad if I ended up eating this for 12 out of 12 months of the year. This homemade tomato soup could love me all year long.
I based this recipe off of the cream of tomato soup recipe in The New Classics cookbook by Saveur, because if you might remember, I got that book for Christmas and I'm working my way through it, reading it literally cover to cover. Reading a cookbook like this cover to cover essentially means cooking it cover to cover, which is possibly the best thing that ever did happen to me. This book has been my 2015 Cooking Energy Love Source. I'm just constantly inspired by it.
Can I blow your mind for a second? This homemade tomato soup starts with bacon. B-a-c-o-n. Tomato soup // bacon // it just works. These are the delicious ways in which Saveur inspires.
The base is made with smoky, rich bacon pieces plus the addition of carrots, onions, and garlic – and then we get the tomato paste, a pinch of flour, the broth, and the tomatoes themselves simmering all up in the pot. Ohhhmygosh, the smells that will happen. I am having a hard time imaging anything more comforting than being in my kitchen experiencing the simmer-smells of this simple homemade tomato soup in progress.
How to make our Homemade Tomato Soup (1 min):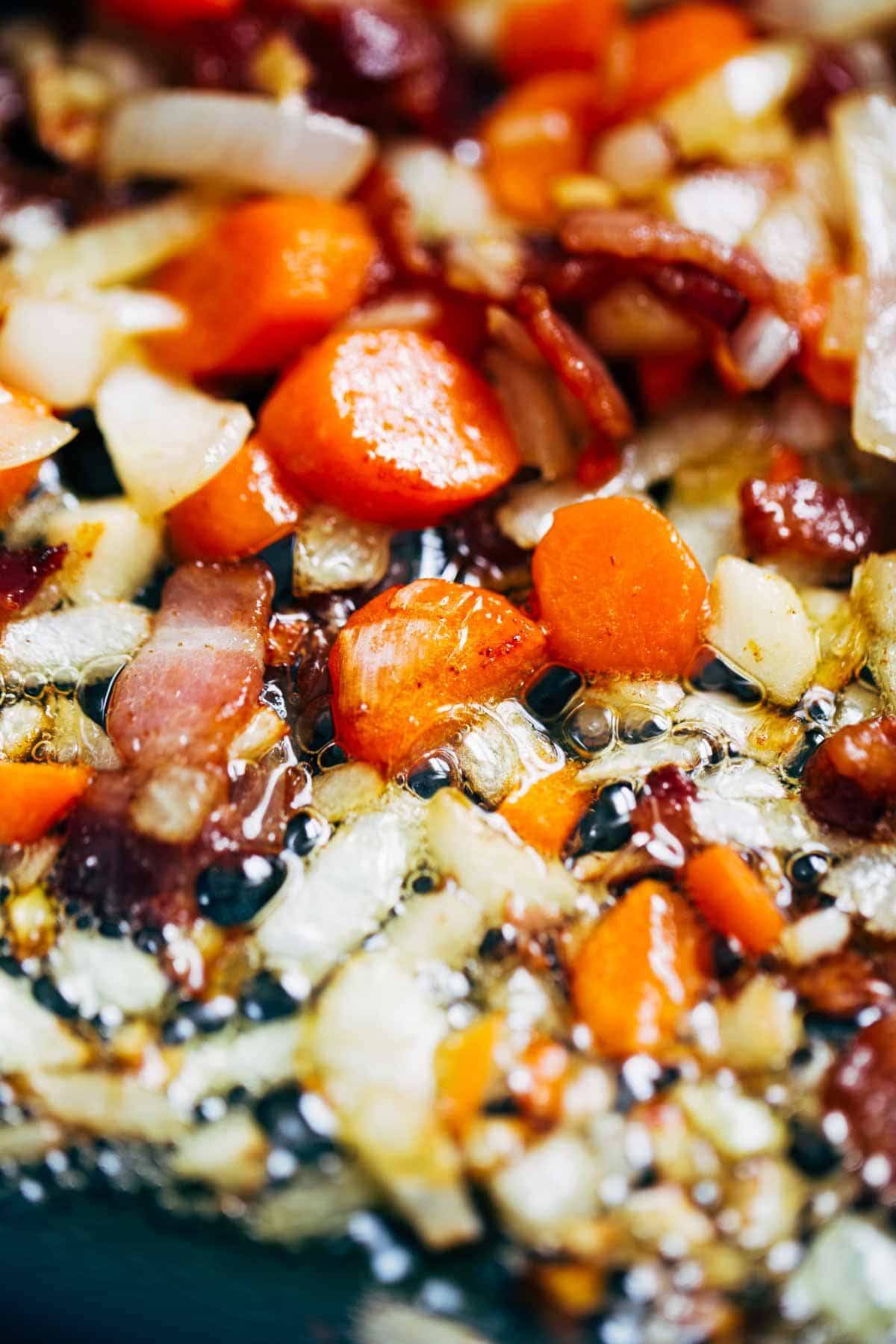 For those of you who are interested in our Charleston trip because you're nice and you love Charleston food –> you should know that we're having a really lovely time in Charleston.
What I mean by that is that in our 24 hours here, we have barely left the quiet comfiness of our little condo on the beach to actually go IN to town, and when we did, last night, we were running late (it's a lifestyle thing) and so we didn't make it into town until after dark where we then proceeded to spend more than 30 minutes trying to find a parking spot.
I know. We just… we struggle sometimes.
But today and tomorrow we are making up for it by doing two full days in the city of Charleston itself. Like, leaving in the morning and taking advantage of everything from breakfast to shopping to coffee to lunch to walking around to touring to dinner full days.
Both Bjork and I accept the fact that we are 75 years old in spirit and therefore we WILL be firmly planting ourselves on a tour bus of some kind sometime during the next 48 hours. I'm just going to put it out there that Bjork is really really reeeeally excited about doing a tour (something about appreciating knowledge and history? I don't get it), while I, on the other hand, may or may not spend a portion of the tour studying my restaurant notes in my planner and making maps and schedules of how we can get every possible meal out of this trip.
So far the best things I've eaten: shrimp and grits (!!!!!!!), fried green tomatoes, crab soup, and collard greens. Oh my gosh, those collard greens. I gushed about the collard greens at least 800 times last night and Bjork was never annoyed ever.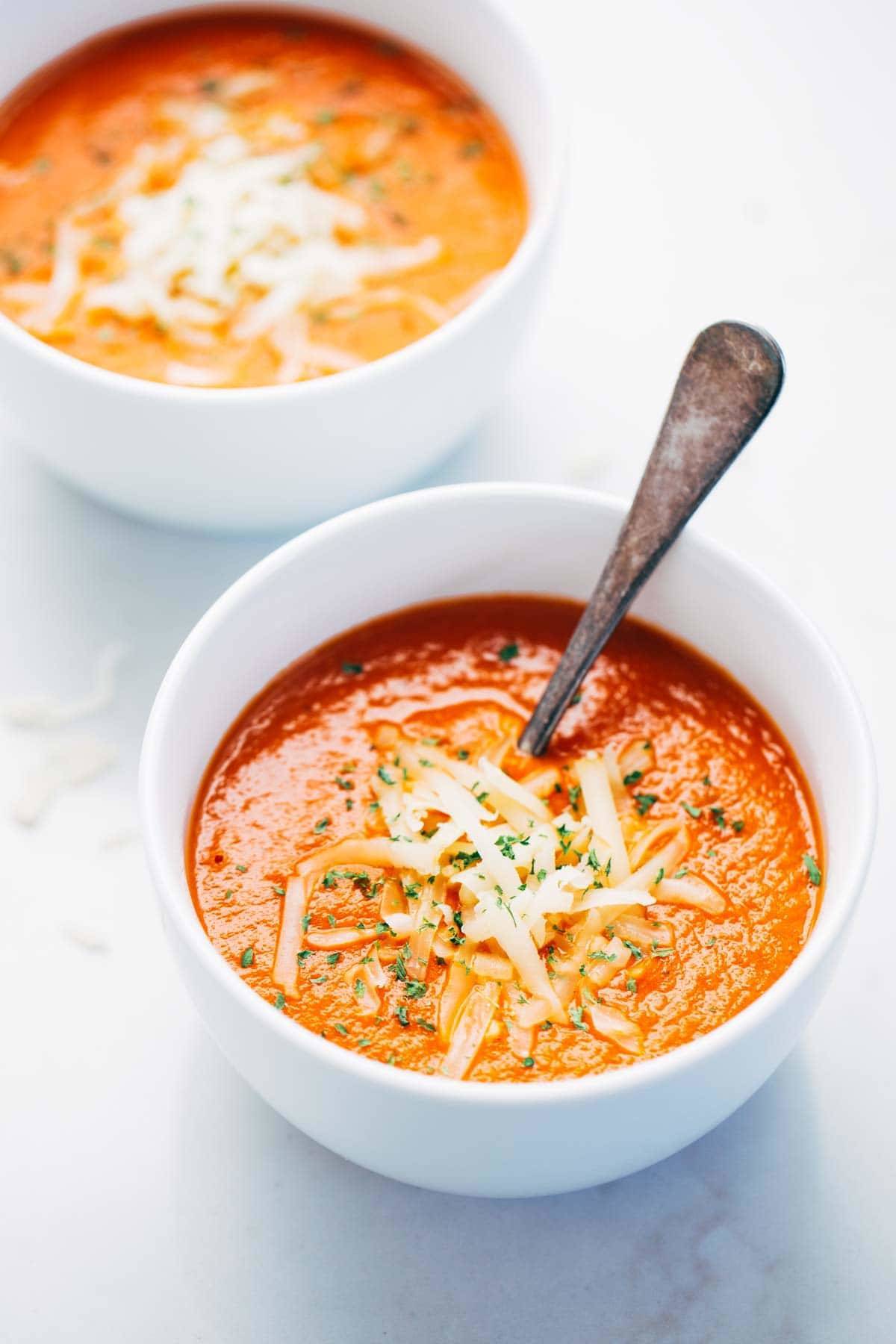 Alright! Today is your day to make simple homemade tomato soup. I can just feeeeeeel it.
It's smoky, a little bit sweet, and just as creamy or not-creamy as you want it to be. It's simple – ready in just under an hour, with MOST of that time being the part where you just gaze lovingly at the pot of simmering tomatoes and let the smells of carrots and onions and garlic and bacon wrap you up in their loveliness.
I am going to have to ask you —> please make some extremely cheesy Provolone toasts or something, because what is tomato soup without the cheesy bread for dunking? But with that being said, ultimately what is going to warm you to your toes and make you feel like a long nap on the couch is this simple homemade tomato soup. WITH BACON, remember. With bacon.
Cheers to your relaxing, comforting, hug-in-a-bowl tomato soup day!
Simple Homemade Tomato Soup
---
Prep Time:

10 mins

Cook Time:

50 mins

Total Time:

1 hour

Yield:

4

1

x
Description
Simple Homemade Tomato Soup with carrots, onions, garlic, tomatoes, broth, and bacon for deliciously rich flavor. Extremely easy to make!
---
Scale
Ingredients
4

slices bacon, cut into small pieces

2

carrots, chopped

half of a

yellow onion, chopped

4

cloves garlic, minced

1 1/2 tablespoons

tomato paste

1 tablespoon

flour

4 cups

chicken broth (more to thin out the soup at the end as needed)

1/2 teaspoon

dried thyme

1

bay leaf

1

28-ounce can whole San Marzano tomatoes
cream (optional – to add at the end as desired)
---
Instructions
Fry the bacon in a large soup pot over medium low heat until bacon starts to get crispy and browned, about 5-8 minutes.
Add the carrots, onion, and garlic to the bacon in the pan; saute for 5-10 minutes until the vegetables are very aromatic and tender.
Add the tomato paste – stir for a few minutes until you can see/smell the tomato paste starting to brown and caramelize. Add the flour and stir for a minute or so.
Pour the tomatoes and their juice into a bowl and crush them with your hands. Add the broth, thyme, bay leaf, and tomatoes to the soup pot. Simmer for 30 minutes. Puree in batches and return to the pot. Add cream if you want.
---
Notes
The equipment section above contains affiliate links to products we use and love!
Category:

Dinner

Cuisine:

American
Keywords: homemade tomato soup, tomato soup recipe, tomato soup with bacon
Recipe Card powered by