Baked Coconut Shrimp with Springy Rice and Honey Butter Sauce
Perfectly springy baked coconut shrimp piled high on a mountain of steamy pea-speckled and lemony rice and drizzles upon drizzles of a beautiful honey butter sauce. This is exactly the spring vacay you need!
The Best Soft Granola Bars
Made with PB, honey, vanilla, oats, pretzels, peanuts (and any other add-ins you like). So easy and SUPER yummy!
Cucumber Agua Fresca
Cucumber, lime, mint, lemongrass, sugar, and honey. The perfect tart + fresh summery drink!
BBQ Salmon Bowls with Mango Avocado Salsa
An easy and impressive dinner with yummy smoky-sweet flavor and a zip of zesty homemade salsa to take it over the top. The BEST weeknight dinner.
Mango Kiwi Coolers
The perfect summer treat. Colorful, sweet, fresh layers of kiwi and mango that also pack a nutritious punch.
Ricotta Berry French Toast Casserole
French Toast Casserole with SUPER EASY 5 minute homemade brioche, ricotta cheese, and berries. No canned biscuits! So delicious!
5 Minute Homemade Peanut Butter
Just peanuts, a bit of honey, a food processor, and five minutes. So creamy and delicious!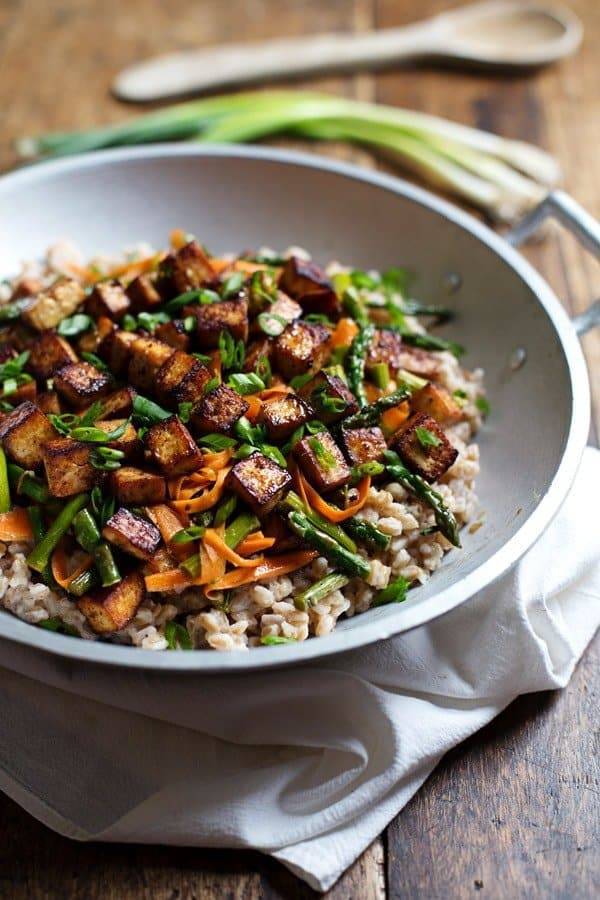 Honey Ginger Tofu and Veggie Stir Fry
This stir fry is SO delicious! Served with a simple homemade honey ginger soy stir fry sauce.
Roasted Carrots with Honey and Garlic Yogurt Sauce
These beauties need to be on your table! Deeply roasted rainbow carrots, swizzles of tangy garlicky yogurt sauce, a golden drizzle of honey, and festive pistachio crunches on top.
Rainbow Chicken Salad with Almond Honey Mustard Dressing
Tender chicken, plump grapes and berries, crisp lettuce, tangy feta cheese, crunchy almonds, and the real star – almond honey mustard dressing! Eat the rainbow and be glad, friends!
Best Easy Honey Lemon Chicken
So easy to make with just honey, fresh lemon juice, olive oil, salt, pepper, and chicken. Perfect for easy entertaining!
Hot Honey Salmon
This salmon is giving off major fancy-to-eat-but-not-fancy-to-make vibes. Spicy-sweet salmon coated in fresh garlic, stone ground mustard, sweet honey, and flecks of red peppers flakes. It's a magical little number!
Oatmilk Honey Latte
A delicious homemade morning treat! Steaming hot, rich, and dark coffee that's satisfyingly creamy, barely sweet, and warm-spiced.
5 Minute Honey Mustard Sauce
Just 5 ingredients to this smooth and creamy dipping sauce that can double as a dressing! So simple and delicious!
One More Thing!
Looking for more refined sugar-free recipes? Check out a list of all of our sugar-free recipes!