So this is summer:
Drippy, juicy, borderline inappropriate peaches and the peak of sweetness baked into a jammy base under a light cookie-dough-meets-biscuit type topping with coarse sugar for sparkle and crunch.
Please, summer, don't leave us. WE NEED YOU. We need fresh peach cobblers resting warm out of the oven on our counters. We need it scooped into bowls and swimming with a plop of melty vanilla ice cream, and we need it cold in our fridge asking us – demanding us – to eat peach cobbler for breakfast.
Which we will obviously do because we are not monsters. Peach cobbler is in charge here.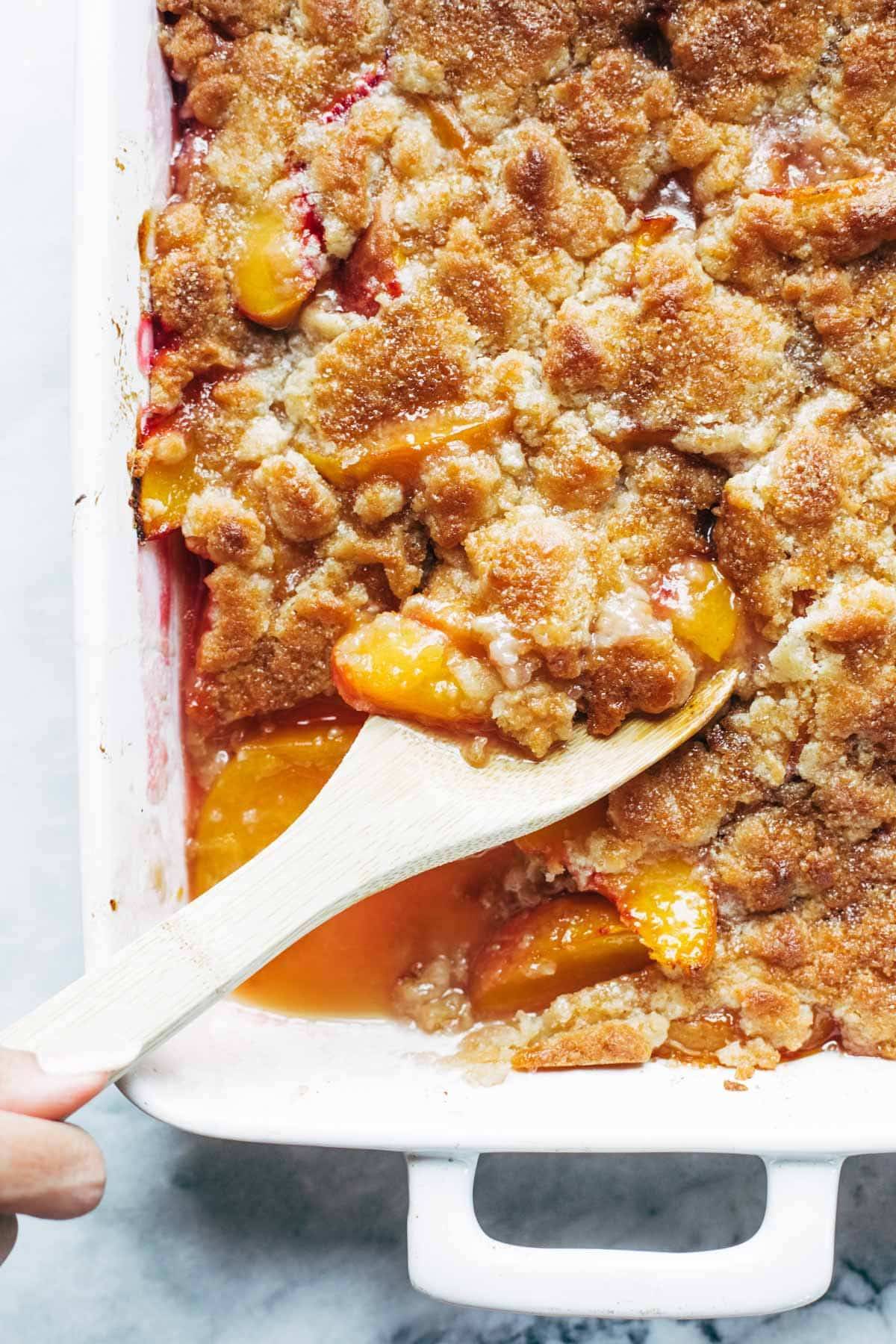 Fun fact about this fresh peach cobbler, beyond the juicy, jammy, just-the-right-amount-of-golden-brown-and-crispy factors:
It's a LAZY with a capital L-A-Z-Y DESSERT. Approximately zero percent fancy. Here's how we do it.
Three Basic Steps To Make Peach Cobbler
1: Peaches and sugar in baking dish. Done.
2: Crumbling / pressing / generally spreading our cookie-dough-like base over the top of peaches.
Just use your fingers. NOT FANCY.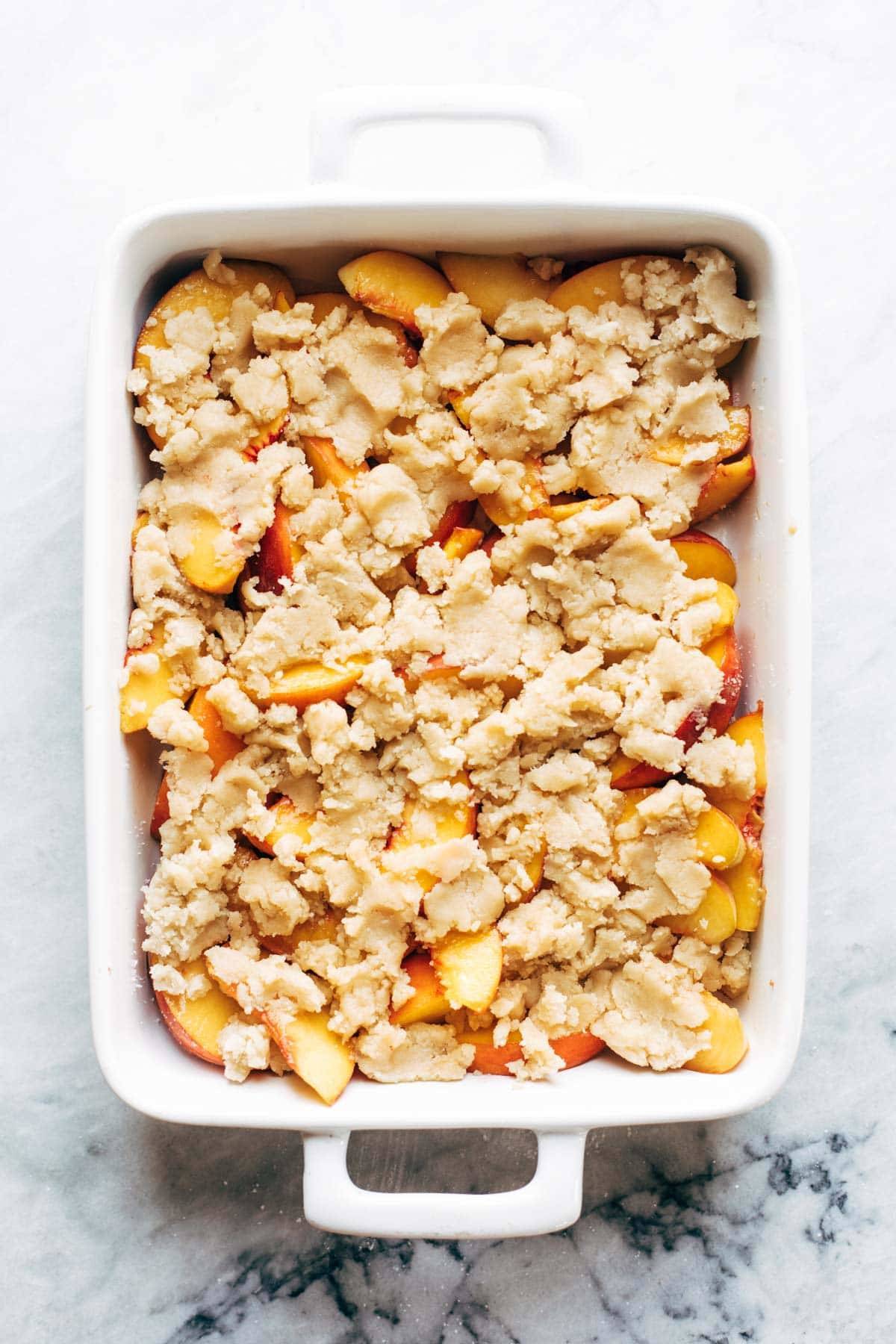 3: Bake it up. And here's how to make peach cobbler crispy: sprinkle it with a little turbinado sugar and give it a just a little time under the broiler at the end. Dreamy.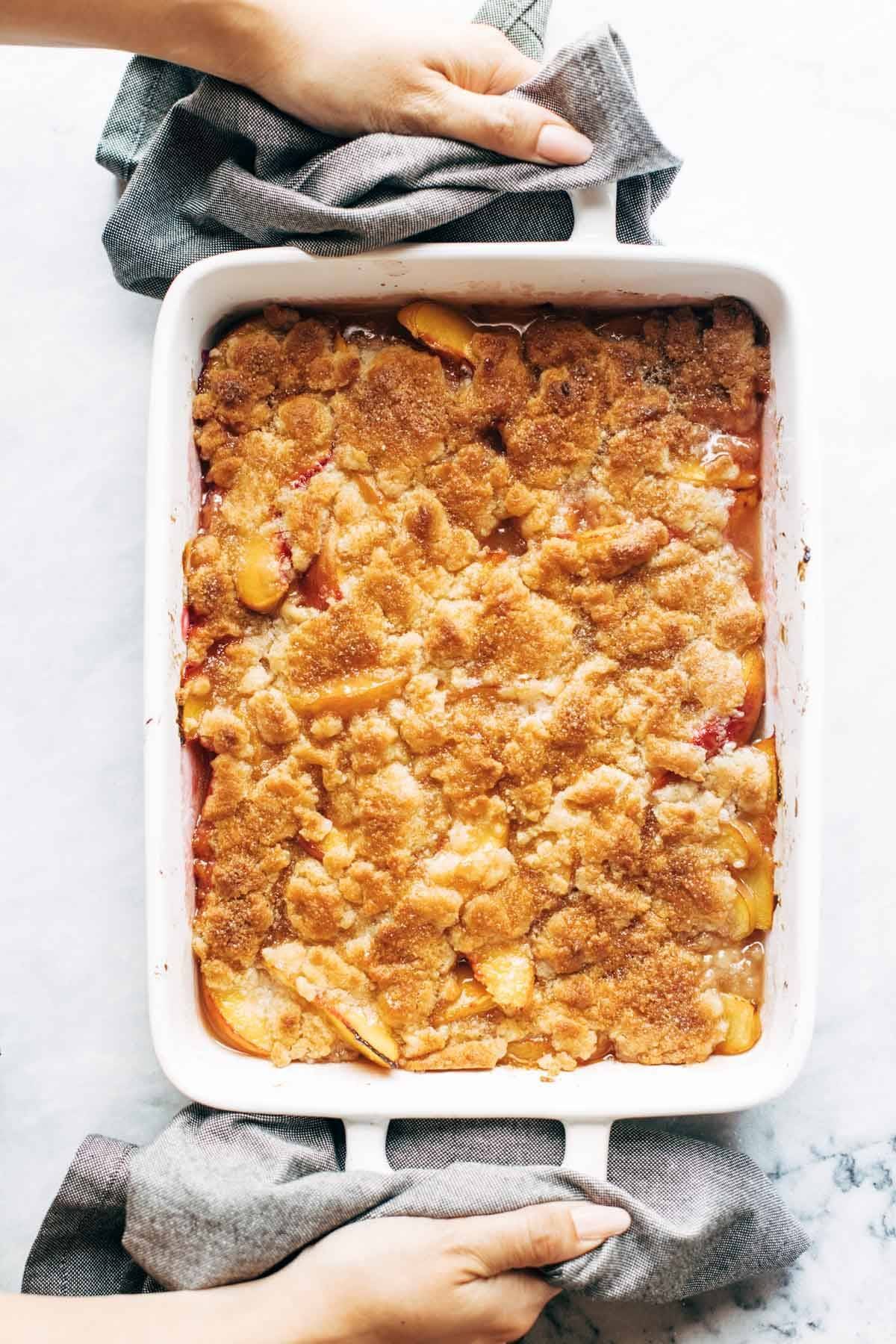 Then let it cool. Because you're obviously going to let it cool. Obviously.
You would never dig into this while still hot like th —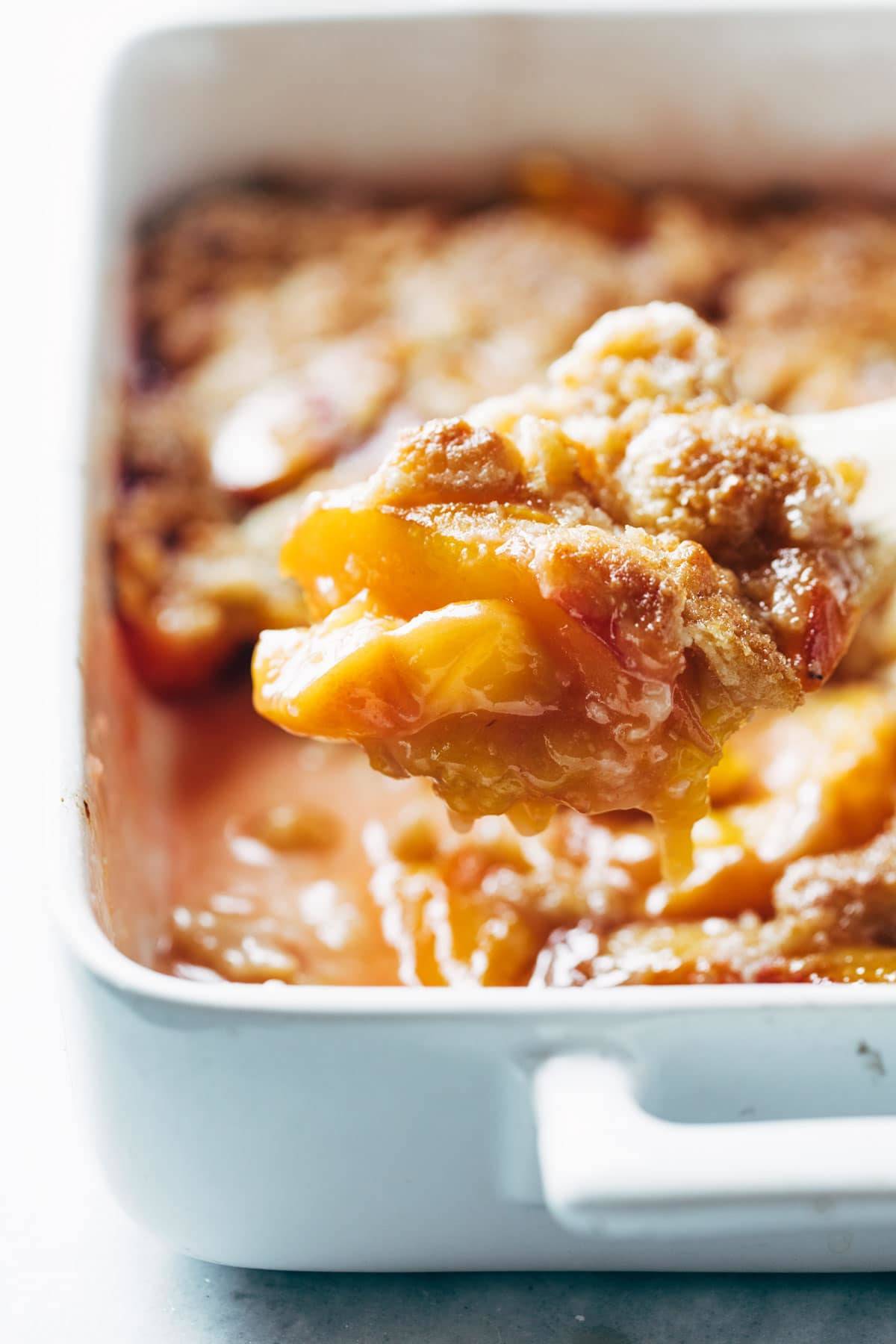 Or maybe that is a lost cause.
I've made MANY versions of peach cobbler in my quest for greatness, and here's why I think this one is the best peach cobbler.
Low maintenance, as mentioned.
Extremely juicy and jammy when using amazing fresh peaches.
Still works with frozen peaches!
Cobbler topping that is NOT cakey, NOT biscuity, but rather something in between. I find it to resemble slightly underbaked cookie dough, but with that quick sugar broil at the end to channel the biscuit-type texture on the very tops for some magically contrasting crunch.
Goes perfectly with a big scoop of melty vanilla ice cream.
SO
DE
LI
CIOUS.
Variations On Peach Cobbler
Another reason why I love this one: you can modify it to suit whatever fruit you've got on hand.
Got loads of blueberries, strawberries, blackberries, rhubarb, whatever? Go for it. Maybe even a blueberry peach combo?! You little chef, you.
And isn't that the best thing about fruity desserts in the summer? Just working with whatever you've got? Same level of use-the-fruit-on-hand flexibility goes for this dreamy Blueberry Crisp and these Raspberry Crumbles. ❤️
Bottom line: this recipe is forgiving, versatile, unfussy, and very very good.
It's still AUGUST, for crying out loud. Live your life.
Prefer To Watch Instead Of Read?
More Fruity Desserts To Love
Common Questions About Peach Cobbler
Do you peel your peaches for this recipe?
I did not peel the peaches because I cannot be bothered to peel a perfectly good peach. But if the texture or color of the peels bothers you, you can peel them.
Can you use frozen peaches?
I have made this with frozen peaches and it was great. It's less jammy, since the frozen peaches tend to be firmer and hold their shape a little more, but it's pretty ideal when you don't have access to fresh, ripe peaches. Just dump the frozen peaches in the baking dish and pop them in the oven while you mix up your topping. Once you're done mixing the topping, the peaches should be thawed out. Drain them off, return to pan, and mix with sugar, and you're in business. I'd recommend about 32 ounces of frozen peaches for this.
Can you use canned peaches?
No. Would not recommend it – it'll make the filling too gummy.
How do you slice your peaches?
When slicing the peaches, I prefer to slice them pretty thinly so they lay on top of each other more evenly and get that nice thick, jammy consistency.
How do you know when your peaches are ripe enough for cobbler?
When your peaches are gentle yet firm to the squeeze, this is perfect for cobble-making and should be ripe enough to use.
Can you use white peaches?
White peaches are a bit sweeter than yellow peaches, so we'd really recommend yellow in this case.
How should you store leftover cobbler?
You can store it covered in the fridge for 4-5 days.
Print
Best Peach Cobbler
---
Author:

Lindsay

Prep Time:

15 minutes

Cook Time:

45 minutes

Total Time:

1 hour

Yield:

8

servings

1

x
Description
I have tried so many peach cobbler recipes and this is by far the BEST peach cobbler! Made with fresh peaches, sugar, and a topping that bakes like slightly underbaked cookie dough, with crunchy sugar broiled on top.
---
Peach Filling
5

–

6

large fresh yellow peaches, sliced

1/4 cup

sugar
Cobbler Topping
1/2 cup

salted butter, melted

3/4 cup

sugar

1 teaspoon

vanilla

1 cup

flour

1 teaspoon

baking powder
a pinch of salt

1/4 cup

turbinado sugar (optional, but really nice)
whipped cream or vanilla ice cream for serving
---
Preheat the oven to 350 degrees. Smear the bottom of 9×13 pan with a little bit of butter. Add peaches and sugar, and mix directly in the pan.

Mix the butter, sugar, vanilla, flour, baking powder, and salt until a cookie-dough-like batter forms.

Place scoops of the mixture over the top of the peaches. Spread with a spoon or with your fingers – no need for perfection here.

Bake for 30 minutes. At this point it should be juicy and bubbly around the sides – if not, see notes.

Sprinkle the top with turbinado sugar. Bake another 10 minutes and then finish with a few minutes under the broiler (475-ish) for a few minutes to get it golden brown and slightly crunchy on top.

To get a thick saucy peach base, let it stand for 20-30 minutes before serving with some vanilla ice cream. But good luck with that. 😅

Equipment
The equipment section may contain affiliate links to products we know and love.
Notes
If your peaches aren't getting saucy: If it's not saucy and bubbling after 25 minutes of baking, it's probably because your peaches are a tad on the firm / dry side. I found that pouring two tablespoons of melted butter over the peaches at this point was helpful in coaxing some "juiciness" out of the peaches during that last chunk of bake time.
Category:

Dessert

Method:

Bake

Cuisine:

American
Keywords: peach cobbler recipe, easy peach cobbler, summer peach cobbler
Recipe Card powered by
---
Time To Show You Off!
Tag @pinchofyum on Instagram for a chance to be featured
---
One More Thing!
This recipe is part of our collection of easy dessert recipes. Check it out!