Yeah, I went there. Chicken Meal Prep. With Rice and Beans. And Cilantro Sauce. I don't even recognize this organized version of myself.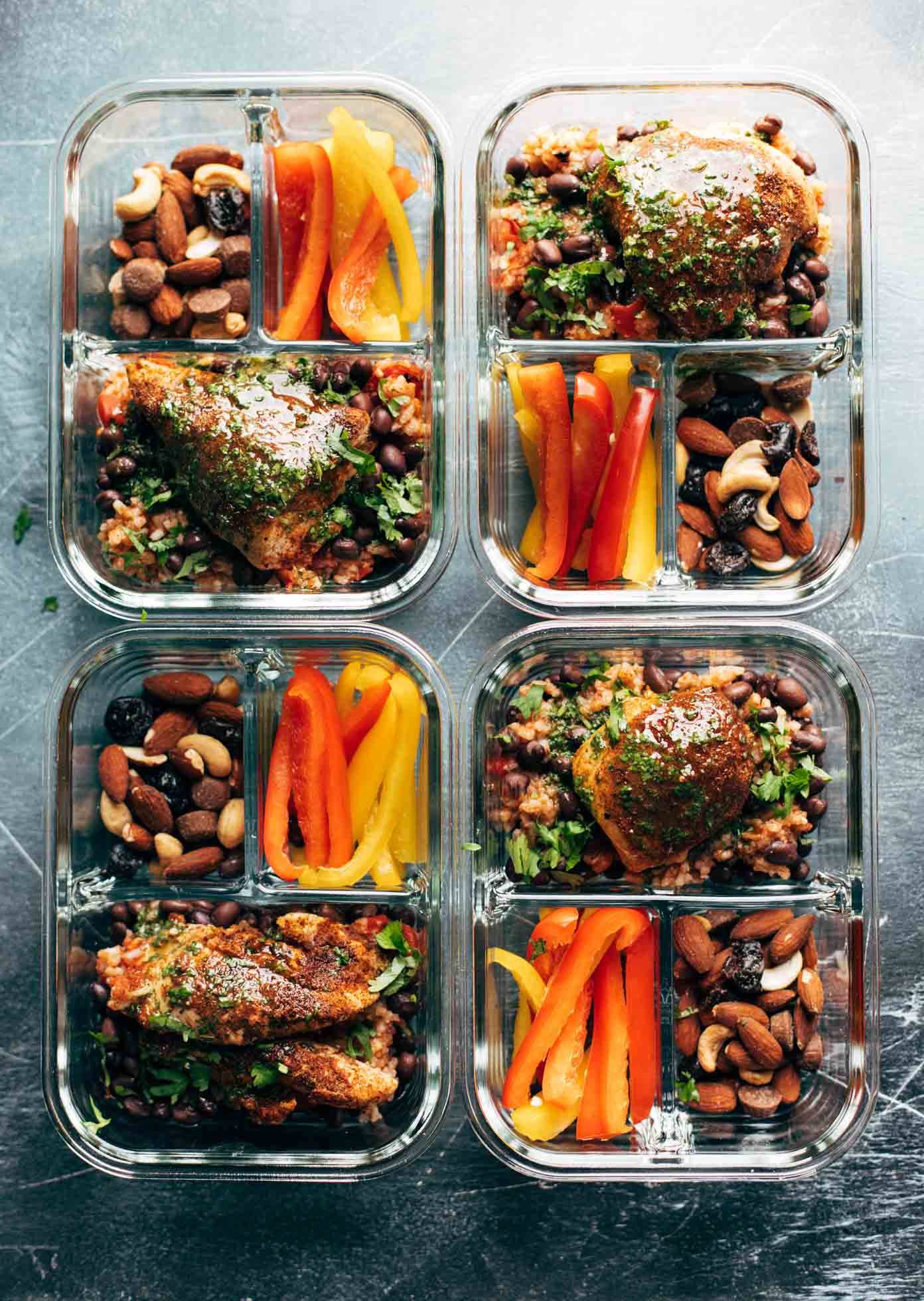 click here to Pin this recipe
It's December, friends. Talk to me about this:
How do you enjoy all your favorite stuff (cinnamon rolls, eggnog, Christmas cookies) without going into full-blown rabid holiday eating mode for 31 straight days?
I think I know the answer. My answer, anyways.
Meal prep. As in making food ahead of time and portioning it out so you are GAME ON for healthy breakfasts, lunches, and/or dinners.
And yes, I'm learning this a little late in the game. "Meal prep" as a concept has been around for a long time and I've never jumped on that train until now. Something about December this year has me thoroughly enjoying becoming a more organized, well-prepared version of myself. Because those cookies. Those cookies are GOOD. (Which reminds me – if you like to bake, my friend Sally has a December Cookie Palooza that is so adorable and I am addicted to her cookie videos and let's be addicted to them together. Maybe this year I will get energized and actually bake some. Maybe you'll bake some, too. Youdabest, Sal.)
And now, for a chicken drizzle.
How to Make Our Chicken Meal Prep (1 MIN):
The thing I always find around the holidays is that while cookies and treats are on everyone's mind (myself included), what I *really* end up most wanting and needing is some yummy regular food to balance me out. I'm talking about something fresh, or nutritious, with some a good spicy kick to it every now and then, and maybe a little salty and a bite of crunch here and there.
Something that says to my body: Here. Take a breather. Rest up. Pack in the nutrients. Get ready for that party tonight. Where there will be cookies. Which you will enjoy.
Holiday season is a lot of things, but mostly isn't it just an exercise in balance?
Okay, it probably doesn't come as a surprise that I find it really helpful to use an Instant Pot for this recipe and/or meal prep in general. Here's why: you can go HANDS FREE and actually clean out your fridge for the week or get your dishes done while the food cooks itself in a matter of minutes. I don't think the Instant Pot is right for everything or everyone, but I DO think it's really right for things like this.
As always, if you don't have an Instant Pot, that is no biggie. You can do this on the stovetop or in the crockpot. Directions for both are in the recipe below.
Final note: the meal prep containers? (affiliate link) Are they not the cutest things you've ever seen?
They are also GLASS which is amazing because one thing that always gets me feeling a little weird is microwaving all those plastic food storage containers. Bjork and I made the switch to all glass food storage at home about a year ago, and I am so happy we did. These little divided glass ones are my favorite new addition to our food storage collection at home. They are not necessary for meal prep, but they definitely make it more fun, organized, and aesthetically pleasing. 👍🏼🤓
Spicy Chicken Meal Prep with Rice and Beans
---
Author:

Lindsay

Prep Time:

10 mins

Cook Time:

10 mins

Total Time:

20 minutes

Yield:

4

1

x
Recipe Card powered by