THIS, my friends.
This is tofu.
This is delicious, sofritas tofu. Think chipotle peppers, think roasted poblanos, think garlic and salsa and fresh cilantro pureed into a sucker punch sauce and poured all over your tofu, gently simmering it into flavorful yumminess.
Tell me now – how does that tofu part make you feel? You can be honest. Try this: I feel ____ when you talk to me about tofu.
I had friends over last week and we were talking about Chipotle (what else is there?) and I asked if anyone had tried their new veg-friendly Sofritas. Blank faces. So there I stood, not wanting to waste an opportunity to share the good food news of sofritas tofu, gushing about how much I loved it and how delicious it was in veggie bowls and how I made it MYSELF, AT HOME, and it's going on my blog next week, and then I stopped for a breath of air and looked up and —> even blanker faces.
That's when I said to myself – Lindsay, face it. You're the only one here who even cares one tiny niblet about tofu.
It's a lonely, tofu-loving life that we half-time vegetarians live.
How to make our Sofritas Veggie Bowls (1 MIN):
The truth is that I am sort of 75% there on tofu, but I am 200% there on Sofritas Tofu Veggie Bowls.
It's to the point where Ineedthemeveryday.
Can I confess that I mostly only get the veggie bowl when I go to Chipotle because you can get FREE guacamole? Like, it's included in your overall price so essentially it's free. And you know it's going to be the biggest scoop of guac your happy little face has ever seen because Chipotle knows the desires of my heart. Other than missing that hugely generous guacamole thwap at the end of the line, this is almost exactly a replica of what I would find in my bowl on any given Chipotle visit.
Right up in here we have flavor-rocking tofu that's been lightly fried and then gently, slowly simmered in a spicy chipotle + poblano + tomato sauce, annnd I could just stop right there because it's that good to me.
But I won't stop there.
Next up we'll layer in the pinto beans, cilantro lime rice, fresh salsa, fresh cilantro, a handful of fresh spinach because it's looking at me from the top shelf of the fridge like JUST PUT ME IN SOMETHING ALREADY, and then the homemade guacamole which I could live off of until the end of the world. Why oh why oh WHY are those mashed avocados so nummy?
Oh, and chips? Did I say chips? Also, Cotija cheese because it's so deliciously salty and I can't not crumble that stuff on ev-er-y-thing.
This combination is everything my heart ever wanted in the homemade vegetarian Mexican food department.
UR GONNA LUV IT. And it's tofu. This is a big day, friends.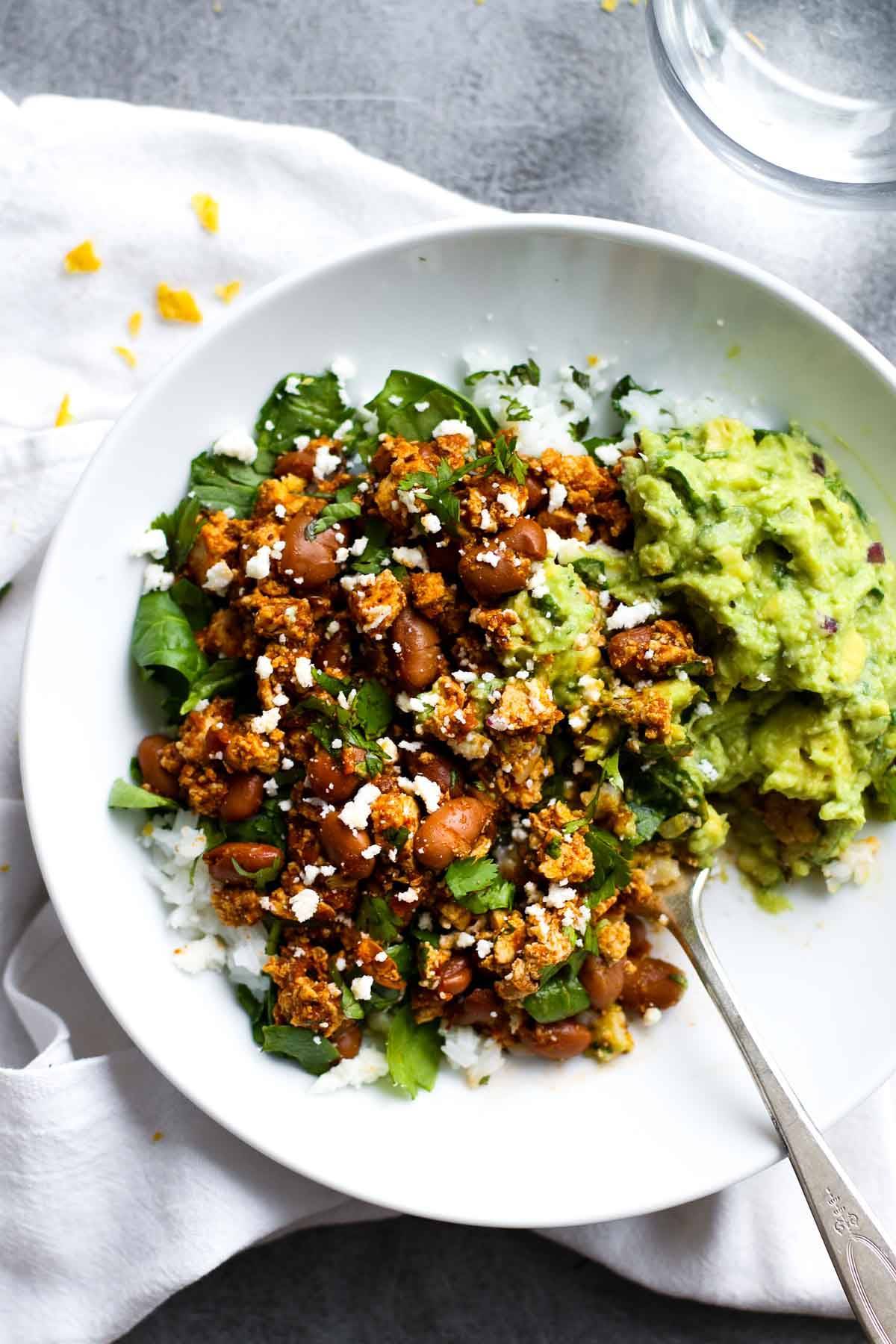 Spicy Sofritas Veggie Bowls
---
Author:

Pinch of Yum

Prep Time:

15 mins

Cook Time:

1 hour

Total Time:

1 hour 15 minutes

Yield:

6

1

x
Description
Spicy Sofritas Veggie Bowls! Think chipotle peppers, roasted poblanos, garlic, salsa, and fresh cilantro pureed into a sauce and poured all over your tofu!
---
Scale
Ingredients
For the Veggie Bowls
1 1/2 cup

s uncooked white long grain rice

4

–

5

limes

2

huge handfuls of fresh cilantro

16 ounce

s extra firm tofu

1

14 ounce can pinto beans, rinsed and drained

2

–

3

avocados

1/2 cup

minced red onion
For the Sofritas Sauce
1

roasted poblano pepper (see notes)

4

individual chipotle peppers canned in adobo sauce

2 tablespoon

s of the adobo sauce

2

–

3

cloves garlic

1/2 cup

fresh tomato salsa

2 tablespoon

s canola oil

1/2 teaspoon

salt
a pinch of sugar (cuts the spicyness a bit)
---
Instructions
Roast your Poblano Pepper: Hold it over the flame of a gas range or roast in the oven. See notes.
Make the rice: Cook the rice according to package directions, adding the juice of 2 limes. After cooking, fluff and toss with a handful of fresh chopped cilantro and a pinch of salt..
Make the sofritas sauce: Roast the poblano pepper until it's softened, about 10 minutes (see notes). Remove stem and place in a blender or food processor with the chipotle peppers, adobo sauce, salsa, oil, salt, and sugar. Pulse until a mostly smooth paste forms.
Make the tofu: Slice the tofu and press with paper towels to remove excess moisture. Heat a drizzle of oil over medium high heat and stir fry the tofu until it's starting to get just golden and crispy. Scramble the tofu into small bits with a spatula or wooden spoon. Add the sofritas sauce, 1/2 cup water, and pinto beans. Simmer for 15-20 minutes, adding more water as necessary.
Make the guacamole: Mash the avocados. Stir in the red onion, cilantro, and juice of 2 limes. Season generously with salt.
Assemble the bowls: Layer the cilantro lime rice with the sofritas mixture and a thwap of guacamole on the side.
---
Notes
To roast your poblano, you can either hold it over the flame on a gas range until it's hot and blistery (that's what I did) or turn your oven to the broil setting, coat with oil, place on a baking sheet, and roast for 15 minutes at a time until it's soft and blistered. I did not remove the skins of my poblanos and it was still delicious. If you are in a pinch for time, I would suggest subbing one or two small cans of diced green chiles.
I also added a handful of fresh spinach to each bowl, topped with Cotija cheese, and served with tortilla chips. Sometimes I just can't even stop.
Recipe Card powered by
Nutrition includes 1/6th of everything in the recipe (rice, tofu/beans, guacamole, and other veggies).
One more thing!
This recipe is part of our collection of easy tofu recipes. Check it out!